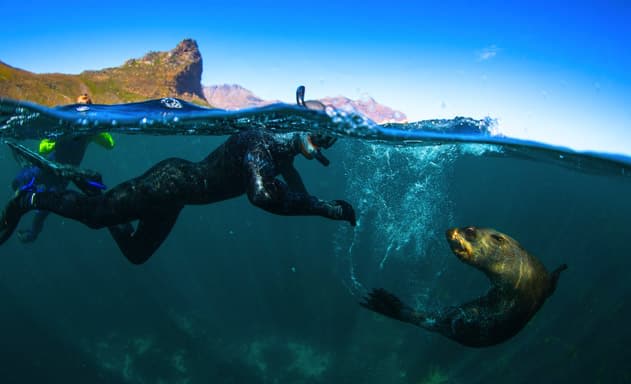 10 Things To Do On The Garden Route Roadtrip
The ingredients of a memorable road trip are good company, a groovy playlist, and gorgeous scenery. After reading this article, you might want to add another component to that list – thrilling adventure activities! The 300 km long Garden Route in South Africa starts in Mossel Bay and ends near the Storms River in the Tsitsikamma National Park. Along the route, you will see soothing strips of green on either side of the road, scattered by estuaries and lakes – hence giving it the name of the garden route.

Even though we will cover some exhilarating things to do on the Garden Route, in this article, we would like to go beyond! Destinations such as Cape Town, Hermanus, and Port Elizabeth are some of the most touristic spots in South Africa and will be a valuable addition to the garden route road trip! Spots outside the garden route have an incredible amount to offer in terms of touristic activities and adventure sports! Cape Town, for instance, is a buzzing metropolitan city, with exciting nightlife and exposure to art & culture but also has some of nature's most stunning gifts to humanity like Table Mountain.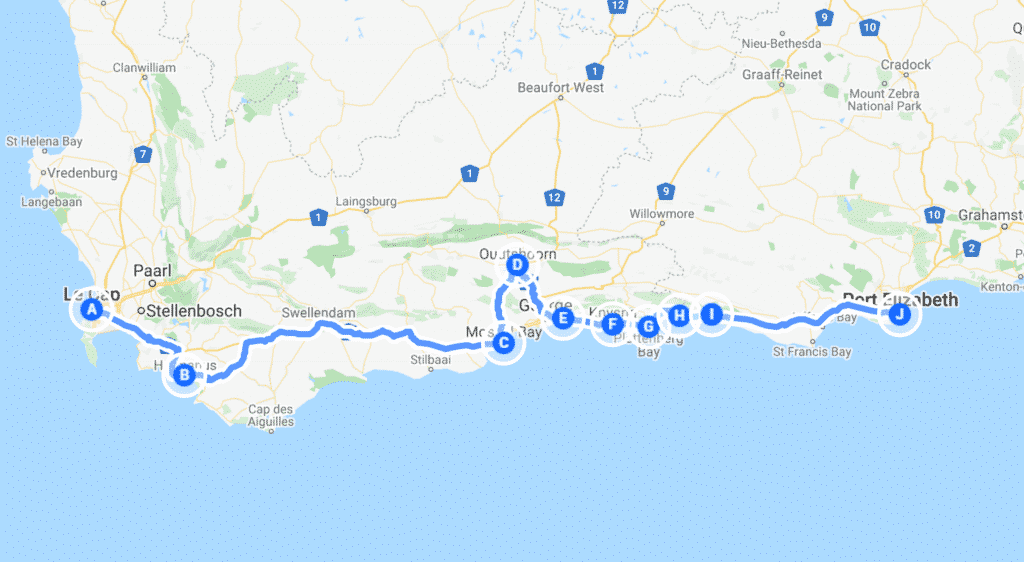 As you can see in the map above, we have designed an itinerary with 10 stops each having 1 different outdoor activity for you to try. The stops are marked in alphabetical order, with the trip starting in (A) Cape Town, heading East, and ending in (J) Port Elizabeth. We will mention the letter for each of the destinations, in the list below, corresponding to the letter on the map above.

You will go from abseiling 1000 m above sea level, to taking a dip with deadly sharks. We're sure there's something for everyone on this road trip!
A. Abseiling down Table Mountain in Cape Town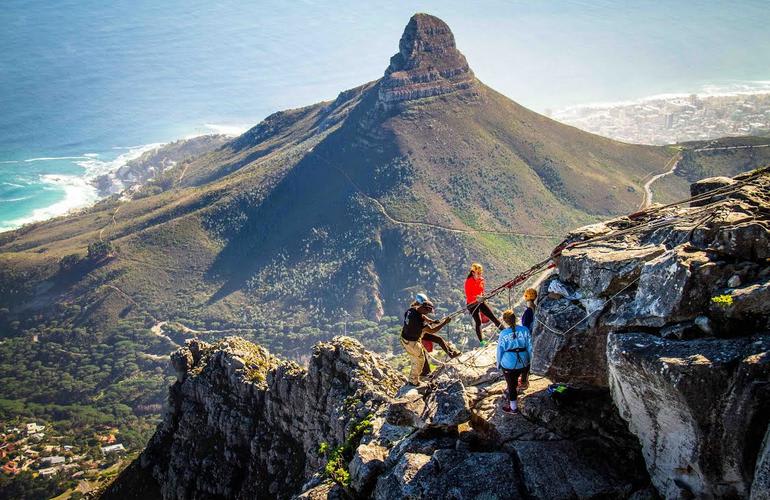 We commence our list of things to do on the Garden Route in South Africa, with Cape Town! If you are visiting South Africa, chances are you'll have Cape Town on your bucket list but if that's not the case, Cape Town is located on the South-West coast of the country and is a 2-hour flight away from Johannesburg in the north of the country.

Selecting one activity for Cape Town was a mammoth task. South Africa's second-most populous city has a plethora of outdoor activities to offer, but we have selected one that lets you escape the city's hustle and bustle and admire the bird's eye view – abseiling from Table Mountain. Table Mountain is less than a 20-minute drive from the city center of Cape Town via the Tafelberg Road.

Abseiling, as you can see in the picture above, is an activity where you make a controlled descend from a rocky structure (mountain or hill), using a rope. Abseiling from Table Mountain means descending from 1000 meters above sea level in the company of the Atlantic Ocean and the Signal Hill. You will be rewarded with beautiful pictures if you decide to go abseiling down Table Mountain.

Including a brief training session, the activity lasts just one hour and will cost around €20 per person. Other than people with a fear of heights, abseiling down Table Mountain is for everyone.

As we mentioned earlier, Cape Town has a bunch of other outdoor activities like paragliding, ziplining, and even skydiving to offer! Have a look at all our outdoor activities in Cape Town and take your pick from the wide range we offer.
B. Quad biking in Hermanus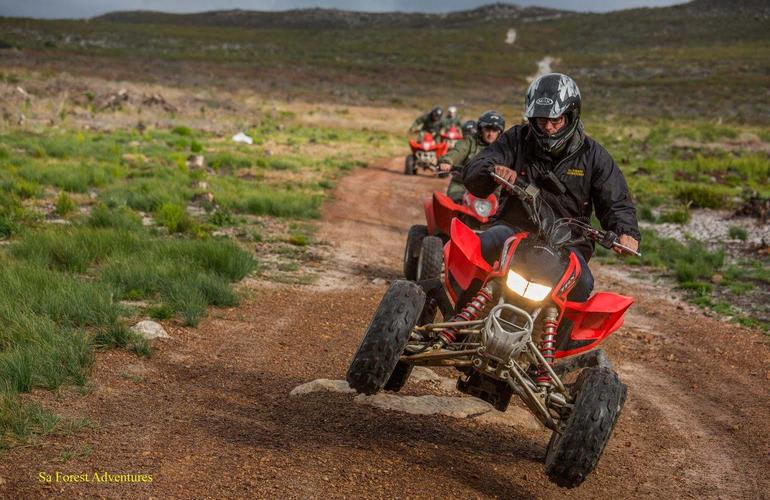 Our next destination on the list of things to do on Garden Route takes us to the seaside town of Hermanus which is 1.5 hours East of Cape Town via the N2 Highway. The Voëlklip Beach and the broad Grotto Beach, overlooking Walker Bay are popular tourist attractions, along with the Whale House Museum – which, dramatically, has a whale skeleton, suspended from the ceiling.

As exciting as it may sound, paleontology isn't part of the agenda in Hermanus, but quad biking sure is. A quad bike is an off-roading 4X4 vehicle that is designed like a motorbike and is widely used, recreationally. The Fernkloof Nature Reserve in Hermanus is where you will go quad biking and is known for being rich in rare fynbos purple-bud shrub that extends from the Cliff Path Nature Area to the Mossel River Valley, parts of Klein River Lagoon, and the mouth of Vogelgat River. A few pit-stops at vantage points to take in the spectacular views of Hermanus and Walkerbay will surely make you whip out your camera. If you're lucky, you might catch a glimpse of whales!

For €52, you can go quad biking in Hermanus, and ride for 1.5 hours without any prior experience.
A 45-minute drive from Hermanus via the R43 Highway will take you to the popular fishing town of Gansbaai – where you can go shark diving! The activity costs €116 and allows you to get up close and personal with the meanest creatures of the sea – in a controlled environment of course.

If 4X4 vehicles aren't part of your wish list, check out all our outdoor activities in Hermanus, to find your cup of tea.
C. Shark diving in Mossel Bay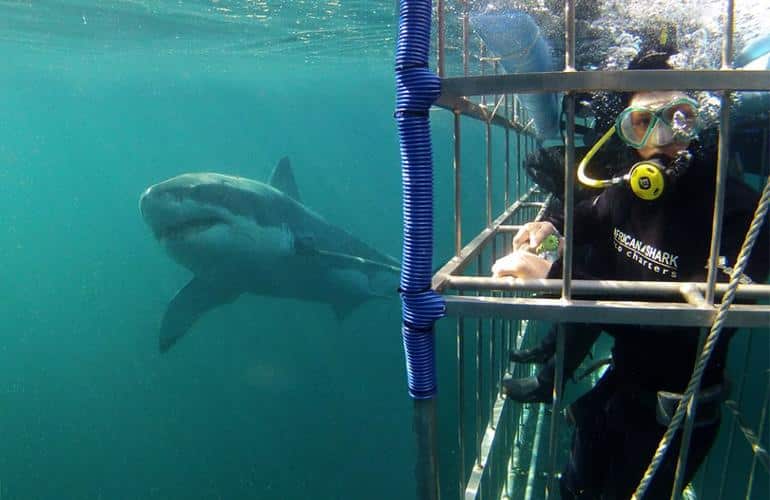 The next destination on our list of things to do on the Garden Route will officially mark your entry on the Garden Route. Mossel Bay is the starting point of the Garden Route and is 3.5 hours East of Hermanus via the N2 Highway. Mossel Bay is home to Santos Beach and the 19th-century Cape St. Blaize Lighthouse, which offers bay views. You could also visit the Maritime Museum or botanical gardens in this quaint little harbor town.

Shark diving is a deadly activity, to say the least…only on paper. In reality, it is a great way to observe an apex predator in its natural habitat, in a very safe and protected environment. You will be descended into the sea, a cage, in order to be totally secure. The sharks will circle around you and be at an arm's length at times, without actually harming you in any way. When you are diving with sharks, it won't hurt you to know the basics of swimming.

The activity costs €118 and will take up around 4 hours of your time. All in all, shark diving in Mossel Bay ensures an adrenaline-filled start to your road trip on the Garden route.

Mossel bay, like most other South African destinations, is very diverse when it comes to outdoor activities, like surfing and paragliding. To have a look and book one that suits you, make sure you check out all our activities in Mossel Bay.
D. Zipline in Oudtshoorn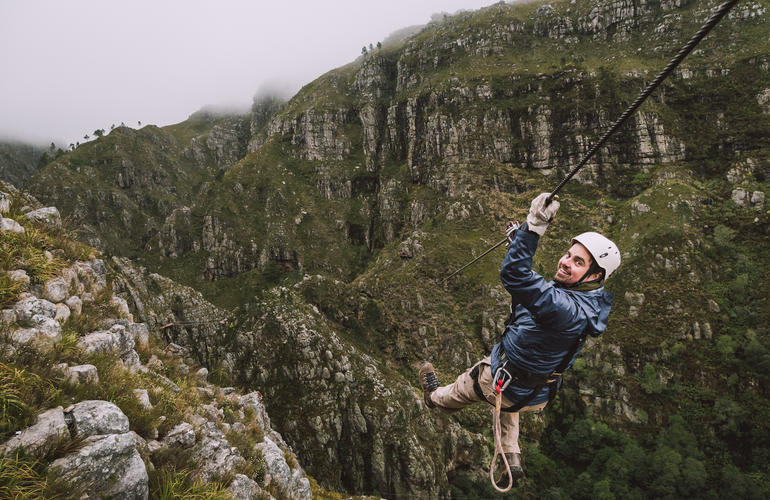 The drive to our next destination, will see you bid farewell to the coast and discover a different landscape in the form of Ruitersbos Nature Reserve. A short hour drive, North on the R328 Highway from Mossel Bay will take you through mountains, forests, and eventually the next stop on the garden route – Oudtshoorn. The town is famous for its ostrich farm and also a staggering 20 million-year-old network of limestone chambers! (Cango caves)

Relive your childhood fantasy of hanging by and sliding across a cable at high speeds as you go ziplining in Oudtshroon. You will start the activity from a height of 500 meters and end it right at the entrance of the Cango caves, making it a convenient transition to your next activity.

No prior experience is required for this activity, and it slots right into your road trip schedule, taking up only 25 minutes of your time and €20.
E. Paragliding over Wilderness National Park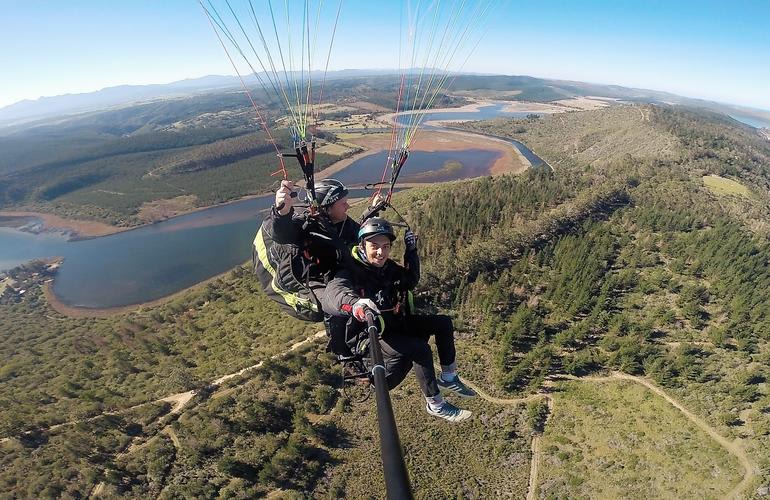 From the inland of the Garden Route, let's get back to the coastline. The Wilderness National Park is our next destination and the one-hour drive from Oudtshoorn via the N12 Highway, through the small city of George and the foliage of the Witfontein Nature Reserve, will get you there.

Your arrival might be on land, but the next activity will see you soar high in the sky. As you may have guessed from the picture of the happy gents above, paragliding is our recommended choice of activity in the Wilderness National Park. The "Map of Africa" – an extraordinary viewpoint, literally shaped like the continent of Africa (picture below) with scenes of the Indian Ocean, Outeniqua Mountains, and Kaaimans River from your view.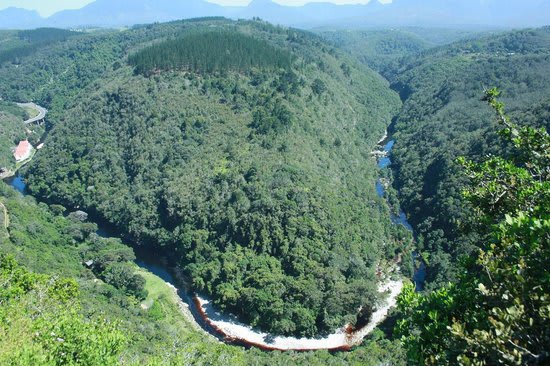 Tandem paragliding over the Wilderness National Park doesn't require you to have any prior experience and costs from €49 per person, earning you around 20 minutes of airtime. It's worth mentioning for kayaking and canyoning enthusiasts that the city of George, on the way to the Wilderness National Park, offers those activities. If you'd like to book a fun outdoor activity in George, we have you covered!
F. Scooter Tour in Knysna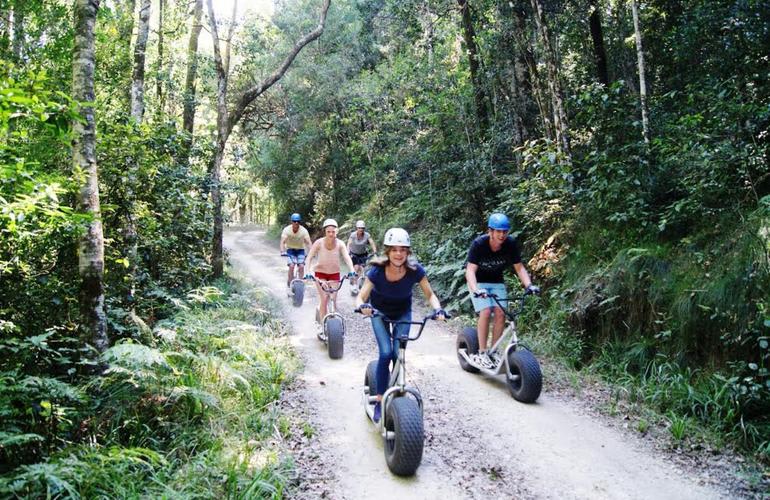 First things first, for those of you who are wondering, the name of our next destination is pronounced: NIZE-na. A 35-minute drive East of Wilderness National Park via the N2 Highway, Knysna is a coastal tourist town and also a retirement home. The combination of the two means life is laid back in Knysna – a bit like an island. Characterized by golf courses and breweries, Knysna is home to hikers, swimmers, and fishermen.

Located in the Knysna forest, this tour comes pretty close to the forest tour in Jurassic Park (minus the horrific dinosaurs of course). Keep an eye out for local wildlife like the majestic Knysna loerie, bushbuck, and wild boar along the way! The terrain is rugged but perfect for a family outing – with huge potential for a scooter race. If that's not enough, giant yellowwood trees, up to 880 years old and refreshing crystal clear forest streams elevate the experience to a heavenly level.

Since the scooters are not motorized, you don't require prior training and can ace the activity with a sliver of road sense. The scooter tour in Knysna lasts around 2 hours and costs €34.

Being in a coastal town without visiting the beach is criminal in our eyes. We hear that surfing in Knysna is exhilarating, even for beginners!
G. Snorkeling with seals in Plettenberg Bay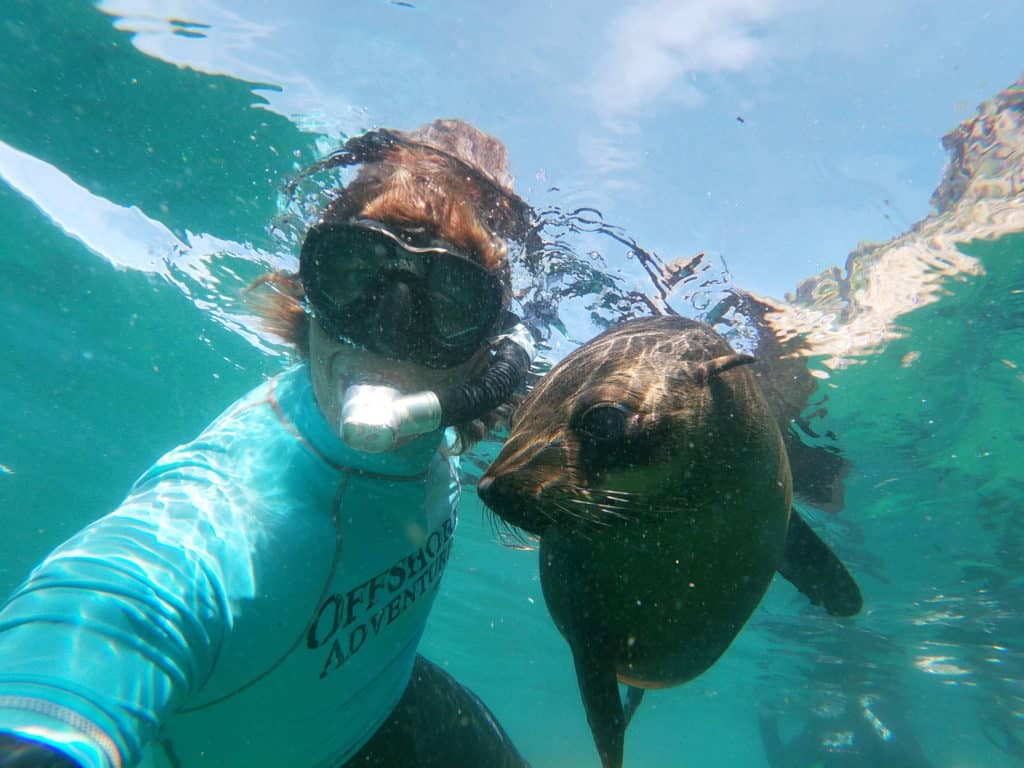 Before you, quite literally, dive into the next activity…let's talk about how you can get there. A very short and scenic 30-minute drive from Knysna to Plettenberg Bay will take you through the Garden of Eden, via the N2 Highway. The Garden of Eden has long hiking trails, including one for those in a wheelchair (800 m long), and is flooded with tall Stinkwood Trees amongst other tree species of the moister forest types.

When it comes to things to do on the Garden Route, snorkeling with seals could easily be, without exaggeration, the most joyous things you will do. These sea mammals are amongst the friendliest creatures on the planet and love a bit of human interaction. Think of them as water dogs, with similar playful traits and pleasant personalities. 30 minutes may sound like a long time to be snorkeling but parting ways with those adorable seals will not be easy. Tropical fish are also on the menu…the viewing menu, of course.

The activity demands you to be a decent, if not an amazing swimmer, and €52 of your hard earnings. Spare 1.5 hours of your schedule to partake in snorkeling with seals in Plettenberg. If you're not sold on snorkeling with seals, we can suggest another activity for you to take part in – canyoning in the Salt River canyon. Your itinerary includes swimming through mountain pools, abseiling in and around waterfalls, enjoying natural water slides, rock-hopping – all of this from €38!
H. One of the World's Highest Bungee Jumps from Bloukran's Bridge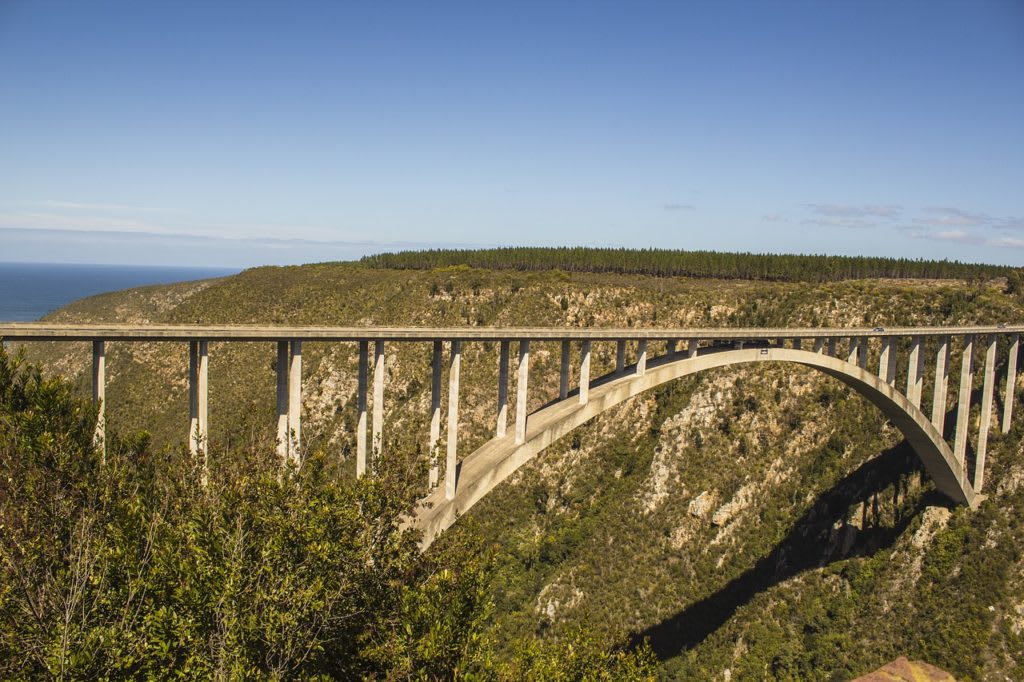 Don't be frightened by the picture above, rather think about the beautiful journey from Plettenberg Bay to Bloukran's Bridge. Although the drive is only 30 minutes via the N2 Highway, you will discover the Keurbooms River, the Kiaruna Nature Reserve, and the Garden Route National Park! We encourage you to make a quick detour and visit the Garden Route National Park – known for its indigenous forests, dramatic coastline, and the Otter Trail. If you're looking for a change in scenery, just look the other way to be amazed by the great Indian Ocean.

Attempting one of the world's highest bridge bungee jumps from 216 m is a feat to boast about for generations to come! The Bloukran's bridge was built in 1983 and was the launch spot for the first-ever bungee jump on the African continent. It is not unusual for people to take a step back once they've gauged the height at the location but those who went ahead with it experienced an extreme dose of adrenaline!

By bungee jumping off the Bloukran's Bridge you'd be following in the footsteps of an illustrious list of people like Prince Harry, Jack Osbourne, Thabo Mbeki, the Zuma family, Bobby Skinstad, Hansie Cronje, Fanie De Villiers, Kelly Slater, Andy Irons. If you acquire a taste for it, you could go for the record of 107 bungee jumps in the period of 24 hours from the Bloukran's bridge, set by Scott Huntley.

The activity will cost you €81 and one hour of your time, including a briefing.
I. Kayaking & Lilo excursion in the Tsitsikamma National Park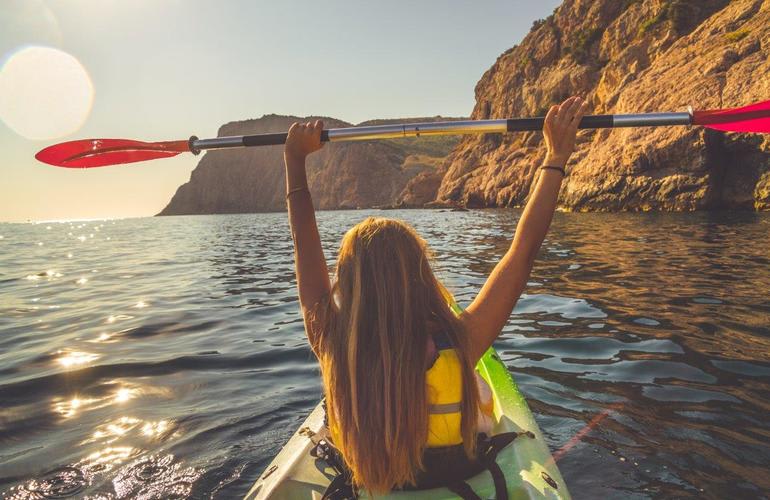 Our next destination on the list of things to do on the Garden Route is also the last. Hold your tears because we have a bonus tenth destination after this stop but more on that later. Continuing on the N2 Highway from earlier, getting to the Storm's River in the Tsitsikamma National Park to go kayaking is less than 20 minutes away. The National Reserve is something out of a painting and its vast expanse and stunning views include a marine reserve, deep gorges, and local vegetation like the Big Tree.

After bungee jumping from 216 m, your nerves have earned a well-deserved break on the Storms River in the Tsitsikamma National Park. The kayaking and lilo excursion will begin with you going all the way up the glorious Storms River, followed by visiting marvellous bat caves! Contrary to its name, the Strom's river is rather calm and allows you to gaze at the surrounding, beautiful scenery. The lack of rapids doesn't make this excursion any less exciting.
It's time to make a switch. Say goodbye to the kayak and say hello to the lilo. A lilo is a small inflatable boat that is designed for this trip to access the narrow parts of the gorge. You will float up the river on the lilos and gaze at enormous cliffs that surround you in a daunting fashion. You have the option of ending your excursion by cliff diving, which is easy when you compare it to the bungee jump from the Bloukran's bridge.

This activity does not require you to have any prior experience and costs €40 and lasts 2.5 hours. The unique adventure of kayaking on the Storms River in the Tsitsikamma National Park is just a click of a button away for you. Another fascinating activity to do in the Tsitsikamma national park is black water tubing on the Storms River. It is a slightly passive version of the kayak and lilo excursion, but a lot of fun is a guarantee!
J. Sandboarding in Port Elizabeth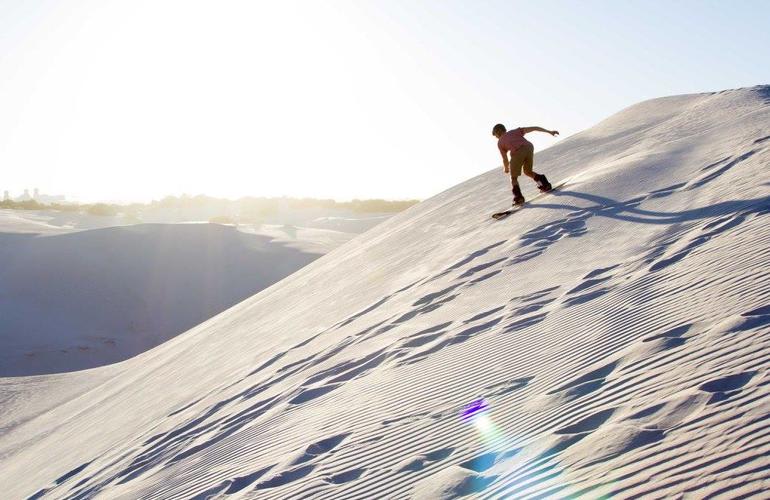 Port Elizabeth isn't officially part of the Garden Route but if you've made it this far…it's definitely worth checking out. Continuing on the N2 Highway East of the Tsitsikamma National Park for 1 hour and 45 minutes will bring you to Port Elizabeth. Port Elizabeth is a popular tourist destination for its beautiful beaches like the Humewood beach and the Kings beach, the impressive Storms River bridge, the Donkin reserve (known for its lighthouse and pyramid), and other attractions!
You could make quick stops at Jeffreys Bay or the Blue Horizon Bay on the way to Port Elizabeth if you're missing some Vitamin Sea.

Sandboarding is a lot like snowboarding with the only obvious difference being that the surface you're sliding down is not snow, but sand. No compromises are made in terms of how much fun is to be had, in fact, sandboarding allows you to work on that tan while you have a great time! The Alexandria Dunefield is where you will go when you go sandboarding in Port Elizabeth, having the largest sand dune in South Africa!

The activity will last around 3 hours, including safety and technical briefing, costing you only €26! That makes it the cheapest activity on our list of things to do on the Garden Route. If you'd like to go , please click the provided link for further booking information.