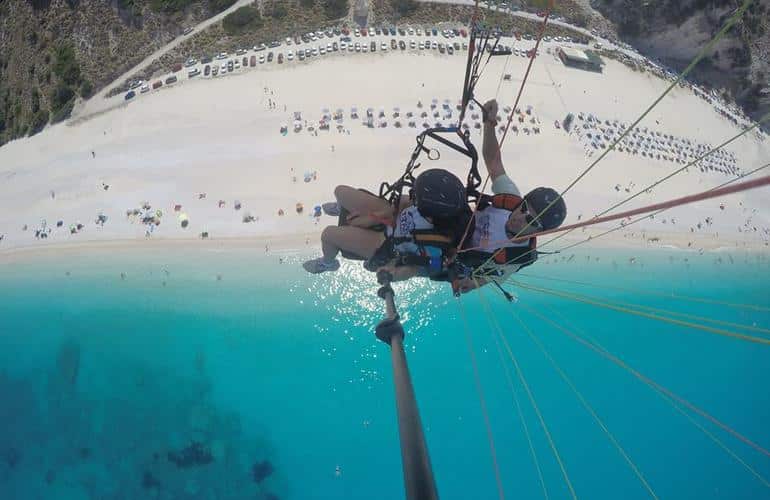 Top 5 Paragliding Spots in Greece
If you're looking to glide over sites of historical interest, snow-capped mountain peaks, bright blue waters – of the Ionian, Cretan, Mediterranean and Aegean Seas and stunning rocky coastline, then head to Greece. This destination is extremely popular and highly recommended for paragliding, so check out our top 5 paragliding destinations in Greece.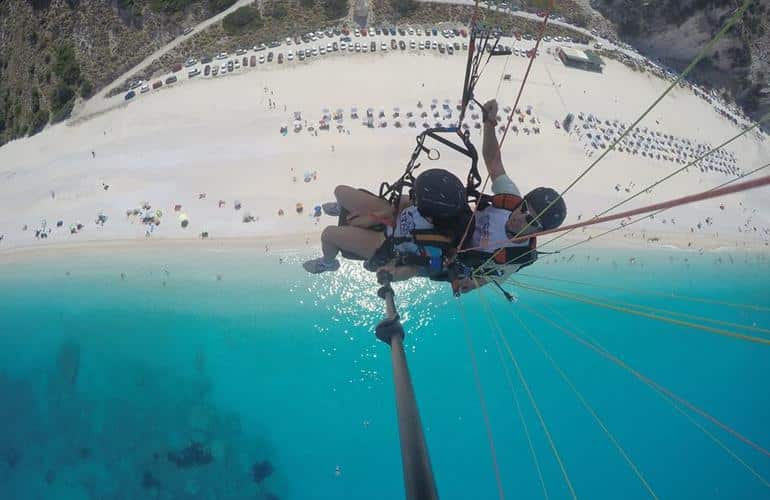 Kefalonia
An incredible destination for paragliding in Greece is Kefalonia. This stunning island, the largest of the Ionian Islands, is a paradise of beautiful blue waters, picturesque coastal villages such as Assos and Fiskardo, and stunning stretches of beach. This island has an abundance of beauty to discover and explore, from its red-roofed fishing villages to 16th century castle ruins to the 1600m high Mount Ainos at the island's centre.
Kefalonia's most famous beach, Myrtos Beach, is surrounded by steep cliffs, making it the perfect destination for paragliding over the sea, in the Mediterranean sunshine. Taking off from the cliffs, flight times vary between 10 and 25 minutes, depending on wind conditions. What doesn't vary though, is the unforgettable views gained of the bright blue Ionian sea, white sand and pebble beaches and steep cliffs. See our paragliding activities in Kefalonia.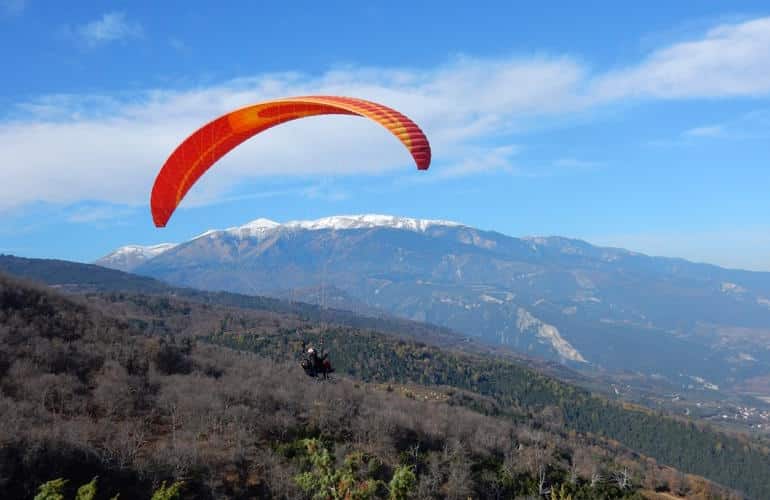 Mount Olympus
Greece's highest mountain, at 2918m, located in the north-east of the country, Mount Olympus is a stunning peak. Residency of the Olympian gods, this mountain is the stuff of legend. It is also close to the country's Aegean coast and its beautiful Panteleimonas and Skotina beaches.
A tandem paragliding flight around the Mount Olympus area, with the often snow-capped peak of this beautiful mountain in view, as well as the crystal blue waters of the area's coast, is a thrilling and truly unique experience.
Take off from a peak on the southern slopes of Mount Olympus and take in the panoramic views of sea, sand, forest and mountains, feeling the Mediterranean sunshine on your skin as you glide. With a number of different flight types to try, including a tandem paragliding flight to the beach, a higher take-off from 1200m rather than 600m and paragliding training courses, this area is a stunning place to experience and learn this thrilling sport. See all our paragliding activities near Mount Olympus.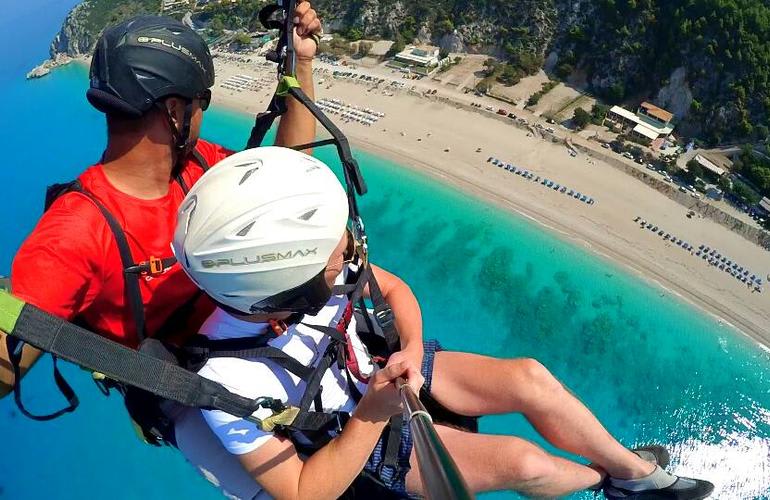 Lefkada
This unique destination is technically an island, but joined to mainland Greece by floating bridge, and by causeway. This stunning island in the Ionian Sea is located east of mainland Greece and is home to some of Europe's most beautiful lesser-known beaches such as, Egremni, Milos and Kathisma. Lefkada is also famous for its kayaking, island hopping excursions, charming seaside villages and the incredible Nidri Waterfalls, in the east of the island.
Paraglide over Lefkada's west coast and take in the beauty of the stunning Kathisma Beach and its turquoise waters and rocky coastline, a popular spot on the island. Feel the warmth of this island's Mediterranean climate and take in the sublime scenery of this rocky paradise in the Ionian Sea. Tandem flights include dynamic flight options, where flight times can reach up to 45 minutes – for even more air time and adventure. Take a look at our paragliding activities in Lefkada.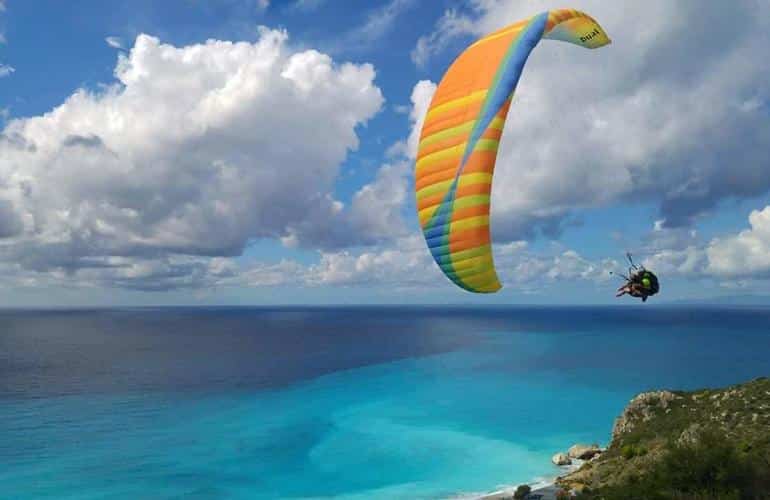 Athens
Greece's capital is the perfect place for discovering the country's history and culture, but head just an hour outside of it for some phenomenal paragliding experiences – a great interlude between sight-seeing in bustling Athens. Just an hour's drive west of the stunning capital city is the beautiful coastal town of Megara – a great day trip to get away from the crowds and the perfect spot to try some paragliding. Take a look at our paragliding activity outside of Athens.
Another great spot for paragliding just out of Athens is in Plataies, a village approximately a 75 minute drive north-west of the capital city. This village is near the ruins of Plataea, an ancient Greek city known to be a central stage in the Peloponnesian War, and is great place to paraglide for stunning mountain views. Check out our paragliding activity in Plataies.
If you're searching for the perfect combination of adrenaline and history, head to Delphi and Mount Parnassus – take off from the cliffs overlooking this UNESCO World Heritage Site, and immerse yourself in the majesty of this unique archaeological site and its mountain surroundings.
Corfu
This destination is a popular holiday spot for families, friends and couples alike – the second largest Ionian Island, Corfu is located off the northwest coast of Greece and is a phenomenal spot for paragliding, due to the island's stunning scenery of mountains, rocky coastline and thick-forested areas.
A great way to take in the views of this marvelous coastline and Corfu's charming villages is via a tandem paraglide, taking off near the area of Glyfada – 16km from Corfu Town, the island's capital. This spot has the island's most beautiful sand beach and is a stunning spot to paraglide over. Another great location on Corfu is Glyfada's nearby area of Kontogialos, a 7km drive south along the coast, both are less-touristy areas and give a great way of seeing Corfu's stunning west coast. Check out our paragliding activities near Corfu.
See our paragliding articles for more information on this exhilarating aerial sport, including our complete guide to tandem paragliding.
See all our paragliding activities in Greece.