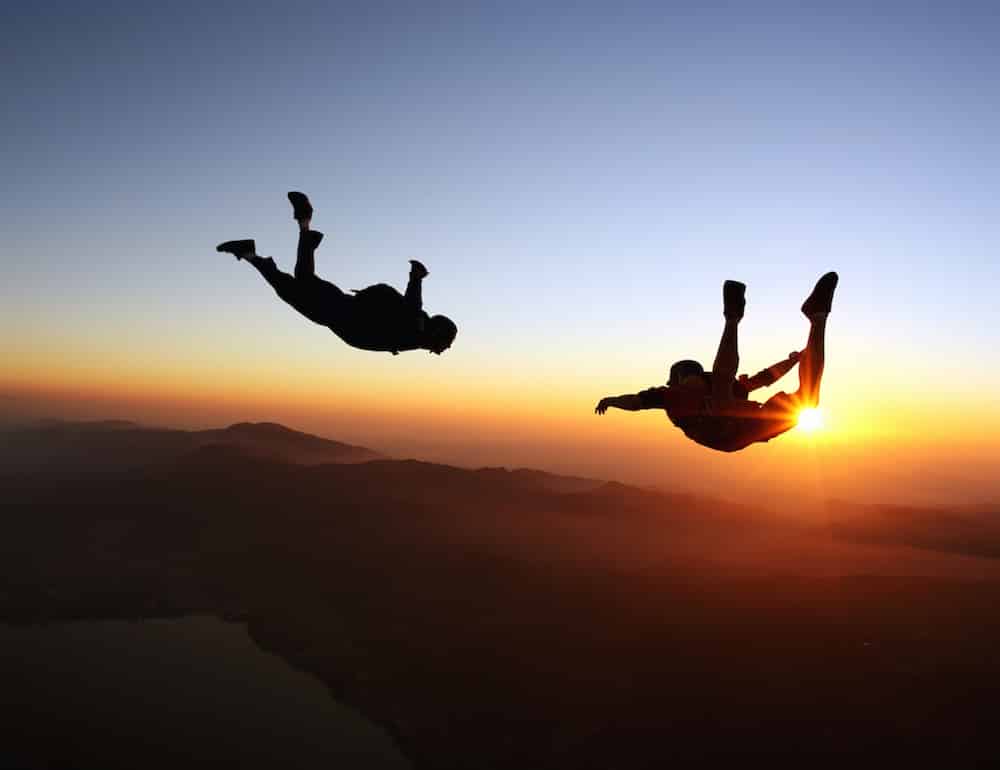 Skydiving in New Zealand: Top 10 Spots
New Zealand is also known as Aotearoa, meaning the land of the long white cloud in Maori – so if you skydive in New Zealand, you'll jump through clouds and land on a "cloud". From vast glaciers to rugged coastlines, and desolate islands to daunting volcanoes – skydiving in New Zealand is simply breathtaking. In this list of the top 10 spots for skydiving in New Zealand, we will take you from the North of the island to the South covering the best skydiving spots in the paradise for adventure sports.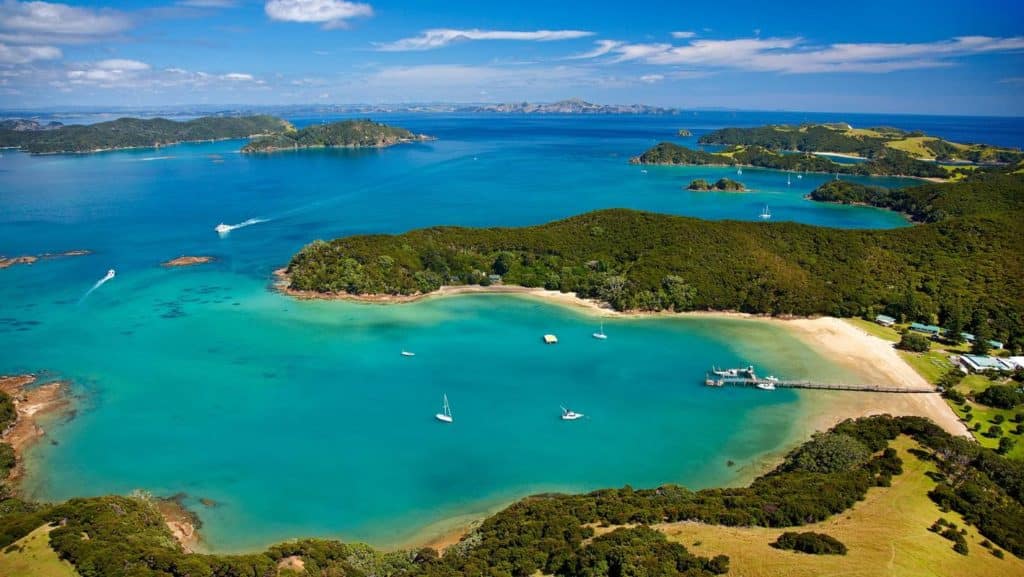 Skydiving in Paihia
We'd like to kick things off on the Northern-most tip of New Zealand for our first destination on our list of top 10 skydiving spots in New Zealand. The deep sea diving town of Paihia is just a 3 hour drive from Auckland and is the gateway to the popular Bay of Islands.

Green grass, blue skies, clear waters and sandy beaches are on a Utopian exhibition while you skydive in Paihia. Strangely, there's no better way to discover Paihia than jumping off of a plane – which is why it strolls into our list of top 10 spots for skydiving in New Zealand. Followed by Rio de Janeiro, Paihia has the bluest sky in the world!

While you can skydive in Paihia as a recreational activity, it could also be the place where you can participate in an AFF skydiving course.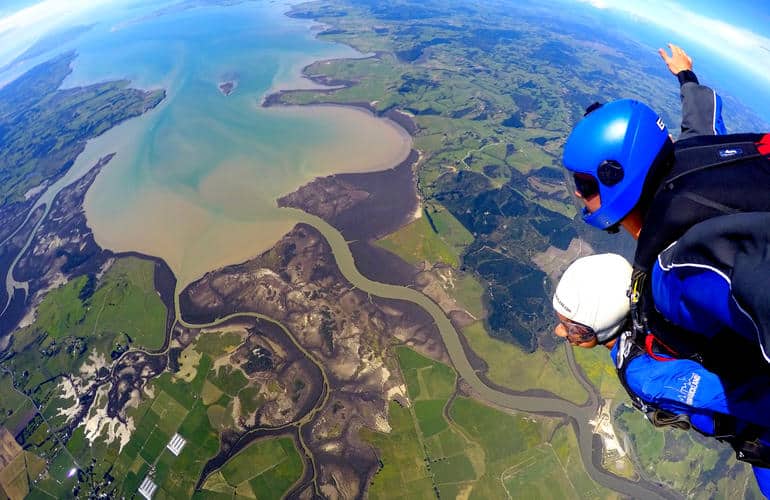 Skydiving in Auckland
While making the list of top 10 spots for skydiving in New Zealand, how could we forget New Zealand's largest city – Auckland. Perhaps most of you already know this but for those who didn't: Auckland resides on the North island of NZ.

What's interesting about this urban pick is that even though Auckland is an ultra metropolitan spot, while getting lost in the city lights, it's easy to jet out of the city to re-connect with nature. Fun fact: At 20,000 ft. Auckland is home to the highest skydive in New Zealand.

During the descend, you will have the opportunity to draw comparisons between the East and West coast of New Zealand. Furthermore, you will have in sight, the stupendous Mount Taranaki and the tranquil Hauraki Gulf.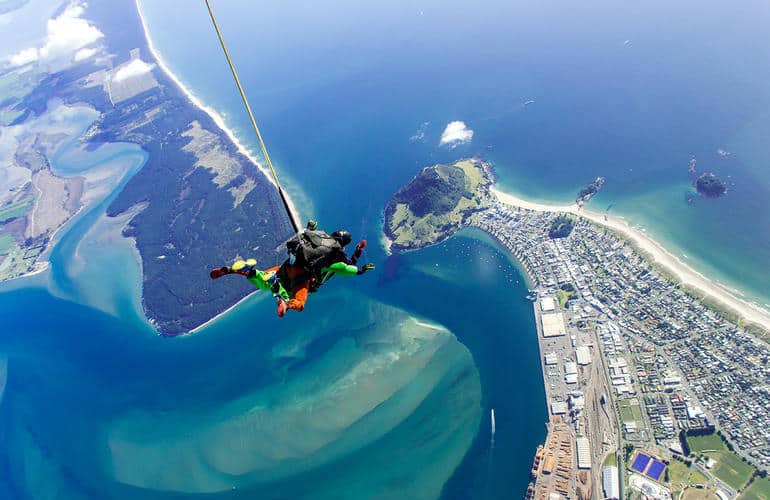 Skydiving in Tauranga, New Zealand
The city of Tauranga is situated on the North East coast of the North island, 200 km South of Auckland, making it really easy to access.
Tauranga makes the list for Top 10 spots for skydiving in New Zealand for it's dramatically diverse landscape. While skydiving in Tauranga, you can feast your eyes on blond beaches and Mount Maunganui. To calm your nerves before the jump, you can gaze at the Bay of Plenty with the Coromandel beaches, and the Tauranga Waterways.

Skydiving in Tauranga gives you the unique opportunity to secure an exclusive vantage point over the breathtaking White Island (stratovolcano), Rotorua lakes and Mount Taranaki.
Skydiving in Rotorua
Characterized by mud-pools and geysers which, by the way, erupt on a daily basis – the town of Rotorua in the North island of New Zealand is a traditional town which has managed to retain it's Maori culture.

The access routes to Rotorua include a drive down from Auckland (less than 3 hours) or Hamilton (just over one hour) but aerial routes are also opted by tourists from Wellington.

Before you take the leap of faith, you will hover over Lake Taupo and eventually the drop will treat you with coastal views and snowy volcanoes of the Tongariro National Park!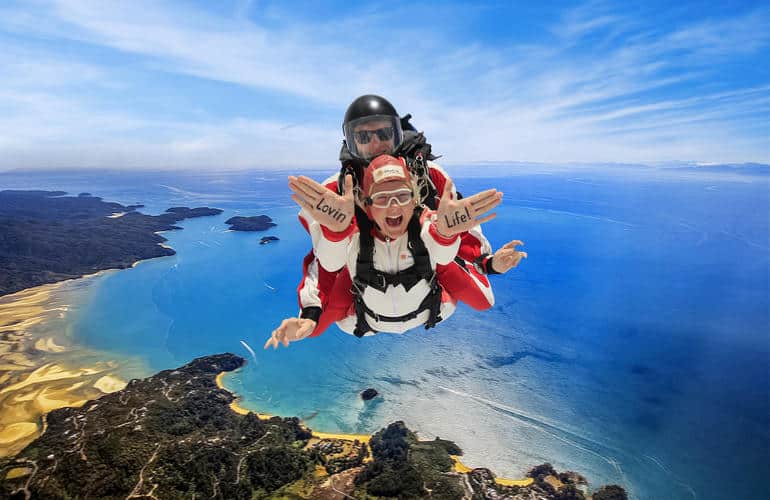 Skydiving in Abel Tasman National Park
Getting to Abel Tasman National Park (North end of New Zealand's South island) is an unconventional yet fun water-taxi or kayak ride (depending on your fitness levels) and that already makes it an interesting pick in our list of top 10 spots for skydiving in New Zealand.

Picture darting like a comet towards the ground and, arched over golden sandy beaches, snow capped mountains, a turquoise ocean, rivers, and the incredible national park of course.

Once you're on the ground, be sure to experience the national park up close and personal along the famous Coast Track, guiding you across beaches and ridges.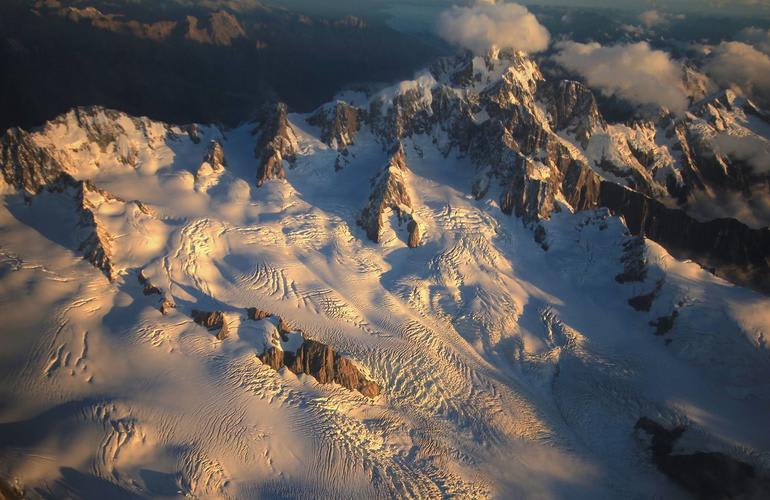 Skydiving in Franz Josef Glacier
If you love the ice, our next destination in the top 10 spots for skydiving in New Zealand will have you drooling. Franz Josef Glacier is a great find on the, otherwise very remote, West coast of New Zealand. The Franz Josef Glacier village can be reached using state highway 6 and is 135 km (less than 2 hours by car) from Hokitika and 285 km (3-4 hours by car) from Wanaka.

Although the pièce de résistance is the glacier itself, while skydiving, you will get a panoramic view of the Tasman Sea, rain forest, rivers and lakes. You could also (ask your instructor to show you whilst skydiving) lock eyes with Mount Aoraki and Mount Cook on the way down.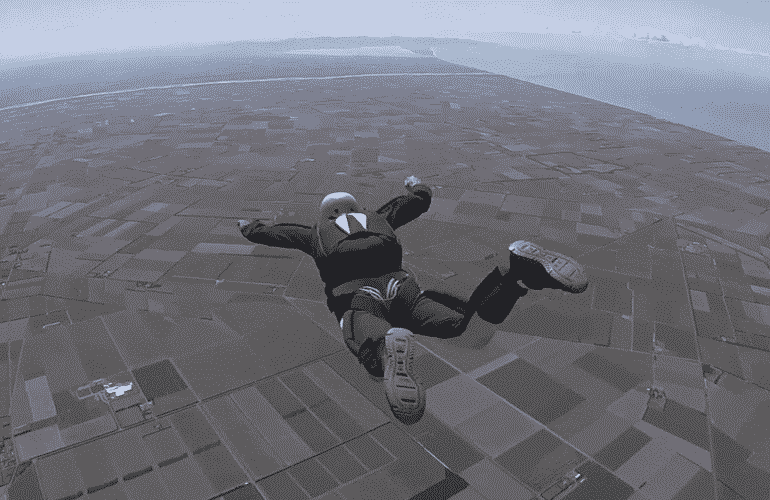 Skydiving in Christchurch
The largest city on the South island of New Zealand, Christchurch is less than 50 minutes away from the capital city, by air of course.

During the dive, a sea of green welcomes you in the form of plains, neighbored by the Tasman Sea – acting as a gentle reminder of the planet we're on. With a population of around 360,000 – upon your arrival back on land, Christchurch boasts of exciting festivals, theaters and modern art galleries.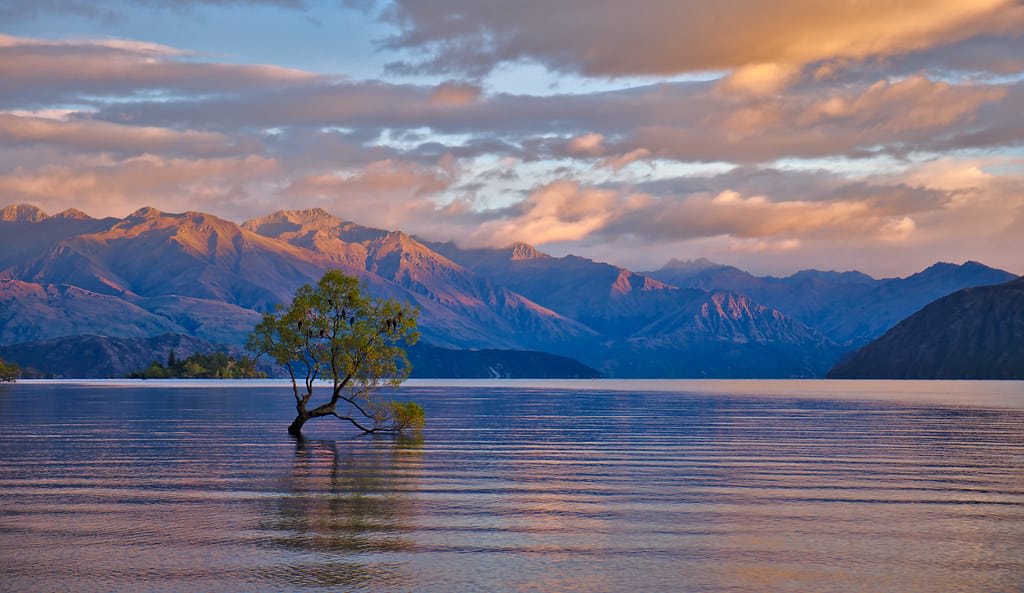 Skydiving in Wanaka
At the end of a scenic one hour drive from Queenstown, North on highway 6, you will have reached the next destination on our list of top 10 spots for skydiving in New Zealand – the wonderful town of Wanaka!

Lake Wanaka ranks fourth on the list of New Zealand's largest lakes and free-falling over it gives you the sense of diving into a fairly large swimming pool. The Clutha River is part of the viewing list and can be compared to a peacock's feather being twirled in the sunshine, as it flickers between shades of green and blue.

Other notable aerial attractions include Roy's Peak, Mt. Iron, the Rocky mountain track, and Mt. Aspiring.
Skydiving in Glenorchy
The pristine settlement of Glenorchy can be found at the further end of Lake Wakatipu. It is 45 minutes away from Queenstown, by road and less than 90 minutes from Wellington, by air. New Zealand is branded as somewhat of a Shangri-la on Earth, thanks to places like Glenorchy.

While transitioning from air to land, in Glenorchy, you will be spoilt for choice like a kid in a candy store, in terms of viewing options. On one hand you have Lake Wakatipu, redefining the color blue and on the other you can gaze at the mighty snow capped Mount Earnslaw.

It's almost as if you're entering a pure realm where the town is an understatement of surreal – which made Glenorchy the perfect location for filming movies like Narnia and The Lord of the Rings.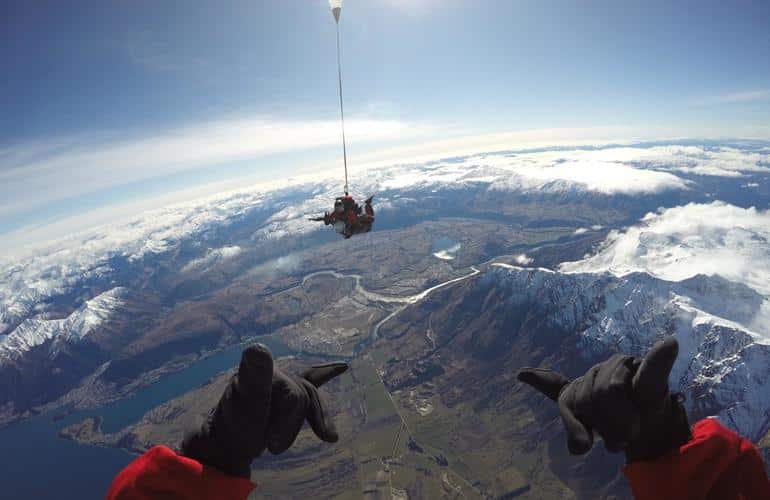 Skydiving in Queenstown
The last (but not the least) spot on our list, we present you, the adventure capital of the world – Queensland. Situated on the South island of New Zealand, Queenstown is one of the easiest spots to access on our list of top 10 spots for skydiving in New Zealand. Most people access Queenstown, driving down from Christchurch, which takes roughly six hours. Although, if you're not well rested, it is advisable to take a flight, which takes less than two hours from Auckland and Wellington!

Skydiving in Queenstown is unique in the sense that the views on display are a great blend of urban and natural landscapes. Get ready to check off popular peak – Ben Lomond and New Zealand's longest lake – Lake Wakatipu off your bucket list as they graciously present themselves during the dive. It is fulfilling to witness civilization, in the form of Queenstown, living in perfect harmony in the lap of nature.