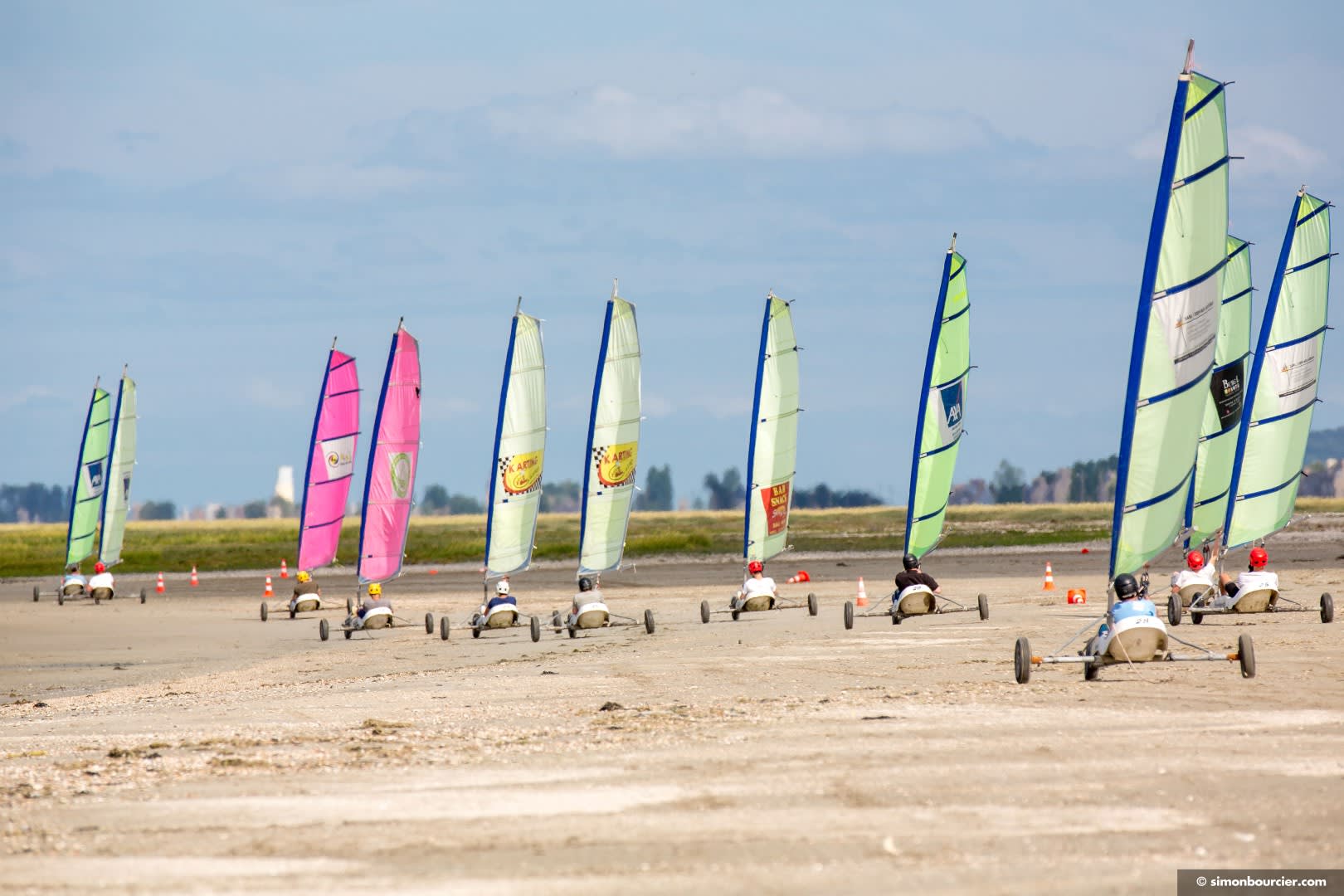 11 Unusual activities to do in Spring
This page has been translated automatically.
Like every year, on 21 March, we officially turn from winter to spring. Spring means warmer temperatures, the rebirth of nature and the desire to spend time outdoors. That's why we've put together a list of 11 unusual activities to do in spring.
From the sky, to the sea, to the mountains, we propose you to discover unique activities to do this season, with family or friends. We guarantee you exceptional views, strong sensations and unforgettable memories! Enjoy your discovery!
1- Hang gliding experience in Annecy
The first activity on our list of 11 unusual activities to do in spring is hang gliding. To discover the still snowy landscapes, the green plains and the rivers and lakes overflowing with water, this activity is ideal to do in spring. Hang gliding is a flying machine consisting of a wing, shaped like a delta (hence the name hang gliding), wheels and a harness, on which "hang gliders" lie down to fly. Starting from a high point, you have to run towards the cliff and throw yourself into the void. The take-offs are always impressive in hang-gliding! But don't worry, the wing immediately gains lift, and off you go for a flight, from a few minutes to a few hours. Like paragliding or gliding, hang gliding allows you to take advantage of updrafts to fly for a long time.
The hang gliding experience in Annecy is ideal for people who want to try this aerial sport for the first time. You will be able to choose between a discovery flight (10-20 minutes), an ascending flight (20-30 minutes), an acrobatic flight (20-30 minutes) and finally, for the most courageous, a prestige flight lasting between 30 and 40 minutes. Thanks to this experience, you will fly over Lake Annecy and the surrounding snow-covered mountains. The view of the Aravis mountain range and the Sambuy is indeed incredible.
And before you embark on this adventure, we suggest you learn about the difference between hang gliding and paragliding, to make it easier for you to choose between the two ways of flying.
2- Via Ferrata du Thaurac near Montpellier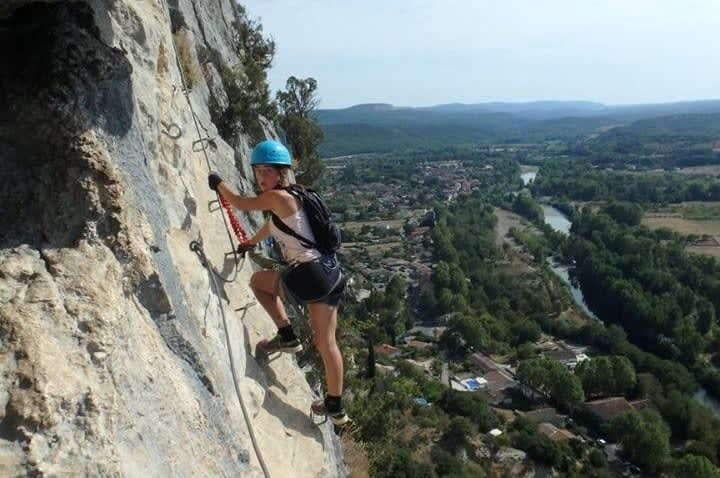 Let's move on to an activity to do in the mountains: the Via Ferrata. This activity is not well known, but the via ferrata is a machine for creating unforgettable memories! If you are not afraid of heights and feel ready to climb mountains, but are not an experienced climber, this sport is for you.
The via ferrata is a cliff course, equipped with cables, ramps, ladders, tyroleans and Nepalese bridges that allow participants to progress on the cliff more easily and safely. Once equipped with your harness and helmet you will be ready to climb the most impressive walls in complete safety.
The Via Ferrata du Thaurac is located in the Cévennes National Park, about 50 minutes from Montpellier. The course is located on the cliffs of the Thaurac, famous among climbers. After a 20-minute walk from the car park, you can start the 2-hour route to the Thaurac plateau, where you will be at a height of 320 metres and enjoy the exceptional views of the Languedoc-Roussillon region!
France is home to many Via Ferrata activities throughout its territory. We suggest you discover the Top 10 Via Ferrata in France.
3 - Flyboard on the French Riviera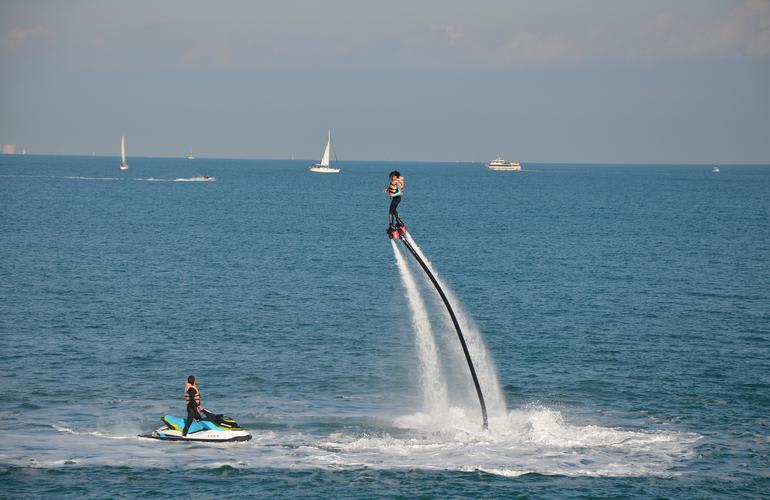 In spring, the temperatures rise, the waters warm up and the water sports season begins. The third sport on our list of unusual activities to do in spring is flyboarding.
Flyboarding is a new sport, which uses equipment attached under the feet, and is connected to a jet ski. With the power of the jetski, the flyboard allows you to fly over the water, as if you were equipped with a jetpack. As you can see in the picture above, you can climb up to 10 meters high and dive like a dolphin. Once on the flyboard, you will feel like a superhero. Ironman will have to watch out!
A Flyboard session in Nice is the perfect way to try this original activity on one of the most beautiful coastlines in France. This flyboard activity takes you 300 meters from the coast and allows you to fly with a view of the entire coast of Nice, all the way to Cannes! You will of course be equipped with a life jacket, a helmet and accompanied by an instructor to help you. Two different sessions are offered: a 20 minute session and a 30 minute session.
If you want to flyboard in other spots, don't hesitate and discover all our flyboarding activities around the world.
4 - Caving in the Grotte des Faux Monnayeurs in the Jura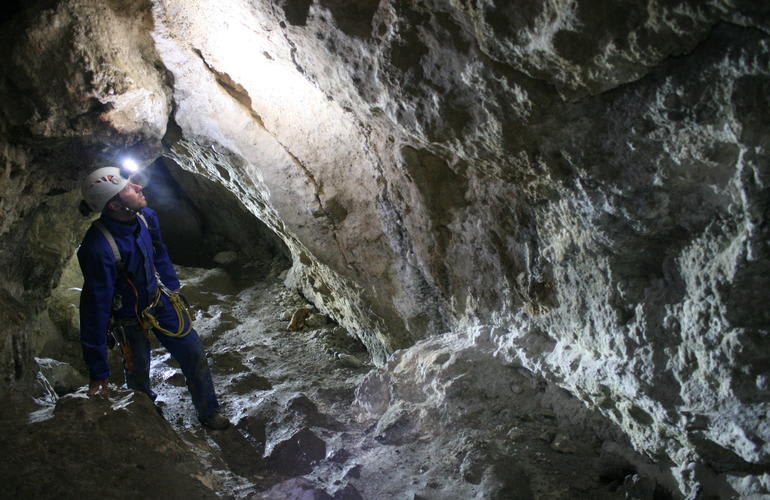 Head for the Jura, for another unusual activity: caving. The aim of this activity is to explore underground cavities. During a caving excursion, you will cross narrow galleries, climb natural chimneys, etc. before ending up in vast underground "rooms". Often you will also have the opportunity to see stalactites and stalagmites!
In caving, your instructor will accompany you throughout the trip. He or she will also provide you with a helmet, gloves, wetsuit (it's a dirty sport!) and, if necessary, a harness, which is essential for safe progress underground.
What is the attraction of caving? Beyond the underground landscapes, it is a real excursion out of the world and out of time. A total change of scenery. Without light, the total loss of the notion of time is a sensation to be experienced at least once in its life!
The Grotte des Faux Monnayeurs caving trip is ideal for a first experience. The cave is essentially horizontal, with no climbing, abseiling, ladders or chimneys. This adventure will allow you to observe a historical heritage, natural limestone sculptures, fossils, etc. in the heart of the Jura. It will take you about three hours of total disconnection to discover the whole of the Grotte des Faux Monnayeurs. And scoop: 4G does not work in this cave!
If you want to discover the world's underground spaces, here are all the caving activities in Europe.
5- Microlight flight over the Bay of Arcachon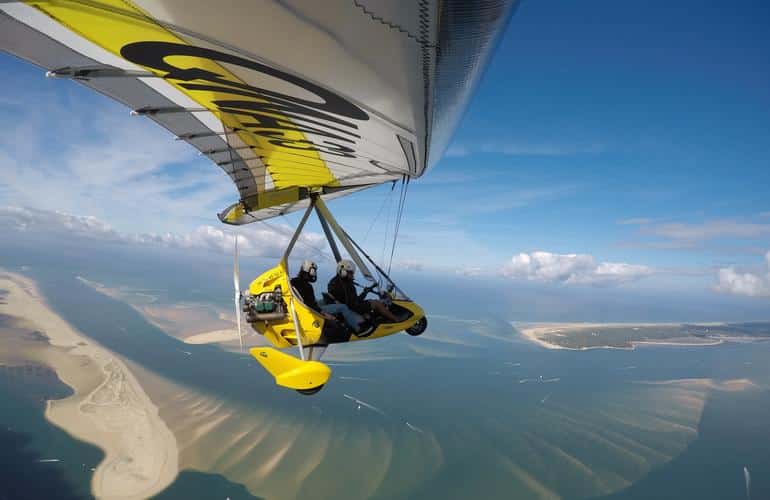 Fly to the Nouvelle-Aquitaine region, to discover the famous Arcachon Basin and its surroundings by microlight. The ULM is a small airplane, an "Ultra-Light Motorized", which allows to fly at a rather high altitude, or on the contrary rather low, and at a speed between 60 and 300 km/h. It carries only two people: the pilot and a passenger. These machines do not require prepared landing strips and have a range of 3 to 5 hours - which can allow short visits, but also long flights.
To try out microlight flying, our choice is the microlight flight over the Bay of Arcachon. The site of the basin lends itself particularly to microlight flying. The landscapes are sublime and clear. You will be able to admire the Dune du Pilat and the Cap Ferret, during a flight of 20, 30 or 45 minutes. The particularity of this microlight flight is that the pilot also offers an initiation to piloting, if you wish!
Microlighting is an activity accessible in many regions. Sea, mountains, countryside, choose your spot and discover all our ultralight activities in France and abroad.
6- Fatbike at Omaha Beach
Fatbike is definitely worthy of being in our list of 11 unusual activities to do in spring! What is a fatbike? It is a bike designed to ride on unstable terrain such as sand, snow and mud. The only difference from a conventional bike is the width of the bike's tyres, which are much larger. These large, wide tyres make it easier to ride on these soft terrains. So you can ride a Fatbike in all kinds of weather and terrain without fear of slipping or falling.
And if there is one type of terrain that is usually inaccessible by bike, it is sand. So head to Normandy, to one of the most historic sites in the world: Omaha Beach.
With the Omaha Beach Fatbike Ride, you can ride on the sand of the Normandy landing beaches for a fun and educational ride. With family or friends, you can take a free 1.5 hour session or a guided ride on an electric Fatbike to discover the secrets of this famous World War II beach.
And if you spend several days in this part of Normandy,Omaha Beach offers many other outdoor activities such as sea kayaking, catamaran sailing, sand yachting and even dune boarding.
7- Hydrospeed down the Drac in the Champsaur Valley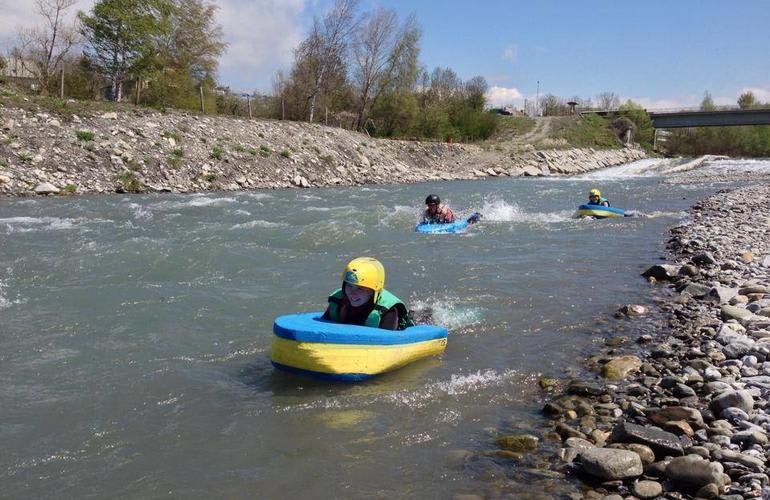 The next activity on our list of 11 unusual activities to do this spring is whitewater swimming, also commonly known as Hydrospeed. The aim of this unique activity is to swim down a river with a float and fins. To practice this sport, which is less well known than rafting or canoeing, you will be equipped with a reinforced full-body neoprene suit, helmet, fins and of course a life jacket.
This water sport, although impressive, can nevertheless be practised by all with a simple certificate certifying the ability to swim 25m and immerse one's head in the water. And white water swimming is really an original way of discovering and descending rivers, for a moment rich in emotions. Finally, it is a very fun way to spend a convivial moment in a group in spring.
For the hydrospeed descent of the Drac, the meeting point is 20 minutes by car from Gap. The activity lasts about 2.5 hours and you will spend between 1 and 1.5 hours in the water (depending on the water level). Be prepared to ride the waves created by the many rapids of the Drac. One thing is certain, you will become one with the river, all in the sumptuous setting of the Champsaur valley.
Hydrospeed is an activity that is offered in several rivers in France and Europe. Here are all our hydrospeed activities to make your choice!
8 - Free Fall Simulator Baptism in Paris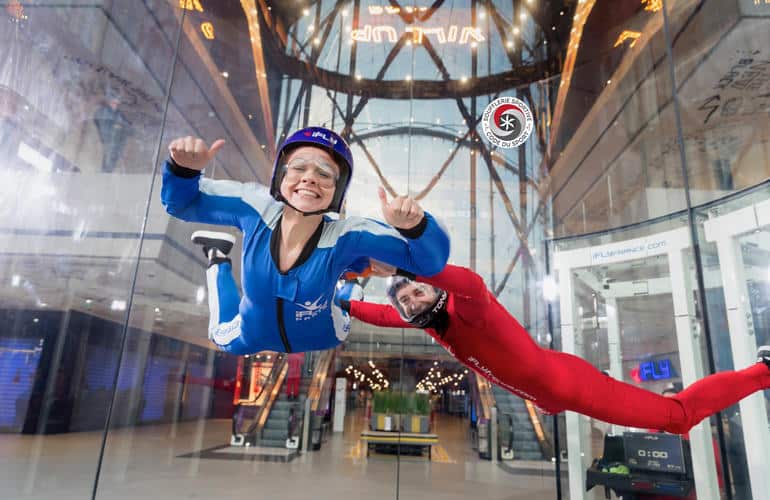 We have all dreamed at least once of making a parachute jump from a plane. But if you want to test yourself before jumping out of a moving plane, we suggest you discover this unusual and unusual activity: indoor skydiving.
This vertical wind tunnel is a so-called free-fall flight simulator. Thanks to a wind speed of about 200km/h, it puts you in the real conditions of a parachute jump, without the plane and the altitude. This "puff" flight (as free-fall simulators are often called) is accessible to everyone, from the age of 5. A reasonable physical condition is nevertheless necessary.
As for the equipment, you will be equipped with a wetsuit, a helmet and goggles (for the wind), just like in skydiving, but without the parachute.
The skydiving simulator experience in Paris is a complete experience that lasts between 1 and 1.5 hours in total. Just like skydiving, you will first be fitted out and given a full briefing. But instead of getting into the plane, you will stand around the wind tunnel with your group (about 12 people). Then you will enter the wind tunnel one after the other, each for a one minute first flight, with your instructor.
While the other participants pass through the "tunnel", you have time to watch the video of your first flight. During your second flight of 1 minute you will test your balance and try to stabilise yourself in the air, always with the advice of your instructor of course! At the end of your session, the instructor will give a sporty indoor skydiving demonstration - be prepared to be amazed! By the way, for a more real effect, you will be able to fly with a 360° simulator helmet with views of Dubai, Hawaii or even California, or how to simulate a plane jump, 1m above the ground!
Did you know that your wind tunnel experience is equivalent to 3 parachute jumps from an aeroplane at 4,000 metres? However, the experiences are different, so we suggest you simply try both! On our blog, we tell you all about the freefall simulator.
9- Survival course near Toulouse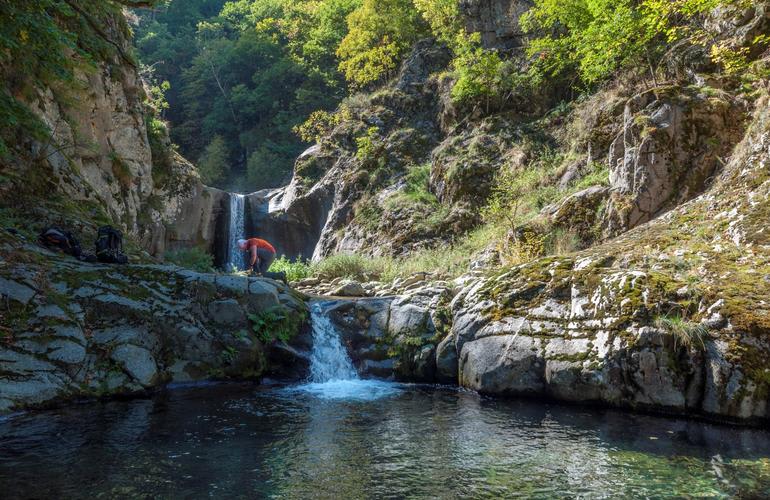 Our 9th entry on the list of unusual activities to do in Spring is the survival course. You've probably never heard of it, but trust us, it may come in handy some day. So what is a survival course? It's an excursion that will teach you all the basics to survive if you are ever lost in the wilderness. On the menu: learning how to make a fire, find food, build a shelter for the night, etc.
For this activity, we take you to the edge of the Cevennes to discover the survival course in the Gorges du Tarn. Over 3 or 4 days (depending on your choice), you will learn all the survival methods to use if you find yourself in this type of situation.
The special feature of this course is that time is also spent on mental preparation and stress management. This course is conducted without food, it will be up to you to find what is edible in nature (with the help of your instructor at the beginning). Whether you are with family or friends, this unusual course is a unique experience!
To get you in the survival mood, check out our list of the 6 best survival movies to watch. You'll be able to learn a few things before you take action!
10 - Sailboat session at Mont Saint-Michel
Sand yachting is definitely an unusual activity, and ideal for spring. The sand yacht is a three-wheeled machine that is propelled by the wind via a sail similar to a windsurfing sail.
Usually, this sport is practiced on wide and long sandy beaches. This is why most sessions take place at low tide. The width of the beach is at its widest and the sand is still wet and hard to roll on.
As far as clothing is concerned, we strongly advise you to wear waterproof clothing that is safe from sand, sea water and rain (you never know what the weather will be like in Normandy...). Gloves are (very strongly) recommended, as the wind can blow hard, and pulling on the sheet can create blisters.
The glider is designed to be fast. With speeds of up to 50km/h and a nearly prone position just a few centimetres off the ground, you can expect a powerful sense of speed. This fun activity is ideal for a group of friends to shoot the breeze!
And what better place for a first experience than the beaches of Mont Saint-Michel? Sand yachting on the bay of Mont Saint-Michel promises a whole programme. A quick briefing with your instructor, who will show you how to handle your sand yacht, and you'll be ready to go solo or in tandem. Yes, all children over the age of 4 can participate in this sport, but only from the age of 12 can they drive a sand yacht independently.
And if you are in the area for several days, another way to admire this World Heritage Site is from the air. Thanks to a paragliding experience over the bay of Mont Saint-Michel, you will have a breathtaking view of the whole of Mont Saint-Michel and its surroundings.
11- Paramotor flight near Paris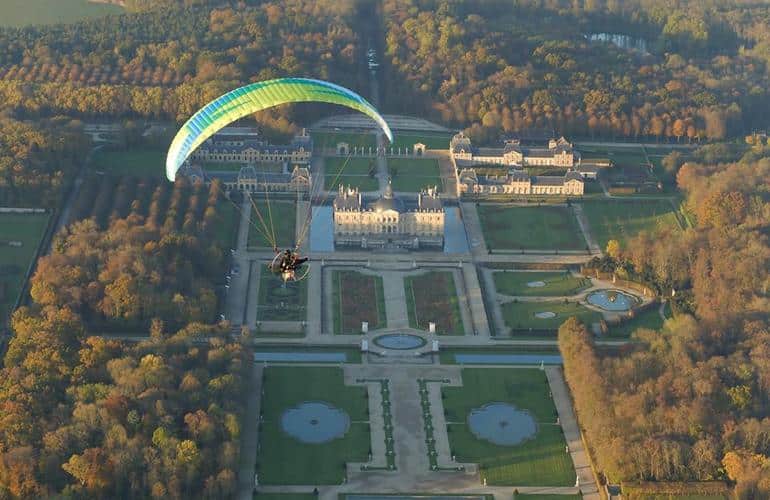 This brings us to the last activity on our list of unusual things to do in spring. The paramotor deserves to be on this list! Composed of a paraglider wing and a small propeller engine, the flight of this machine is very simple, but allows you to fly safely over beautiful landscapes, often at low altitude. With its limited speed and its engine, it is an excellent way to access the sensations of paragliding, on the plain.
And when you think of the plain and the lack of relief, you think of the Paris region. We have chosen to take you to the area around Fontainebleau. During the Paramotor flight in Prunay-sur-Essonne, you will discover the surrounding landscape: the plains and fields of the Gâtinais park, the Essonne valley, the Château de Courances or the Moulin de Dannemois, where Claude François lived. And if you are looking for more adrenaline, don't hesitate to ask the pilot to let you take the controls!
And if you are not near the Gâtinais, discover all the other paramotor activities in the world.
Spring is finally here, so this is your chance to get away for a weekend or a few days and discover France in an unusual way. You are now equipped with a full list of unusual activities to try in spring, while waiting for summer.
So don't hesitate, and let yourself be tempted. And for more choice, discover all our articles on activities to do in France, whatever the season.