Activities to do in Corsica to spice up your holidays
This page has been translated automatically.
If there is one island close to France that has a large number of varied landscapes that give an impression of elsewhere, it is Corsica. A favourite destination for many tourists, there are many things to do in Corsica, all year round. Also known as the "Isle of Beauty", Corsica is the 4? largest island in the Mediterranean Sea. It is very close to Sardinia, with only about ten kilometres separating them. Its mild climate typical of the Mediterranean region makes any trip to Corsica very pleasant, whether in summer or winter, and in the departments of Haute-Corse or Corse du Sud. In this article, we take you on a short tour of the island, down the west coast from Cap Corse to Bonifacio and up the east coast through the mountains to Haute-Corse.
Corsica (c) www.larousse.fr
The island is a natural paradise, combining mountainous and maritime landscapes throughout its surface. It is crossed by mountain ranges from north to south and is home to nature reserves, including a regional nature park covering 51% of its surface area. The richness of the landscapes, fauna and flora therefore offers a lot to see, as well as a lot to do! In this article, discover the best activities to do in Corsica!
Cultural activities to do in Corsica
The citadel of Corte
Corsica is renowned for its strong cultural identity, including its language, which is still used by almost half the island's population.
Its history is very rich, and the island is full of sites that can be very interesting to discover if you are wondering what to do apart from the hiking and swimming activities that occupy your days. Apart from the museums, here are some places to visit in Corsica if you are intrigued by its history:
in Haute-Corse: the citadel of Corte in the heart of the island, the citadel of Calvi in Balagne, the Roman city of Mariana south of Bastia, or the archaeological site of Aléria north of Solenzara
in Southern Corsica: the prehistoric site of Filitosa where you can discover menhirs, about twenty kilometres from Propriano
Let's not forget the numerous Genoese towers along the Corsican coast.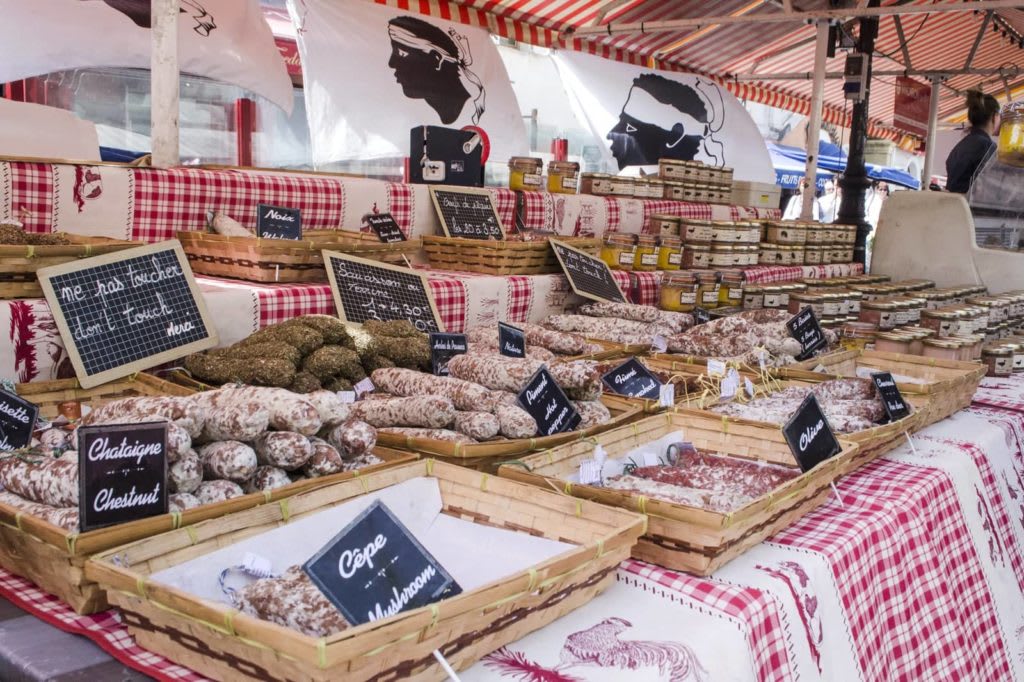 Corsican charcuterie: figatellu, coppa, lonzu... (c) www.fr.hotels.com
Corsica's regional gastronomy is also very present, notably thanks to the quality of local products: olive oil, chestnut flour, honey, wine, but also Corsican charcuterie and cheeses. Enjoying a good piece of charcuterie such as coppa, lonzu or figatellu with a good typical Corsican cheese such as brocciu for the aperitif is a must in Corsica. For the main course, you could be tempted by an aziminu, a kind of fish-based bouillabaisse, or a wild boar stew, called stufatu di cignale in Corsican. A slice of fiadone will bring the meal to a perfect close before embarking on a new activity, unless you let yourself be tempted by a small canistrelli if there is still room.
Sports activities in Corsica
Rich in landscapes, Corsica also offers a large number of activities to discover them. There is no way you won't know what to do in Corsica during your stay, and this article will prove it.
Cap Corse with Saint-Florent
Let's start from Cap Corse, at the very top of the island, to begin our journey listing the must-do activities in Corsica.
Take off from Bastia in a microlight or gyrocopter to admire the Agriates desert from above, right next to Saint-Florent and its gulf where you can go jet skiing, paddle boarding and even flyboarding. A trip to the sea to see the dolphins and whales of the Cap Corse marine park is a must during the summer season. Not far from Saint-Florent you will also find the beach of Saleccia, one of the most beautiful beaches in Corsica.
Ile Rousse, Calvi and Balagne
A little further west, explore Ile Rousse and Calvi in Balagne, where activities such as paragliding, surfing and windsurfing are highly recommended. Diving in the Gulf of Calvi is also a must in Haute-Corse. Don't hesitate to go inland either, as Balagne is known for its high perched villages, such as Montemaggiore. If you're interested in via ferrata, head to Morosaglia, on the eastern side of Corsica's inland. It is also a starting point for rafting down the Golo river, a springtime activity with guaranteed thrills!
The Calanques of Piana, Ajaccio and Propriano
Then move on to Southern Corsica, starting from the Gulf of Porto. If you were to make a list of things to do in Corsica, discovering the calanques of Piana, within the nature reserve of the Bouches de Scandola, would be top of the list. Listed as a Unesco World Heritage site, it is a magnificent landscape to explore on foot or by mountain bike. And why not from the sea? Admire this paradise on a boat trip along the Calanques de Piana. A little further inland, the Spelunca gorges will impress you during a beautiful hike. Another gulf a little further south, the Gulf of Sagone, is one of the best diving spots in Corsica. It is located north of Ajaccio, our next destination from where you can take a helicopter or sea kayak ride to get one of the best views of the Corsican capital's surroundings, as well as the Sanguinaires archipelago. Let's finish our tour of the western side of South Corsica with the Gulf of Propriano. There are many activities to do in Propriano: diving, water skiing, jet skiing, wakeboarding, as well as land activities such as hiking, mountain biking and horse riding.
Solenzara and the Aiguilles de Bavella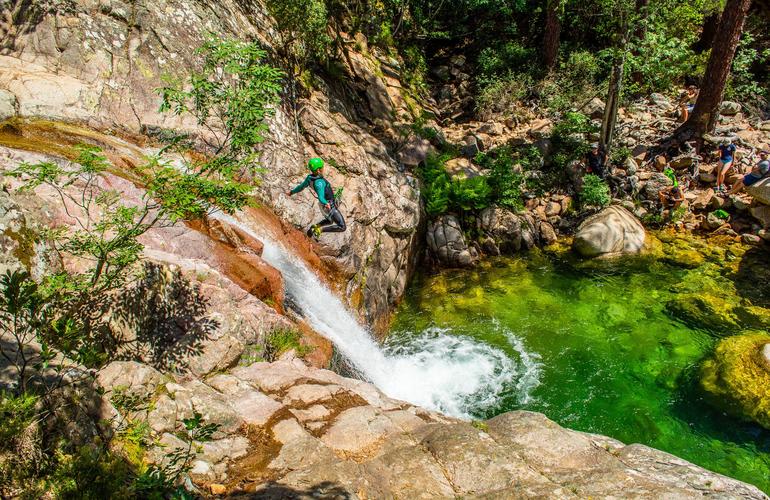 The west coast is full of things to do, and so is the east coast of southern Corsica. On the border between Haute-Corse and Corse du Sud is the charming village of Solenzara, on the Côte des Nacres, whose views of the Aiguilles de Bavella make it a superb spot for all kinds of sporting activities. If there is an outdoor adventure not to be missed, it is surely a canyoning descent in Bavella. There is something for everyone, from water sports to land-based activities up the Solenzara river, there is no shortage of things to do here! Kayak, stand-up paddle and accrobranche, as well as snorkelling at the beach of Canella, a little further south.
Porto-Vecchio, Bonifacio and the Lavezzi Islands
Further downhill, you will find the bay of Saint-Cyprien and Porto-Vecchio. Diving and snorkelling are recommended, especially on the long, heavenly beach of Palombaggia. On this part of the east coast of Corsica, between Porto-Vecchio and Bonifacio, you will find two other of the island's most beautiful beaches: the beaches of Rondinara and Roccapina. At the tip of southern Corsica is Bonifacio, renowned for its limestone cliffs. Don't hesitate to take a boat to discover the Lavezzi islands, a small corner of paradise for hiking and snorkelling.
Corte and the famous GR20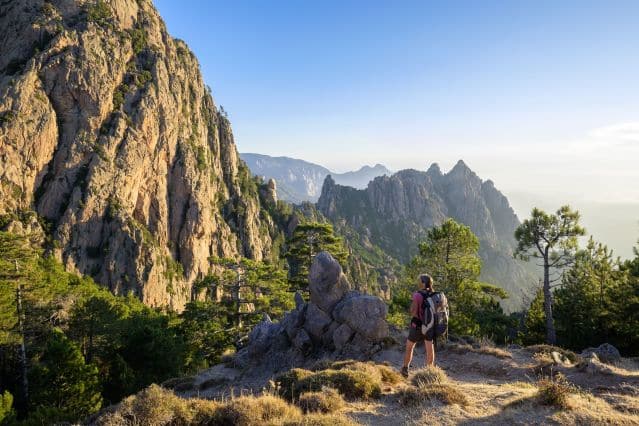 The ridges of the Punta di Ferriate GR20 (c) Terres d'Aventure
Once we have finished our tour of the Corsican coastline, let's not forget to go a little further inland, because the mountainous area of Corsica is also full of activities to venture into! The GR 20 trail is probably the best known for hikers in Corsica. It crosses the island from north to south for about 200 km and offers superb scenery, including the famous pozzines near Lake Nino. Snowshoeing is also available in winter, as the snow falls in the higher parts of the island. Corsica has a mild Mediterranean climate, but this can quickly change once in the mountains. Not far below the town of Corte, in the heart of Corsica, is the Restonica valley, a great place for many activities such as climbing, canyoning and hiking. It would not be surprising if you came across mouflons or wild boars, animals that are very present on the island.
It's your turn to explore Corsica!
And if all these things to do in Corsica don't seem to be enough, you should know that this is not an exhaustive list... You can find other activities such as skydiving, caving, quad or jeep rides, and many others. Discover all the things to do in Corsica. For more details, check out our guide to 10 things to do in Corsica in summer. After this brief overview of Corsica and the things you can do there, there's only one thing left to do: book your ticket to the island and try out all the activities we've listed! It's impossible to get bored on a trip to Corsica, which is one of the best reasons to go there at least once in your life. Don't hesitate any longer and go to Corsica!