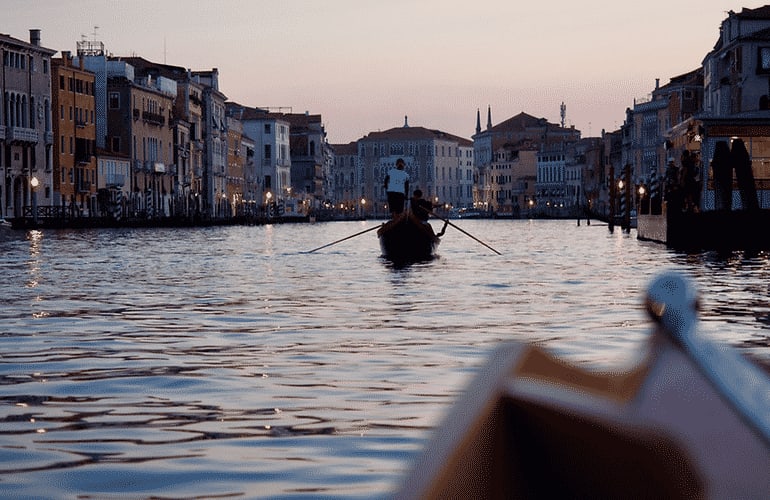 Outdoor Activities to do in Italy on Valentine's Day
Taking your loved one to Italy for Valentine's Day is a pretty safe bet considering it's one of the most romantic countries in the world, but if you and your partner are more into seeking out thrills than seeking out spas, then you've really hit the jackpot. A couple's trip to Italy doesn't have to be about sipping San Pellegrino while gazing lovingly into each other's eyes in front of a Margarita pizza, there are plenty of adventures awaiting you in this fabulous historic country. That's why we have gathered a list of great outdoor activities to do in Italy on Valentine's Day.
With activities varying in degrees of extremeness, you are bound to find a perfect and unforgettable experience to share with your sweetheart. Simply just visiting cities like Venice, Milan, Rome, Florence, is already a win, but combining it with a paragliding flight, hot air balloon ride or a memorable canyoning session, you're guaranteed to be smiling for weeks after. Discover our top picks for activities to share as a couple in Italy.
Climbing in Lake Garda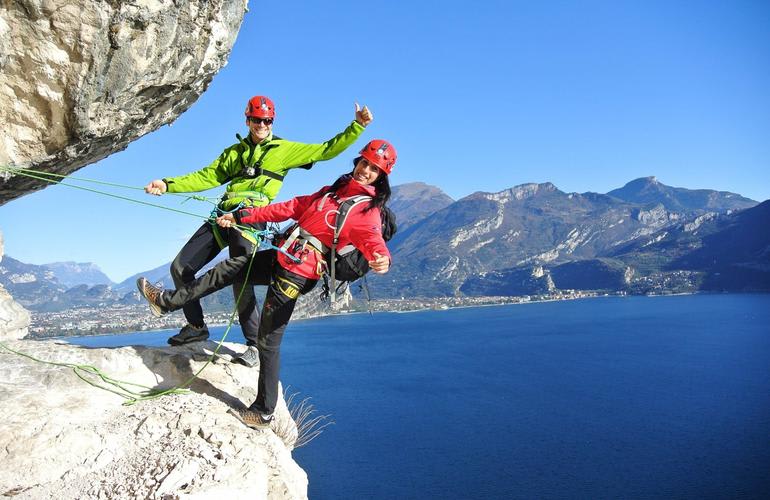 One of the first activities to do in Italy on Valentine's Day of our list is located in northern Italy. You can find the largest lake in the country halfway between Venice and Milan, in an alpine region formed by glaciers at the end of the last ice age. Alive with blue waters, steep green mountains and cliffs, Lake Garda is a true paradise for outdoor sports and mountain activities, notably, climbing.

Climbing is the perfect activity to share as a couple, and Italy is the perfect place to try it, so strap on your harness and learn to climb a vertical wall with bare hands accompanied by approved professionals. Both beginners and advanced climbers will spend a great moment when rock climbing around Lake Garda.
Evening Rowing in Venice
Experience the "City of Lovers" while learning the basic rowing. You will have the chance to spend a romantic evening during Valentine's day around the charming canals of Venice. It allows to experience a typical tradition in the Venice Lagoon with one of the characteristic boats of the city called Batela coda di Gambero, "Shrimp-tailed boat". These Batela were once the most popular boats in Venice also represented in many famous paintings.
When rowing through the canals of Venice you will be enchanted by the lights of the city passing by centuries of history! After a full day, visiting the city is the perfect way to conclude a magical day with a great peace of mind. You will certainly have the feeling to be in a live painting with your loved one.
Paragliding near Bolzano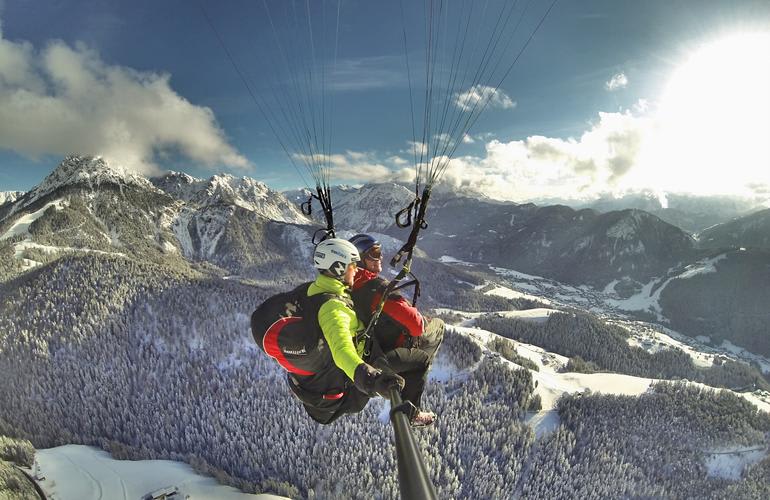 Fly through the sky of the Pustertal Valley, in northeast Italy, during a tandem paragliding flight. Experiencing this activity you will discover the South Tyrol from above starting from the Mont Kronplatz located near Bolzano having the opportunity to admire the magnificent landscapes of the Alps and of the Dolomites. Covered with a beautiful blanket of snow this border region showcases what Mother Nature has to offer.
A tandem paragliding flight over Kronplatz is the perfect way to spend a magical and original Valentine's Day even if you are not flying under the same canopy. We suggest you book your flight in advance in order to take off at the same time, each with a professional pilot and you might even cross each other in the air. This is definitely a breathtaking experience that you will remember.
Snowshoeing in Madonna Di Campiglio
Explore the snowy forest and the frozen lakes while snowshoeing in Madonna di Campiglio with the assistance of a professional mountain guide. Madonna di Campiglio located near Trento, is the perfect place to spend a romantic 14th of February practicing an accessible and exciting activity such as snowshoeing. This is definitely one of the nicest winter activities to do in Italy on Valentine's Day.
This experience will allow you to discover some secret spots that the nature offers in the area. We propose 6 unique snowshoeing itineraries that you can do either in the morning or in the afternoon. If you wish to surprise your better half with something even more special we recommend to go for the snowshoeing night excursion in the Tonale Pass.
Parachute Jump near Naples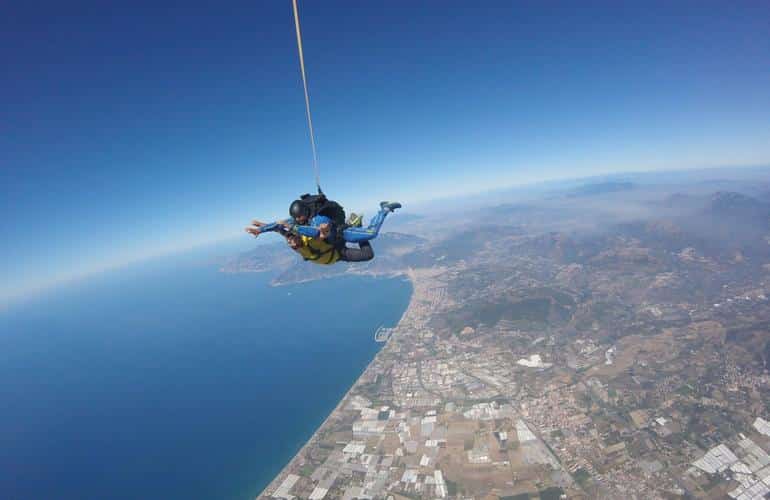 Experience the wonder that is Amalfi on the south-west coast from a slightly more unique perspective during your Tandem Skydive jump near Naples. When jumping from the exceptional altitude of 4500 meters, you will enjoy the breath-taking views of Sorrento, Ischia, Vesuvius and the Greek temples of Paestum.
A Parachute Jump is an exciting activity that will leave you and your better half with a sensation of freedom and adrenaline. This will be for sure an unforgettable Valentine's day discovering one of the most beautiful Italian Coasts from above. To immortalize this moment you can choose the option with pictures and videos of your jump.
Heliskiing in Courmayeur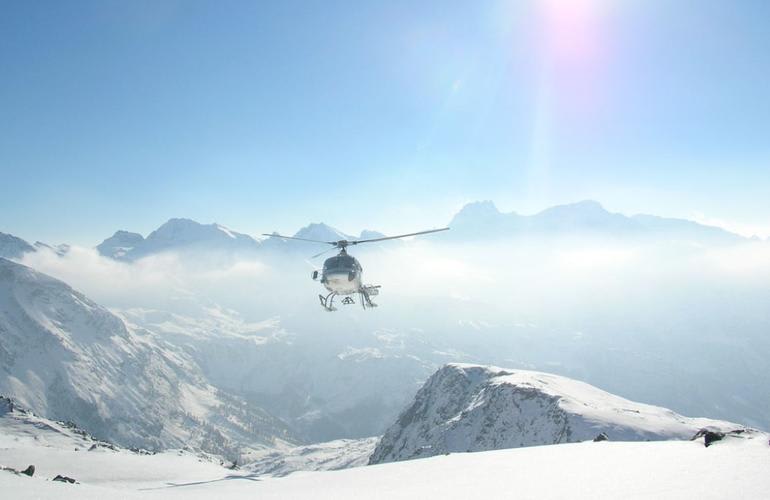 Heliskiing is another amazing activity to do during Valentine's Day in the Aosta Valley. Courmayeur is one of Europe's best-known spots for mountaineering and skiing located in the heart of the Alps. You will have access to Chamonix resort and the slopes in the famous Vallée Blanche. This heliskiing excursion is organised with an experienced alpine guide, who will navigate you through powder runs and forest tracks.
Heliskiing in Courmayeur is suitable for a sporty couple who already has some experience in off-piste skiing or snowboarding. You will feel for sure amused by the snowy landscape of the Mont Blanc. If you wish to try other activities near Courmayeur there are plenty of choices from Skiing to Snowshoeing and you will have the chance to discover new valleys and spots between the Italian and the French mountains.
Snowmobile near Cortina d'Ampezzo
If you wish to try an original activity to do this Valentine's Day we propose you try Snowmobiling in the Cadore region near the famous ski resort Cortina d'Ampezzo. Cortina is the top destination for winter holidays in Italy thanks to the nature that it offers, the many attractions available and to the fact that it already hosted three times the Olympic games.
During this 1 hour excursion you will admire the enchanting landscape of the Dolomites and their beautiful lakes. Remember to bring your driving licence if you want to gain all the best emotions about driving a snowmobile in a breathtaking snow-covered path with your loved one.
Kayak Tour in the eternal Rome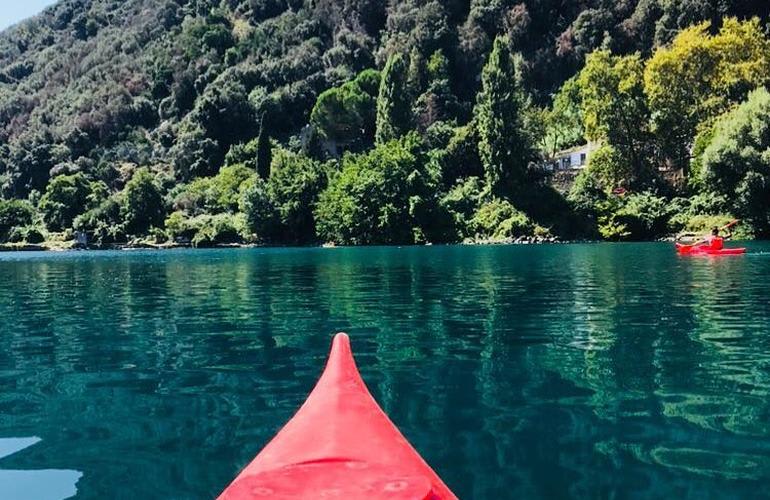 Rome is the perfect city to spend a romantic Valentine's day discovering its gastronomy and history. If you want to make this day even more special we suggest you a Kayak tour as an adventurous activity to do. Just outside the city the Canoa Kayak Academy propose a 3 hours Kayak trip in the Lake Albano also called lake Castel Gandolfo.
The guide which will teach you the basic techniques of kayaking and will also give you interesting insights about the history of Castel Gandolfo showing you some unique and historical spots. This activity is for sure an unusual experience to do in Rome which will let you discover submerged stilt houses. You will be impressed!
Hot Air Balloon Flight in Milan
If you wish to visit Milan and surprise your better half with a special activity during Valentine's Day you should experience the Hot Air Baloon Flight (starting 35 km away from the city center). During this unforgettable excursion your pilot will show you Parco del Ticino, a natural park located just 30 km from Milan and you will be able to see Milan, Pavia and Piacenza, surrounded by a beautiful countryside as well as the Alps and the Apennines from above.
You will have the option to choose between a Morning or an Afternoon flight and if you want to be sure to be just with your better half we suggest you the Private Hot Air Balloon Flight. Get ready to taste local wine, cheese and salami over the sky and share a romantic day that you will remember forever.
Urban Rafting in the Heart of Florence
Explore Florence and discover the history of one of the most beautiful Italian cities for Valentine's Day. If you are adventurous and you still want to learn about the culture, the history admiring the Renaissance art of Florence from an unusual perspective we suggest you to try Urban Rafting in the heart of the city.
During this activity down the Arno river you will notice the Ponte Vecchio Bridge, the Vasari Corridor, Uffizi gallery, the St Trinity Bridge and many other spots. Get away from the ordinary and admire the city with this unique experience. If you wish to travel a bit around Tuscany we propose you other original activities in the enchanting Siena.
Scuba Diving in Torre Lapillo, Salento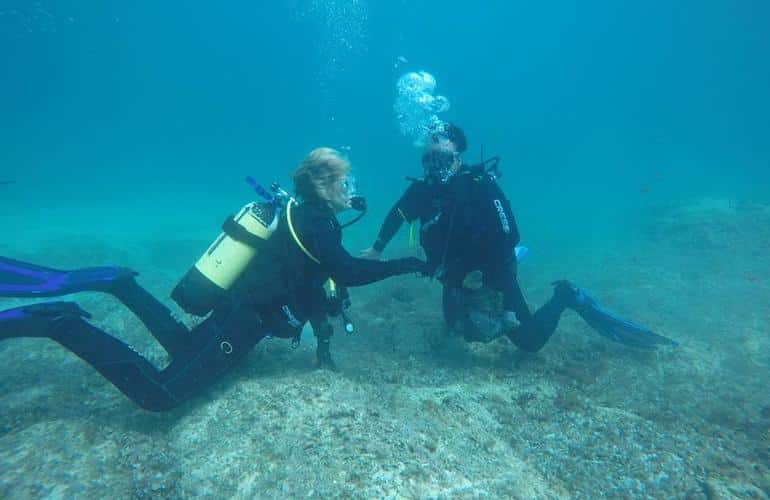 Explore the region of Puglia in the South of Italy for this Valentine's day. In particular, you will have the chance to try a Scuba Diving activity in Torre Lapillo in the Salento area, swimming in one of the best seabeds of the Mediterranean sea. For this activity everybody is welcome from beginners to experienced divers.
During this 1.5 hour of scuba diving excursion you will immerge yourselves in the underwater world to a maximum of 10 m depth, few kilometers from the coast learning the basic concept diving with a supervisor of a PADI Professional. You will definitely discover a beautiful flora and amazing colors.

If you wish to take some inspiration for original outdoor activities to do in Italy on Valentine's Day or during your next holiday you will have the possibility to choose among plenty of cities from North to South.
For other top outdoor adventures to do as a couple all over the world and whenever you want we provide you a good selection that will make you live unforgettable moments.