Why Paragliding over Lake Garda is a Must
Beautiful lakes, quaint Italian villages on the shores, great local food and landscapes marked by the nearby Dolomites define the Lake Garda region. Here's an unusual and unforgettable way of discovering the area: Paragliding over Lake Garda, over nearby Lake Idro or Lake Ledro.
Around Lake Garda you can find many great outdoor activities to explore this popular holiday destination. Different canyoning adventures or via ferrata itineraries offer you new and stunning views of the region. But the most impressive views of all are offered during a tandem paragliding flight. Take off from a nearby mountain and soar over this Northern Italian gem !
A tandem paragliding flight is suitable for everyone as no technical and physical skills are required. Our experienced pilots will make sure to provide you with an unforgettable adventure during the 10-15 minutes flight. Keep in mind that paragliding is an activity that is entirely subject to weather. Flight duration and time might therefore vary.

This paragliding activity is not only about great views of Lake Garda, but also about freedom, fresh air, adrenaline and unforgettable memories.
1- Tandem Paragliding over Lake Garda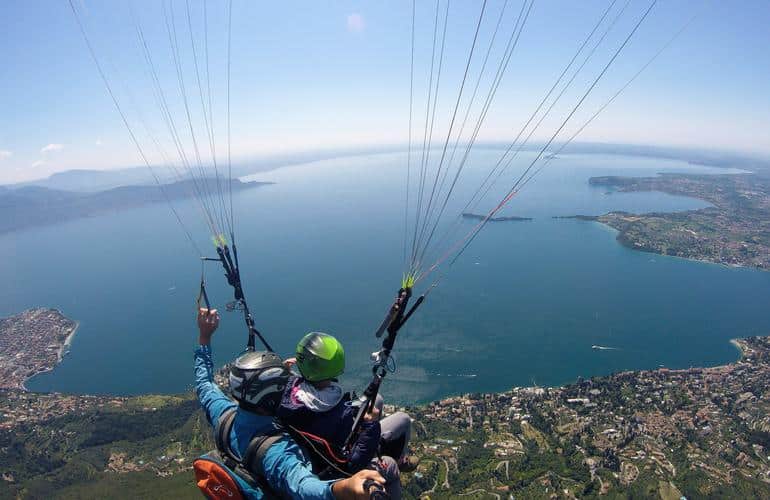 Lake Garda is the largest lake in Italy and therefore a unique spot for a tandem paragliding flight. With your expert pilot you will take off from over 1500 meters. Located on the west shore of the lake, above the village of Maderno, Mount Pizzocolo offers a unique starting point for your adventure. At the top of this mountain you will find a little chapel, built in 1985 on the ruins of artifacts dating back to the World War II, in dedication to the fallen of the mountains and those who died in the war.
But no need to hike up to Mount Pizzocolo (unless you wish to do so). From the meeting point in San Michele, near Gardone Rivier, the paragliding school takes you up to the take-off spot with a Jeep. While the pilot is preparing the paraglider, you get equipped and receive a detailed briefing on the course of the flight.

The big moment has come, attached to your pilot, you will take some energetic steps and smoothly glide into the air. All that's left to do for you is sit back, relax and enjoy the beautiful views at your feet during this 15-20 minutes paragliding flight over Lake Garda. To immortalize this moment, make a request to mount a GoPro camera.
2- Tandem Paragliding over Lake Idro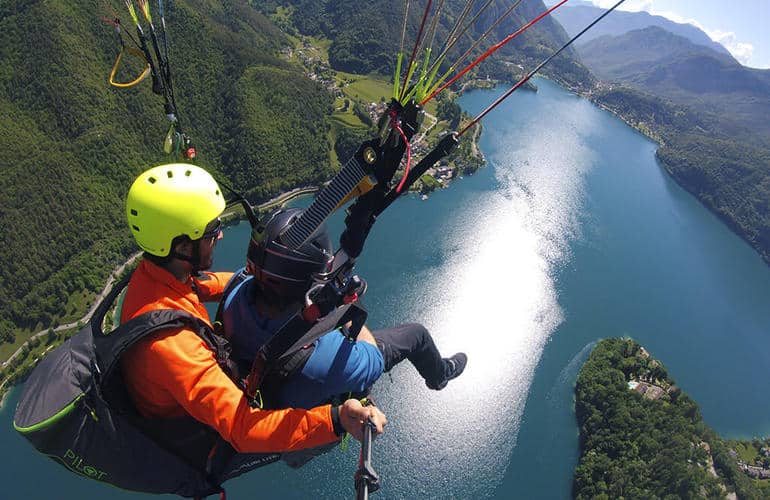 Paragliding over Lake Garda is not the only beautiful paragliding experience in the region. For this second air adventure, we take you only a few kilometres east, to Lake Idro. This lake is over 30 times smaller than Lake Garda, but just as magnificent. Surrounded by wooded mountains, this lake takes its name from a legendary monster called Idra, who supposedly lived there.
But be reassured, this activity has nothing to do with a monster, on the contrary, it's rather a paradisaical experience. After meeting the professional pilots in Bondone, on the north shore of Lake Idro, which will also be the landing point of your flight. Together you will drive together up to the take-off point at 1200 meters. Equippment, briefing and off you glide into the sky with spectacular views when paragliding over Lake Idro, the Chiese Vally and the surrounding mountains.
3- Paragliding over Lake Ledro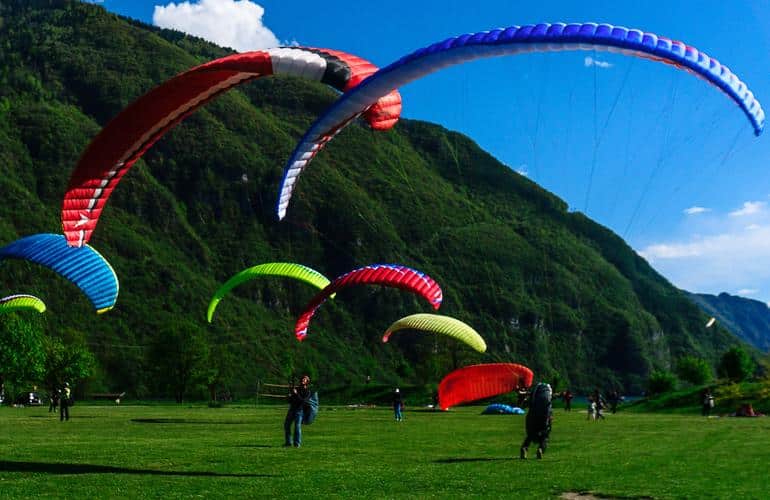 The third option is a paragliding flight over Lake Ledro. Its surface being 5 times smaller than Lake Idro (that makes over 150 times smaller than Lake Garda!), Lake Ledro is still a big player in terms of beauty as it is part of the UNESCO world heritage sites since 2012.
The meeting point for a paragliding flight over Lake Ledro is in Pieve di Ledro, at the east shore of the lake and only 20 minutes by car from Riva del Garda. With your pilot you'll go to the take-off site at 1000 meters where your pilot gets the material and yourself ready for this unforgettable experience. Just as with the two previous flights, breathtaking views and unique sensations are awaiting you during this 20-40 minutes flights.
Bonus- Winter paragliding in the Trentino Region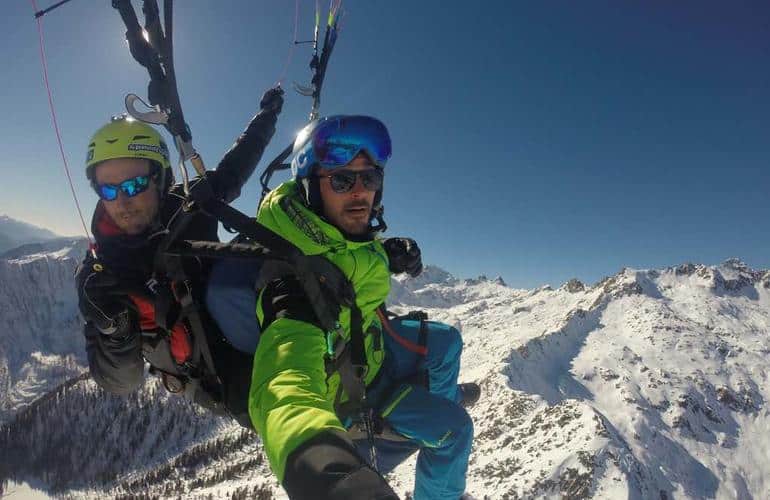 While the above paragliding flights are open generally from April to November, there's a winter paragliding not far from Lake Garda, in the Trentino region. The sensations are just as good as in summer, but the landscapes are very different. You soar between snowy mountains and above iced lakes. Two different take-off spots are available, either Pradalgo, near Madonna di Campiglio or Pinzolo, each of them are a 1h30 drive from Riva del Garda.
For many people, shared memories are the best memories! Don't hesitate to plan your paragliding flight over Lake Garda, Lake Ledro or Lake Idro with your family or friends. Just make sure you make a request early enough so that the several pilots can do the flight at the same time.
Paragliding in Northern Italy might be your first flight experience. Our complete guide to tandem paragliding will give you more details on what to expect and how to prepare. The beautiful nature around Lake Garda, between mountains and lakes, is ideal for all kinds of outdoor activities. Discover all our activities at Lake Garda or have a look at our top 7 via ferrata at Lake Garda and find where to go canyoning in Lake Garda.