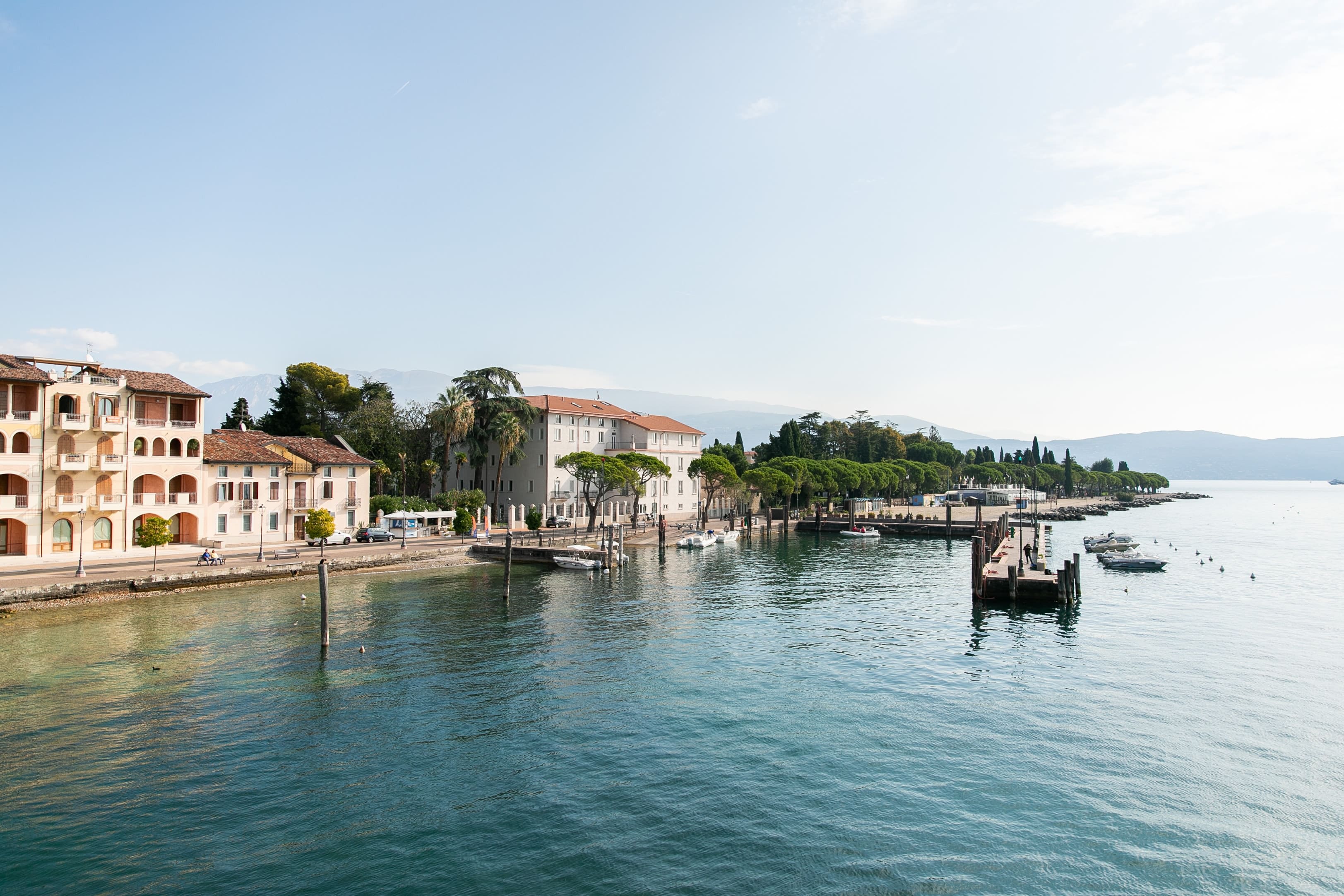 Top 10 Outdoor Activities to do at Lake Garda
Lake Garda is the largest lake in Italy located in the Northern part of the country, running from the steep alpine hills to the northern edge of the Po Valley. It is known for its crystal clear water and for the breathtaking landscape with mountains and small villages that surround it. Unsurprisingly, the area is a paradise for all kinds of outdoor adventures. Let's introduce you to one activity in particular: Canyoning at Lake Garda.
Given the many canyoning descents in the area, we figured an exhaustive list with the characteristics of each of the gorges is helpful to pick the most adapted one. Beginner, intermediate or advanced canyoner as well as families, everyone will find their perfect adventure.
Good to know: jumps are not mandatory, so if you are scared to jump, there's always an alternative! If you are taking your children with you, do not forget to check the minimum age and/or weight and height! For more detailed information about this sport, have a look at our complete guide to canyoning.

Discover the Top 8 canyoning activities at Lake Garda in this article – listed from the easiest to the most challenging.
1- Family Canyon Tour – Beginners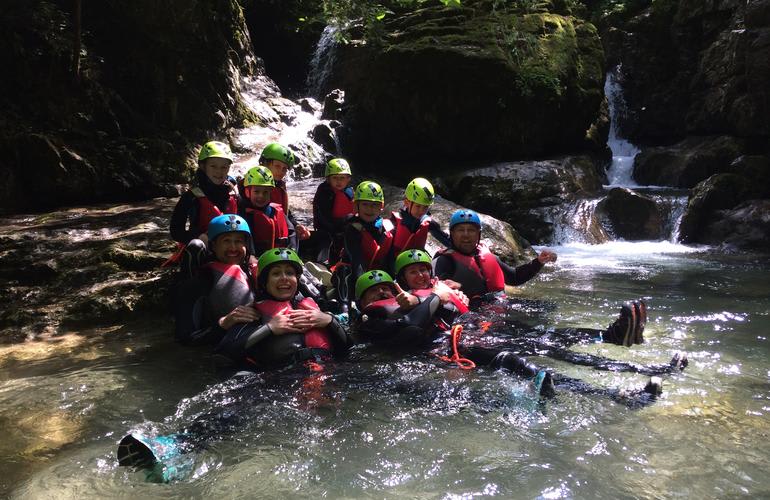 Canyoning is a very fun outdoor activity for the entire family. It is important however to choose a canyoning adventure that suits kids, with smaller jumps, shorter slides and easier abseils. So, you might wonder where to go canyoning with your family at Lake Garda?

In the Brescia side of Lake Garda, in Campione del Garda, an easy Family canyoning excursion in the Rio Nero canyon is perfectly suited for young and old. If your children are at least 6 years old and are not afraid of the water, they will love the activity where they are jumping from up to 5 to 8 meters (jumps are not mandatory) and abseil from 8 meters. No doubt, you and your children will have a lot of fun!
Duration: 2 hours
Highest Jump: 8 meters
Highest Abseil: 8 meters
Level: Beginners
Requirement: Minimum age 6 y/o
2- Gumpenfever Canyon – Beginners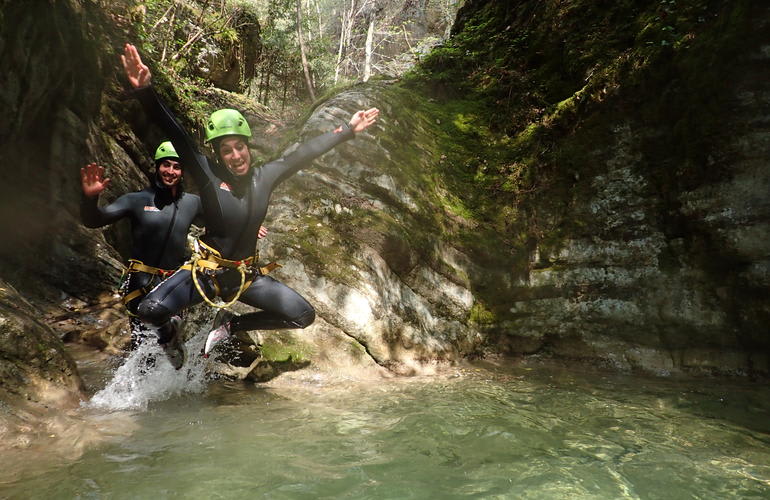 The canyoning descent of the Gumpenfever canyon is perfect for first-timers! The experienced guides will brief you thoroughly before this 2-hours activity and make sure that you are spending a fun moment in all safety. The only condition is to be 10 years and older and weight at least 40 kg. Remember that the jumps of up to 7 meters are not mandatory and can be avoided

By the way, the canyon has a curious name, right? But it becomes quite obvious with some explanation: the German word "Gumpen" refers to the water pools created by the river during thousands of years, and the word "fever" describes the fever that overcomes you to discover them all when doing the canyoning descen – simply Gumpenfever!
Duration: Half day 3 h
Highest Jump: 7 meters
Highest Abseil: 12 meters
Level: Intermediate
Requirement: Minimum age 10 y/o, weight at least 40kg
3- River Palvico – Beginners/Intermediate
When canyoning in River Palvico you will have the chance to walk between rock formations and cliffs practicing climbing, swimming, abseiling and jumping. If you are not afraid of height, you'll have a blast jumping from up to 6 meters and abseiling 50 meters. When you reach the deepest part of the torrent, you will enter in beautiful gorges and caves, with a landscape carved in rocks.
The advantage of this canyon is that you can almost reach the starting point of the tour by car. The approach walk only takes 5 minutes. Don't worry if you don't know the basics of canyoning yet. This canyoning tour is adapted for beginners and the guides will teach you climbing methods and canyoning techniques, stopping on the way to give you instructions during the excursion.
Duration: Half day
Highest Jump: 6 meters
Highest Abseil: 50 meters
Level: Beginners/Intermediate
Requirement: Minimum age 12 y/o, weight between 30 and 130 kg
4- Rio Nero – Intermediate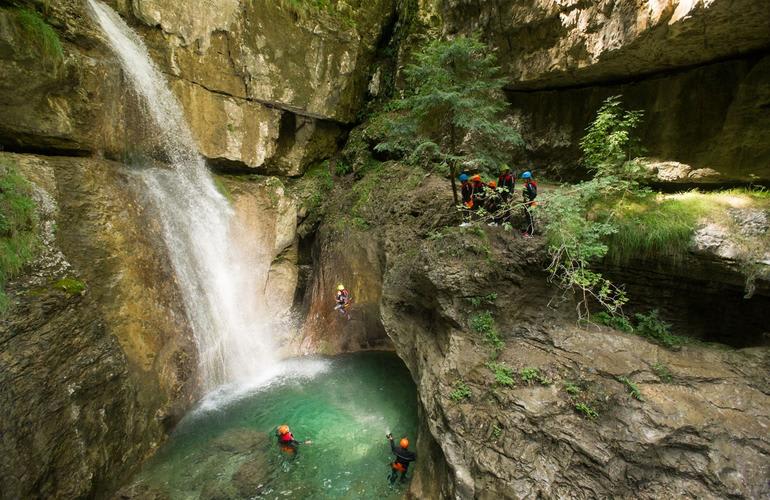 The Rio Nero canyon is situated in the Ledro Valley. It offers Jurassic vegetation, gorges and caves and a variegated landscape. As the name suggests, the "black river" is surrounded by steep and high rock cliffs. The sun rarely penetrates inside the canyon due to the fact that is quite narrow, even if less than the Palvico Canyon.
The longest slide is 6 meters and the highest jump 7 meters. During this 4 hours trip, you will spend 1 and a half hour in the water. This will be a dynamic experience, but in a quiet atmosphere. If you like it more adventurous, you can go for the full day tour, taking 7 hours with abseils of up to 35 meters.
Duration: Half day
Highest jump: 7 meters
Highest Abseil: 25 meters
Level: Intermediate
Requirement: Weight at least 40 kg
5- Vajo dell'Orsa – Intermediate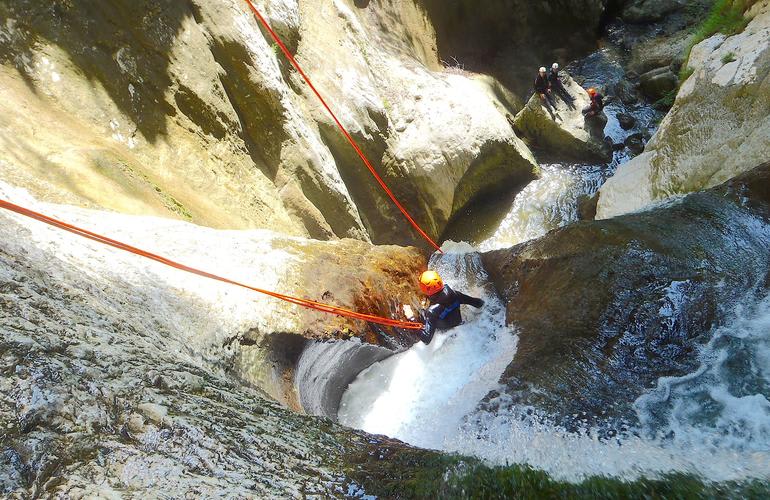 Located in Val d'Adige, the Vajo dell'Orsa canyon is a bit more challenging and will take you deep into a magical nature. It's an ideal experience if you have previous canyoning experience, or you're an athletic person.
You'll go up with fixed ropes for about 40 minutes before arriving into the crystal-clear pools of water located in the upper part, where you start your descent. Enjoy all the possible jumps, dives and going down six waterfalls of this adrenaline-packed adventure.
Duration: 5 hours
Highest jump: 5 meters
Highest Abseil: 25 meters
Level: Intermediate
Requirement: Minimum age 14 y/o
6- Vione Canyon – Intermediate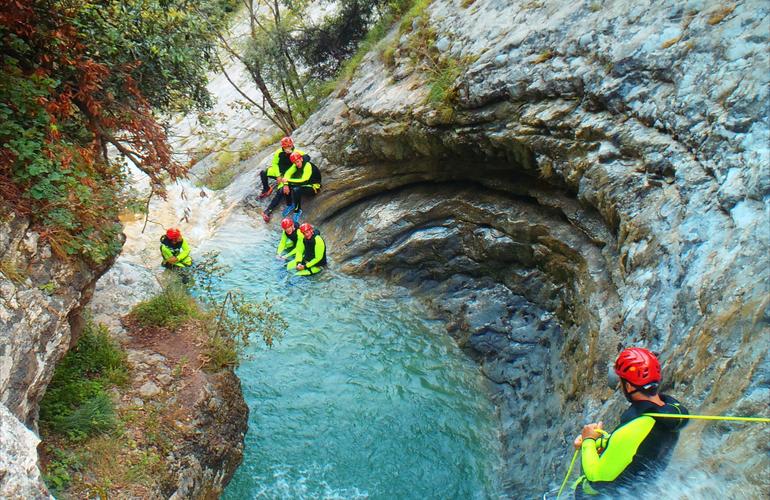 Get ready to discover some secrets and breathtaking spots in the Vione Canyon located in the province of Brescia! Not only the slides of 12 meters are very fun in this canyon, but also the many jumps and swims… and not to forget the thrilling 45 meters abseiling into the crystal clear water!
As with every canyoning adventure presented in this article, a guide will brief you before the activity, giving you the main safety information. Given the duration of the activity and the lengths of slides and abseils, a moderate physical fitness level is required here.
Duration: 4 hours
Highest jump: 10 meters
Highest Abseil: abseil 45 meters.
Level: intermediate
Requirement: Minimum age 12 y/o
7- Tignale canyon – Intermediate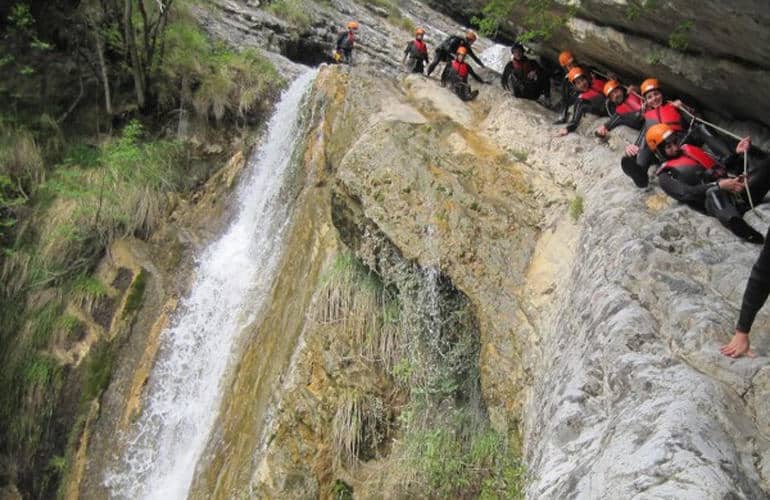 For some more challenging canyoning at Lake Garda, you could try the Tignale canyon. This descent is located not far from the Garda Lake itself. It's exposure to the sun makes it enjoyable in spring already with relatively warm water for the season. As the instructors say: "you will just run the risk of having lots of fun!"

Mind that during hotter days, the water inside the canyon can be stagnant. Professional guides will teach you about all the safety techniques in order to do this activity in complete safety and to fully enjoy the many jumps, slides, abseils and swims.
Duration: 4 hours
Level: intermediate
Requirement : Minimum age 12 y/o
8- Vione Canyon – Extreme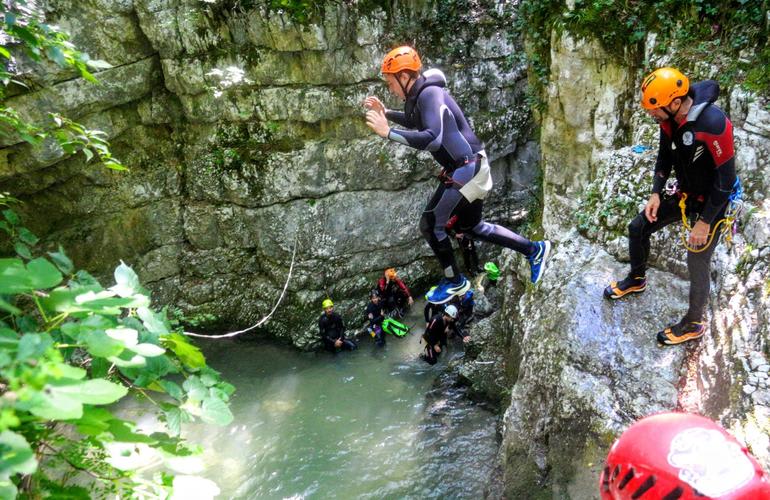 Back to the Vione canyon, that we have seen in its intermediate version above. This time with even more adrenaline! The Vione canyon Extreme tour is for experienced canyoners only, who are eager to take canyoning to the next level. During an entire day you will slide, jump, swim and abseil all while being surrounded by an amazing nature! And guess what? The water is also warm thanks to sun exposure.
Jump inside a gorge and swim into the pure water of the lake. Mind that in summer, the water level could be low, which makes the canyon inaccessible. If you do not have the required experience, try to go with the basic or intermediate Vione canyon tour (see n°6 above).
Duration: 7 hours
Highest jump: 8 meters
Highest abseil: 60 meters
Level: Extreme
Requirement : Minimum age 18 y/o

Canyoning at Lake Garda is a great way to discover this beautiful region of Italy and its secret nature. There's a suitable adventure for everyone – child, adult, beginner, intermediate or expert. In any case, do not forget to bring a swimsuit, change of clothes, sturdy shoes that can get wet, towel, snacks, water and a waterproof bag for your phone.

When booking one of the many canyoning adventures at Lake Garda you will get more detailed information on what to bring. Now is your turn to choose the activity that suits you the best!
And if you are curious about other possible outdoor activities at Lake Garda, do not miss the Top 10 Outdoor activities to do at Lake Garda.