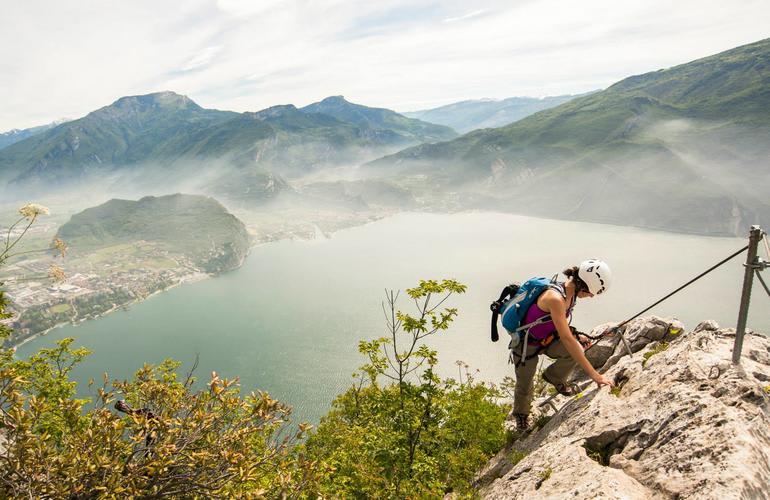 Top 7 Via Ferrata at Lake Garda
Participating in a Via Ferrata at Lake Garda is one of the best ways to discover the beautiful landscapes and breathtaking views of this region in Northern Italy. Via Ferrata is a mix of hiking, trekking and rock climbing, where you will follow pre-constructed mountain paths that often include zip lines, high ropes and crossing rope bridges. For more details on this sport, read our complete guide to via ferrata.
More or less adventurous via ferrata are waiting for you around Lake Garda with stunning views over the lake and the surrounding mountains. There's an excursion for everyone, even from kids from 6 years old! Thanks to the right equipment and the help of professional guides, even beginners with no previous experience will find suitable itineraries for them. If this is your case, you will be surprised by the skills you will gain. More experienced climbers can challenge themselves with more difficult via ferrata by following the footsteps of smugglers… we'll tell you more about that later!
If you are not afraid of vertigo, get ready to try some amazing horizontal and vertical via ferrata at Lake Garda, between the province of Brescia, Verona and Trento. We will introduce you to our selection of 7 via ferrata activities, from the easiest to the most challenging!
1- Via Ferrata Colodri
The Colodri via ferrata is one of the easiest iron paths you can find in the Lake Garda region. The excursion starts in Arco, on the north of Lake Garda, and leads through the wall of Colodri. The via ferrata consists of four easy climbing parts that will get you up to the peak of Mount Colodri where you'll find its symbolic cross and the Madonnina. Take a break after your efforts and enjoy the stunning view over Lake Garda and the surrounding mountains.
This activity is suitable for kids from 6 years old and is perfect for a fun family adventure to spice up your holidays at Lake Garda. The children's smile and the breathtaking view from the summit are more than rewarding!
Maximum Height: 398 meters
Requirement: 6 years old
Duration: 3 hours
Level: easy
Particularity: suitable for families, iron path, stunning views from Cima Colodri
2- Via Ferrata 92° Congresso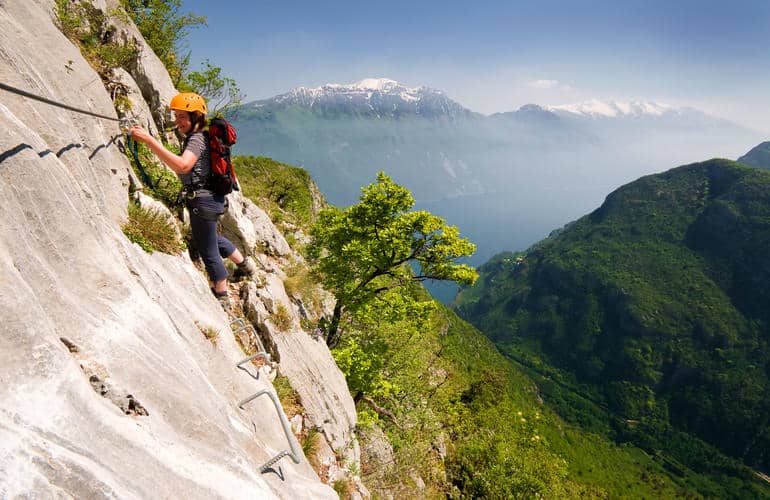 Via Ferrata del 92° Congresso will lead you up on Monte Baone, above Arco. The route develops along the exposed cliffs and gets a lot of sun. At some point, you'll have a lot of air under your feet. So even if the activity is rather easy, you should not try it if you are afraid of heights.

This 4 hours via ferrata at Lake Garda welcomes everyone and belongs to the easier itineraries, perfect for beginners. Once on the top of Monte Baone, you can admire Lake Garda and Arco's beautiful castle!
Maximum Height: 480 meters
Requirement: 10 years old
Duration: 3- 4 hours
Level: Easy
Particularity: sun exposure and located along Monte Baone cliff
3- Via Ferrata Sarca Valley
The Via Ferrata Sarca Valley over Rio Sallagoni, is located between the villages Dro and Drena, in the north-east of Lake Garda. This fun route will introduce first-timers to climbing with along cables, ladders and bridges all while being surrounded by the lush forests of the Sarca valley.
No previous climbing experience is required, as you will be secured by a cable during the whole tour and the professional guide will make sure you're spending a great moment in all safety. Mind that the only requirements are to be at least 8 years old, be at least 1.50 meters high and have a moderate physical level.
Maximum Height: 373 meters
Requirement: 8 years old, 1.50 meters
Duration: 3 hours
Level: easy, moderate physical fitness required
Particularity: equipped with cables, ladders, and bridges and enchanting path in the forest
4- Via Ferrata Monte Albano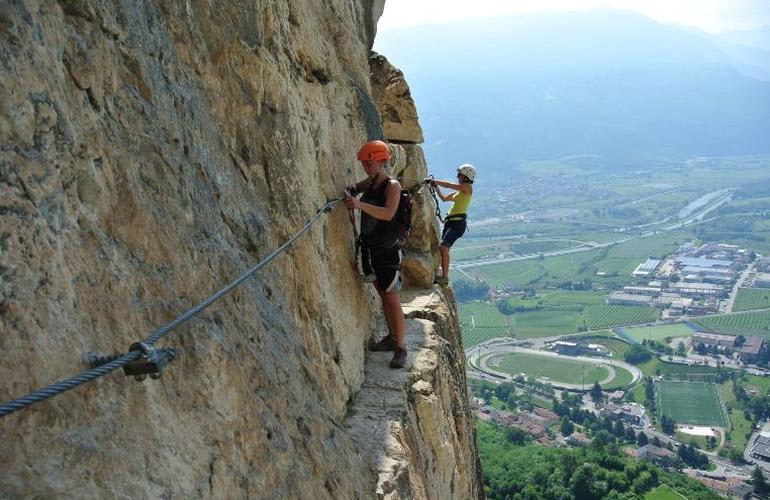 This historical Via Ferrata at Lake Garda goes up the impressive Monte Albano from which you'll be overseeing the town of Mori. Characterized by its verticality, it has been recently renovated with iron stairs and now offers various obstacles for technical and strength moves.
In order to climb the challenging Via Ferrata Monte Albano you need to be in a good physical condition and have some climbing skills. This 4 hours tour is suitable for over 14 y/o climbers.
Maximum Height: 600 meters
Requirement: 14 years old
Duration: 3- 4 hours
Level: Intermediate, good physical condition needed
Particularity: renovated and possible to admire the town of Mori
5- Via Ferrata Cima Capi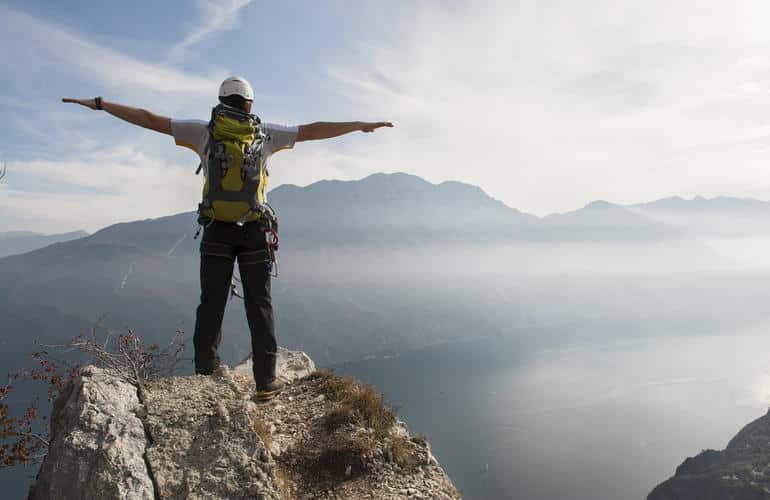 This 6 hours Via Ferrata at Lake Garda will definitely test your climbing techniques! It is safe to say that this is one of the most gratifying via ferrata routes around the lake as you coordinate your movements on the vertical walls of Cima Capi (909 meters), high above Lake Garda.
Even if this is a sporty via ferrata that requires a physical effort, you don't need any specific skills. The guides will introduce you to the techniques you require. A breathtaking view from the top is part of this adventure.
Maximum Height: 909 meters
Requirement: 16 years old
Duration: 6 hours
Level: intermediate, route where physical effort is required
Particularity: vertical walls, panoramic view from top
6- Via Ferrata "The Smugglers Path"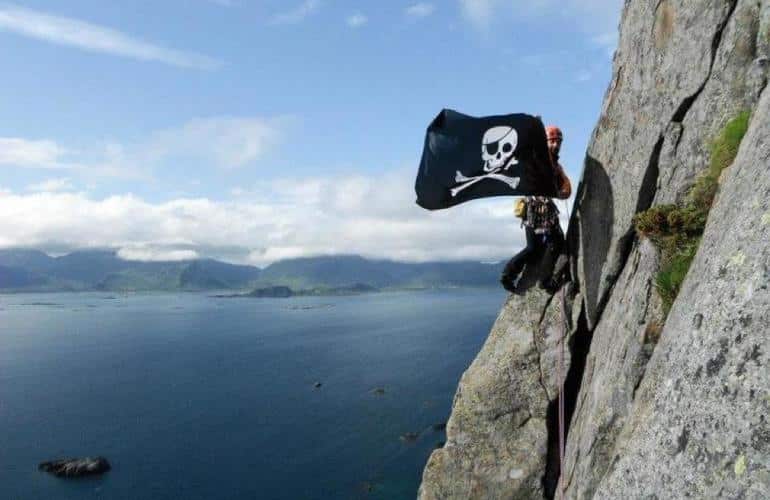 Here comes a very particular via ferrata at Lake Garda. This 4 hours route called "the Smugglers Path" or "Via dei Contrabbandieri" is located between the cities of Riva del Garda and Limone. And what about the curious name? Well, the path was originally used by smugglers to carry tobacco and salt between Italy and the Austro-Hungarian Empire during WW1.

This via ferrata is ideal for experienced climbers that wish to challenge themselves! You'll climb horizontally about 200 meters above sea level accompanied by our certified guide. You will face narrow trails, overcome tricky parts and enjoy panoramic views over the lake and the surrounding mountains. This activity is suitable for over 16 years old people and requires a good physical condition.
Maximum Height: 200 meters above sea level
Requirement: 16 years old
Duration: 4 hours
Level: Difficult

Particularity: follow the path of ancient smugglers
7- Via Ferrata delle Taccole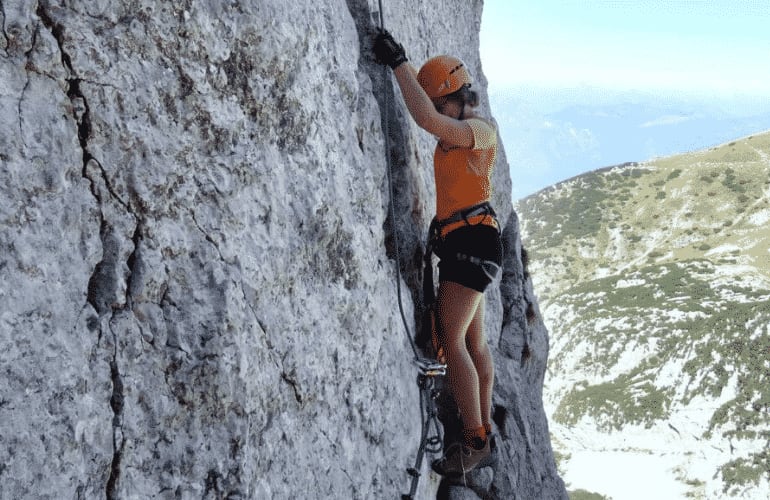 (c) 360 Garda Life
The last via ferrata at Lake Garda of our list is the most difficult one. The via ferrata delle Taccole extends over Monte Baldo leading to Vetta delle Buse. You will face a wild and quite isolated path, that is not exposed to the sun. So, even in summer, we recommend you bring a little jacket. The via ferrata itself only takes 1 hour, however, it takes a 3-hours walk to get to the starting point! The itinerary is divided into 3 parts with increasing difficulty. Remember to take a deep breath before the final part – the 25 meters ascent!
Mind that this via ferrata is not available in winter due to the amount of snow that usually accumulates in the Pre Valley. The via ferrata goes up to 2200 meters above sea level and is therefore by far the highest one presented in this article.
Maximum Height: 2200 meters
Requirement: 8 years old and good physical condition
Duration: 4 hours
Level: Difficult
Particularity: wild and challenging path, 3 hours hike to get to the starting point

When participating in a via ferrata at Lake Garda you will not only do a fun and challenging activity but also experience this beautiful region differently. Above all, the views you'll have are just great! From beginners to experienced climbers, everyone finds its favourite among our via ferrata itineraries at Lake Garda. And if you are curious to discover top 5 via ferrata in Italy, we prepared some suggestions for you!
For the people who are eager to try more activities at Lake Garda, a list with Top 10 Outdoor Activities at Lake Garda is available!