The Complete Guide to Via Ferrata
What is Via Ferrata?
Via Ferrata offers a unique opportunity to see the world from different vantage points. This sport, combining a mix of hiking/trekking and climbing – aided by short ropes, this activity often include zip lines, high ropes and crossing rope bridges. A pre-constructed route, usually up or across mountain-sides or sheer cliff-faces, consisting of steel rungs, cables and ladders secured into the rock of these locations, these courses combine all the best elements of a multitude of sports, for a great work out, adventure activity and way of seeing some great scenery.
This activity, depending on your proficiency and whether you have your own equipment such as a Via Ferrata kit, harness and helmet, can be done without a guide, as many courses/routes are open to the public and don't need to be booked in advance. However, taking a Via Ferrata tour with a guide can be helpful, especially when a beginner in the sport.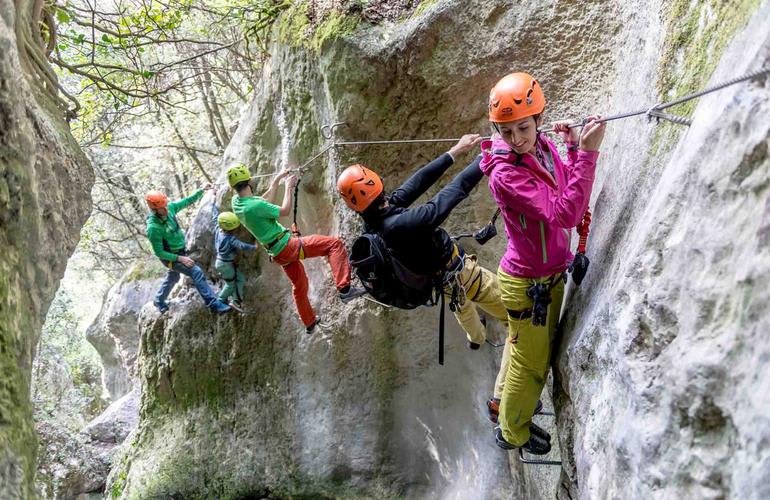 Where did Via Ferrata originate?
This unique sport, combining elements of many other popular sports, found its beginnings on the Austrian Dachstein Mountain in 1843, in the form of the installation of ladders, ropes and hand hooks. Prior to this, for an unknown number of centuries, people in alpine regions had been using fixed aids on high paths to better be able to get around. Routes like these, moderately resembling those used in the Via Ferrata of today were installed sporadically throughout the Pyrenees and the Alps over the course of the 19th century and beginnings of the 20th century.
WWI
This sport is of incredible historical importance, as during WWI, the Dolomite Mountains – crossing the then borders of Italy and Austria, (countries fighting on different sides), were a territory under dispute and the site of much fighting. This area became full of more permanent accessibility-aid fixtures for soldiers to be better able to get around the peaks of this region. Some of these Via Ferrata routes have been restored, and can still be climbed today, and are a great way to gain a new perspective of the past.
Beginnings as a sport
The Via delle Bocchette, now world-famous, is widely considered to be the first Via Ferrata route, used for primarily recreational purposes. This route in the northeastern part of Italy, the Brenta Dolomites, a UNESCO World Heritage Site, was created when two Italian Alpine clubs worked together, beginning in 1930 (and continuing after WWII), to improve climbing routes in the area.
Since then, Via Ferratas have continued to gain popularity, with the number ever-increasing of people trying the sport as well as the number of routes being constructed – and now the routes aren't just limited to the Alps and Dolomites where they found their beginnings.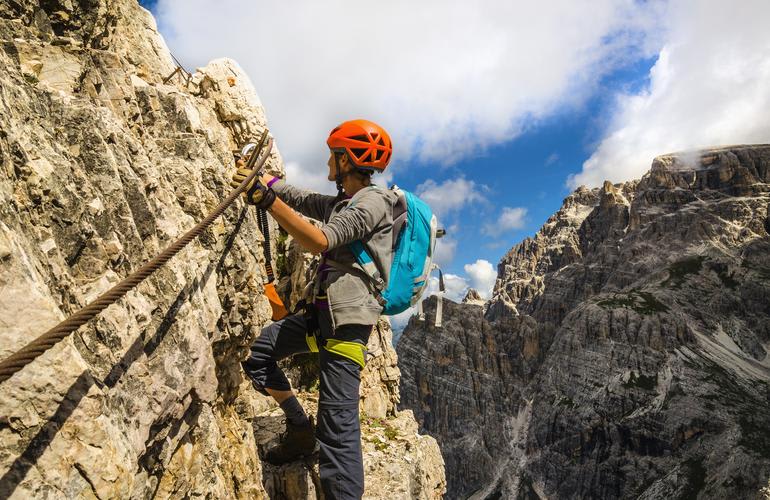 Who can do Via Ferrata?
Who can do this sport is dependent on the route – with children being unable to undertake some routes due to the difficulty or level of physical-exertion required. If you're a good climber already or have a reasonable standard of physical fitness, then you'll be able to undertake the more intermediate or advanced routes, with it not being necessary to be a professional at this sport to do so, just being a good climber already will help.
If you suffer from vertigo, this sport is not recommended, due to the amount of difficult areas of height necessary to be traversed, climbed across or confronted.
This is a great activity for families, with many beginners' courses able to be undertaken by children as well as adults. It can make for a great family holiday activity due to the necessity for communication as well as the unforgettable views and experiences shared. It's also a great activity to do with friends, though not a particularly competitive sport, as via ferrartists must keep space between them on the route, it is still a great physical activity to help you bond and make great memories.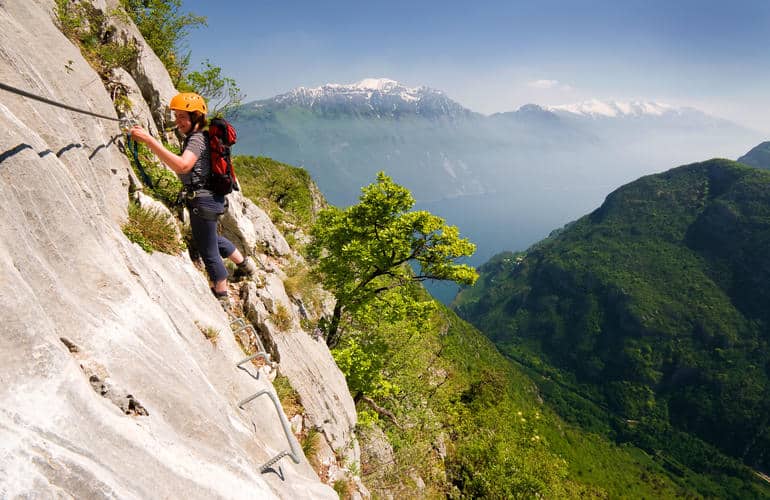 Via Ferrata Equipment
The equipment needed for Via Ferrata is quite simple and not particularly expensive. Sturdy, sensible footwear, preferably climbing or hiking shoes, are required to be worn, as well as protective headwear – as some routes can have falling rocks, or if you fall there's the risk of hitting your head. Protective gloves are advisable, due to the abrasive nature of the surfaces gripped, (such as different types of rock, metal rungs and wire) when undertaking the routes.
To attach yourself to the route, and to keep you safe whilst practicing this sport, a strong adjustable harness must be worn around the waist and thighs with a 'Via Ferrata kit,' consisting of a lanyard with shock-absorber, two short lengths of rope and two metal caribiner clips, attached to it.
It is also recommended to take supplies of water and food with you, as well as changes of, or different layers of, clothing – due to the fluctuating temperatures at different altitudes.
Photo Credit: Frantisek Duris
How to tackle a Via Ferrata route
Before starting the Via Ferrata route, it is important to check your own, and your group's, Via Ferrata kits and harnesses, to make sure that everyone will be safe whilst undertaking the route. If you are being led by a guide then they will show you how to put on your equipment and will carry out a safety check.
Once safely in your harness, with Via Ferrata kit properly attached, you'll be shown the basics of how to move the caribiner clips along the metal rope lining the Via Ferrata routes. The most important thing to remember is to always move your clips with your hands beneath them, not above them, and when moving between sections of rope, always have at least one clip attached at all times. Another important thing to remember is that the usual rule is to only have one person per section of iron wire. Never get too close to the person in front and always take your time.
Depending on the route, you'll be exposed to some serious heights, which can be great for some, but means that some climbers can get anxious, so be aware of the other people in your group and take breaks when necessary. These heights will also mean you'll be exposed to some incredible views, so take it all in and enjoy!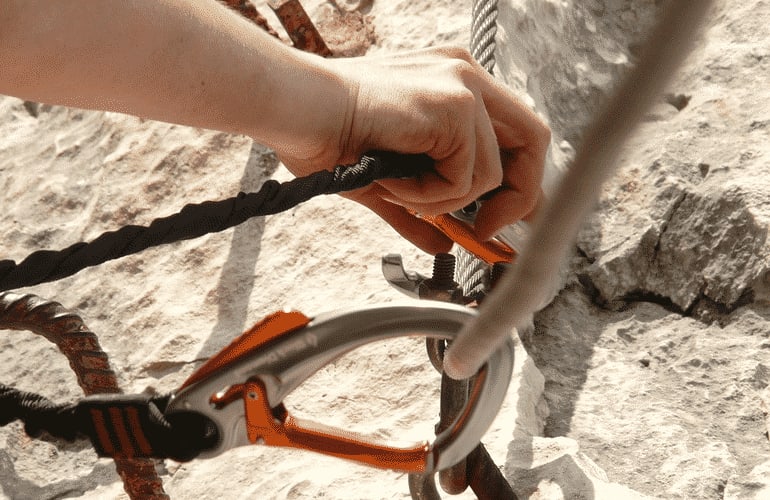 The Via Ferrata grading system
Different countries have had different grading scales in the past, but the international standard is composed of 5 levels of difficulty, ranging from A-E, with Grade A being the least difficult.
Grade A
Little or no attachment to ropes necessary, short climb but mainly walking and ample amount of climbing aids.
Grade B
Similar to Grade A, but some scrambling required – steeper terrain but still many climbing aids.
Grade C
Steeper, with long ladders likely so good upper body strength required.
Grade D
Sometimes vertical, predominantly steep, with limited climbing aids, strong upper body strength required.
Grade E
This is the most difficult grade, predominantly exposed and vertical route with little or no climbing aids except the wire rope.
Choose the grade nearest to your ability and if you're going without a guide, make sure to check weather forecasts before you start and whether you will have enough time before dark to complete the route.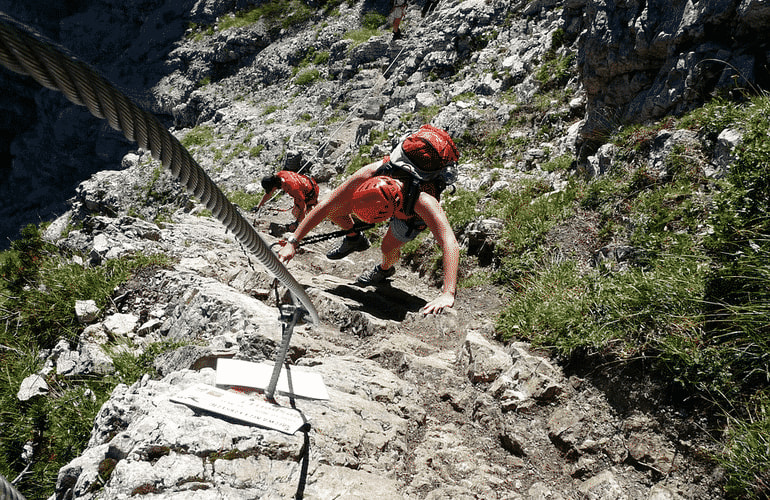 Iconic locations for Via Ferrata
Practiced in a variety of mountainous locations around the globe… here's some of the most popular places to practice this sport –
The Via Ferrata on Mount Kenya, Kenya – the second highest mountain in Africa, at 4985m offers stunning views of surrounding peaks.
The Klettersteig (the German term for Via Ferrata, meaning 'climbing path') at the Fallbach Waterfall near Villach, Austria, is a must-do Via Ferrata. This route runs alongside the 200m high waterfall, cascading down from the Carinthia Mountains, and offers an unforgettable experience.
Via Ferrata at the Fallbach Waterfall, Austria
Mountain Torq in Malaysia, the former world's highest Via Ferrata reaching 3776m is a must-do for more experienced via ferrartists, as well as beginners – offering two very different routes to scale the mountain.
The 'Stairway to Heaven' Via Ferrata in Donnerkogel, Austria, offers sublime views of the Alps and a 43m climb up a metal ladder with a 700m drop below that sends chills down even the biggest height-lover's spine.
La Via des Evettes, Chamonix
La Via des Evettes, near Chamonix in France, offers a vast amount of stunning views of the snow-topped Mont Blanc massif mountain range, best seen from the route's 50m long 3-cable suspension bridge.
The Ivano Dibona Via Ferrata, located in the Dolomite Mountains of Italy, features a 27m suspension bridge as part of its route, which was used in the 1993 film Cliffhanger. This route is great for those looking for stunning views as well as some pop culture sites.
For inspiration about where to try via ferrata, see our post on the top via ferratas in Italy, the best via ferrata routes in France and the greatest via ferratas in the world.
Check out all our via ferrata activities.
Top Photo Credit: Maja Kochanowska