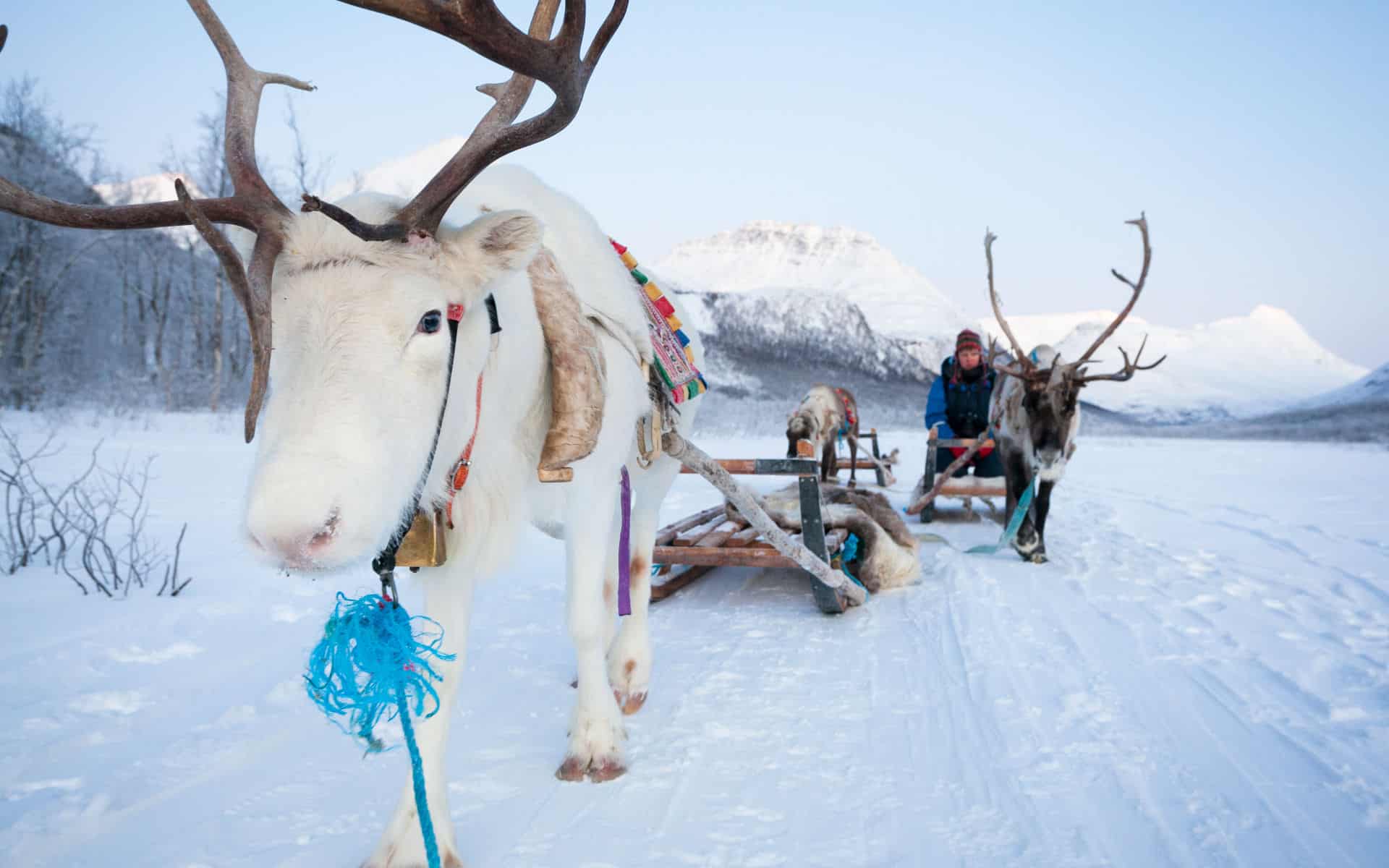 Best Activities to Try in Tromsø, Norway
Lucky enough to be visiting this stunning Scandinavian region? Check out our selection of best activities to do in Tromsø, to satisfy your thrill-seeking taste buds.
Nicknamed the 'Gateway to the Arctic', Tromsø is located 350 kilometres north of the Arctic Circle and is the largest urban and cultural centre in Norway.
Considered as the capital of the Arctic, the modern city of Tromsø is also the starting point for many polar expeditions. This city is known around the world because it's a famous observation point for the Aurora Borealis (Northern Lights) that occasionally illuminates the night sky from September until March. However, it doesn't stop here, there are a number of other attractions to discover in Tromsø, such as a superb aquarium, several museums and the northern-most botanical garden in the world. Some of the best activities to do in Tromsø are dog sledding, ice hiking, sea kayaking and snowmobiling.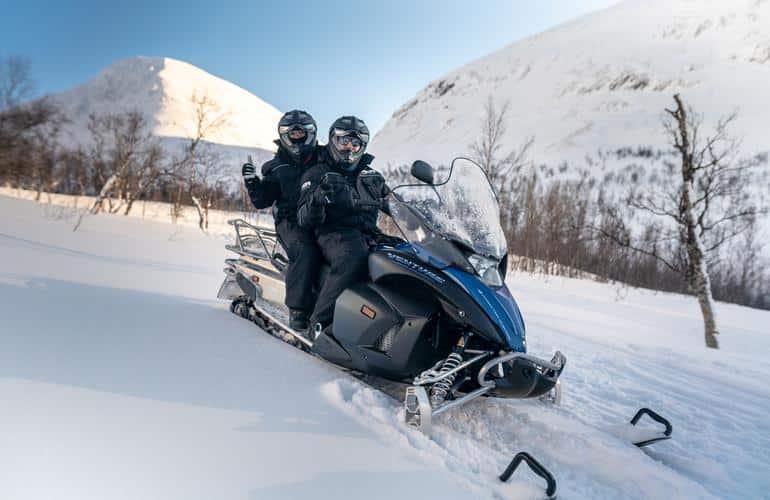 Snowmobiling in Tromsø
Simply put, a snowmobile is a motorized version of a sled and is also a common mode of transport in this part of the world. However, it is also used recreationally in order to explore the Arctic wilderness. Snowmobiling tours in the Tromsø region can take you to:
Camp Tamok: 1.5 hours South of the city center, snowmobiling in Camp Tamok is characterised by vast open snow clad plains and also gives you the chance to encounter mountains and valleys such as Tamokfjellet, Vassedalen, and Finndalen. You could also opt for a special trail which will take you to the stunning Tromsø Ice domes. If you'd like to go snowmobiling in Camp Tamok, please click the provided link for booking information.
Lyngen Alps: If you answer to the call of the mountains and find yourself snowmobiling in the Lyngen Alps region, your trail goes along mountains such as Trollvasstinden, Isskardtinden, Sofiatinden, Jægervasstinden, Stortinden, and frozen lakes such as Jægervatnet & Trollvatnet. The tour also consists of a break for refreshments like coffee and if you're lucky you might be able to greet moose, reindeer, fox, otter, eagles, and raves.
If you'd like to go snowmobiling in the Lyngen Alps , click the provided link for booking and other information related to the activity.
For obvious reasons, the winter months between December and March are the ideal time to go snowmobiling. The unpredictability of the Nordic weather could alter your snowmobiling experience drastically from one day to the next.
Shelling out anywhere between 150 euros to 300 euros is worth every penny if you decide to go snowmobiling in Tromsø. The price obviously depends on factors such as the instructors you pick, the time of the year, the number of hours, and more.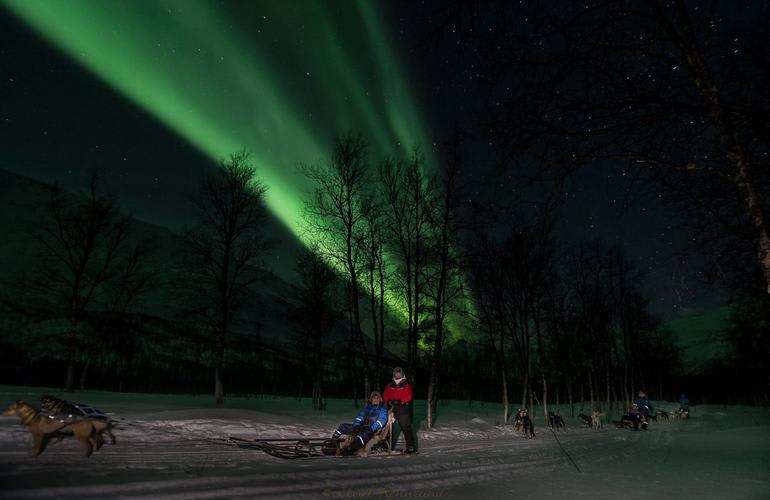 Dog Sledding in Tromsø
Explore the Nordic landscapes of Tromsø under an umbrella of the Northern Lights with man's best friend! Mushing or dog sledding is a historic activity in the Arctic region, used by man to travel and hunt centuries ago. Siberian Huskies or Alaskan Malamutes partake in this activity, as their bodies can easily endure the physical demands of this difficult sport. In fact, not only do they enjoy the activity – which is pretty evident, but it is also necessary for them to channel their excessive energy levels in the form of exercise.
Due to it's history and sheer rawness, dog sledding puts you in touch with your primal self, making the activity very satisfying and liberating. The 4 most popular campsites to go dog sledding in Tromsø:
Tromsø Golf Club
Villmarkssenter
Camp Tamok
Tamokdalen Valley
All of the above are situated in a 1-2 hour radius of Tromsø city center, with travel to and from the spots, usually taken care of by the instructor.
When it comes to the different variants to go dog sledding in Tromsø, you're pretty much spoiled for choices. Starting with the self explanatory Half-day excursions; which can be further divided into two categories:
If that's not enough for you, 2-day excursions and even 6-day excursions are made available by some dog-sledding instructors.
Depending on the variant of the dog sledding tour you pick, you can pay anywhere between 170 euros to 2000 euros. Now that may sound like a lot but the higher end tours take care of your lodging, meals and dog sledding of course.
After the excursion, cosy up around a fire and enjoy a good old Bacalao (local stockfish cooked in a tomato sauce) or a Bidos (a meal prepared with reindeer meat, broth and vegetables).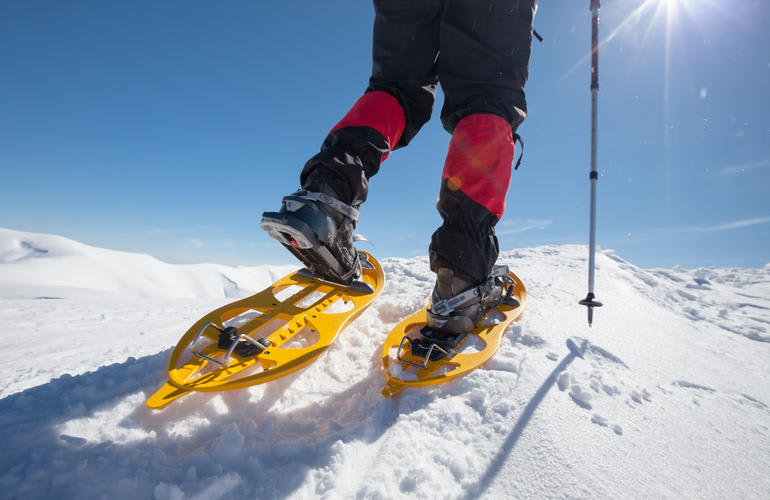 Snowshoeing in Tromsø
Talking about the best activities to do in Tromsø, without mentioning snowshoeing is impossible. Since snowshoeing isn't as popular a sport as soccer, we'd like to shed some light on what the activity involves. Think of yourself as big-foot, strolling on the Arctic terrain. Well, snowshoeing is basically hiking in the snow with snowshoes, which cover a much larger surface area than regular shoes. The size of the shoe makes sure you don't sink in the snow, with a technique called flotation.
Snowshoeing in Tromsø opens the door for you to explore the almost untouched natural beauty of Norway. Birch and pine forests, reindeer, elk, different types of birds, mountains, valleys, and lakes feature in probably one of the most beautiful memories you'll ever make.
The assistance of a local guide will make sure all your questions about what you see are answered, making this activity highly informative. The activity itself, costs anywhere between 100 euros to 135 euros depending on the trail you pick. Popular trails include:
Kvaloya: Norway's fourth largest island only 25 minutes from Tromsø city centre. Along the trip you will see fjords and mountains that surround Tromsø and you might have a closer look at some of the North Norwegian wildlife like reindeers, moose and different kinds of birds. You can choose between a morning hike or the evening hike to catch the Northern Lights dancing in the sky. If you'd like to go snowshoeing in Kvaloya, please click the provided link for booking information.
Lyngen Alps: From the activities mentioned above, you're pretty well informed on the geography of Lyngen Alps – located North of Tromsø. Nevertheless, in case you still don't know, snowshoeing in the Lyngen Alps area will gives you a sense of protection as you are surrounded by enormous mountain peaks on every side. Also, part of the view during your excursion will be the 110 km long fjord Ullsfjorden and the small mountain village Lakselvbukt.
Tromsø Ice Domes: Survival in the Arctic wilderness can be punishing at times and your guide will teach you exactly that during this trail. Your reward at the end of it all? The spectacular Tromsø Ice Domes! Set among high mountains in the beautiful Tamok Valley, Tromsø Ice Domes is built every year as the Polar Night approaches. You will learn about the construction of the domes and the impact the snow has on the fauna of the Arctic. If you'd like to go snowshoeing in the Tromsø Ice Domes, click the provided link for booking information.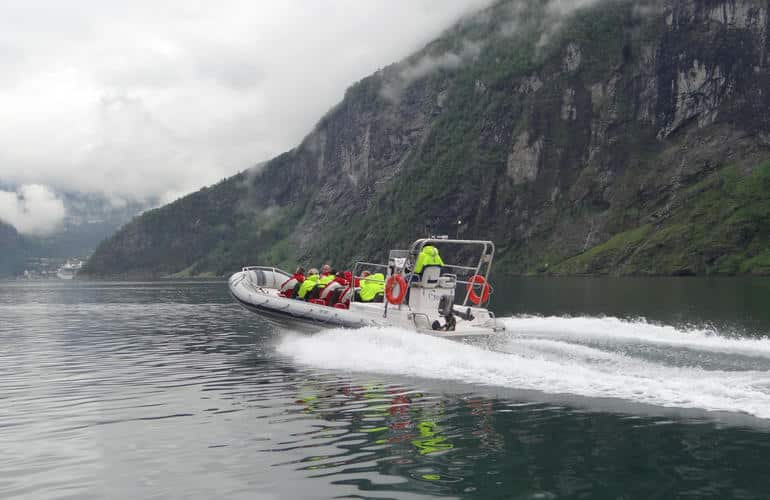 Jet Boating in Tromsø
A jet boat is a boat which is propelled by a jet of water, which is ejected from the back of the boat's craft. Tromsø, being an island has a lot of potential, which is rightly exploited, for the recreational activity of jet boating.Jet boating makes our list of the best activities to do in Tromsø, because it is adrenaline inducing and family friendly too!
The Archipelago near the city of Tromsø can only be reached by boat and it looks like a tropical paradise island from the sky. In reality, however, the white sand beaches are in fact in the Arctic. The fresh air and cold breeze combined with the unique scenery on mountains, fjords, and burgeoning wildlife will leave you breathless.
The jet boating tour offers the perfect combination between a thrilling experience at sea, and a short history lesson alongside the opportunity to spot wildlife such as seabirds, eagles, and sometimes seals or porpoises (small whales in the size of a dolphin).
The activity lasts anywhere between 2-3 hours and will cost you around 60-65 euros per person. It is an ideal activity for the whole family to do together, with kids of any age being allowed! If you'd like to go jet boating in Tromsø, click the provided link for booking information.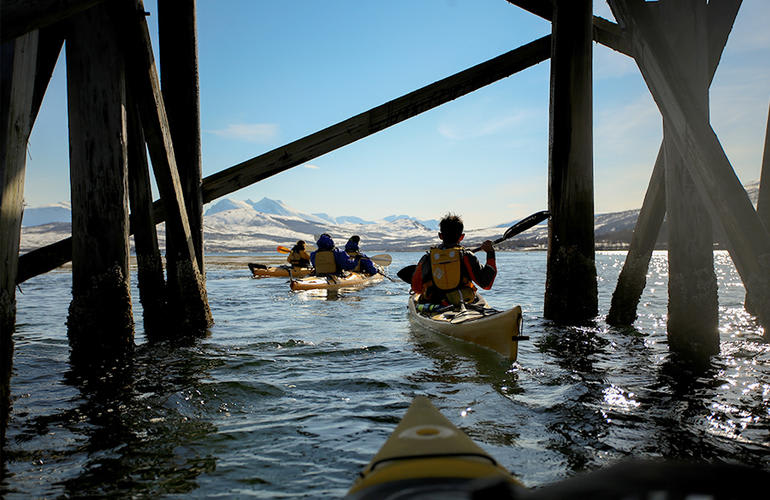 Sea Kayaking in Tromsø
Sea kayaking is the ultimate leisure activity you participate in, in Tromsø. The goal of the activity is to enjoy and explore the marine sea life of Norway, albeit from a surface level. Contrary to river kayaking, where the rapids make sure your experience is super challenging, sea kayaking can be soothing and also burn a certain amount of calories, depending on the level of productivity you're at, on that particular day.
Discover the beautiful coastline of Håkøya Island by sea kayaking in Tromsø. Being situated so close to the Arctic Circle offers many advantages, one of which is the beautiful midnight sun in summer. This is a time of year when the sun never sets and leaves a beautiful golden glow on the Norwegian fjords. Surrounded by the Nordic nature, high mountains and fresh air free from engine noise, will allow you to feel closer and more connected to nature than ever before.
Along with the crystal clear water, another common thing you see, are white-tailed eagles, otters, seals – and even dolphins from time to time.
A full day sea kayaking excursion will reduce your bank balance by 70 euros – 90 euros, depending on the instructor and trail you pick. However, there are 2-3 day sea kayaking camps which cost anywhere between 1000 euros to 1200 euros.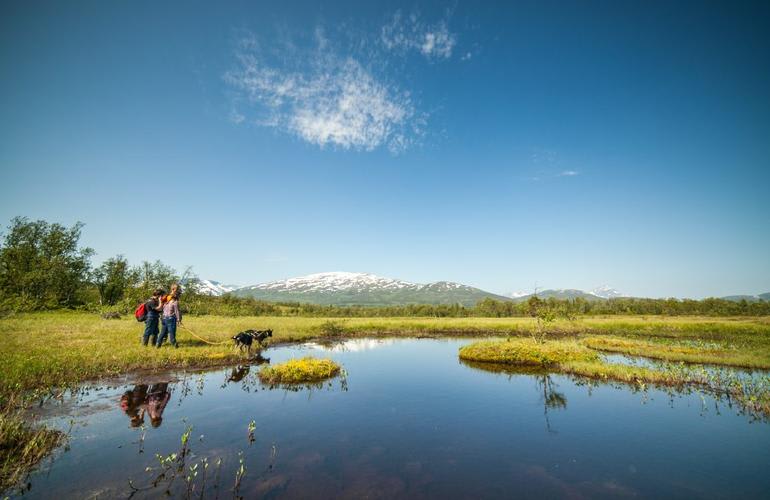 Glacier Hiking in Tromsø
One of the most challenging yet best activities to do in Tromsø, is glacier hiking. Hiking on glaciers is a different ball game and requires special expertise and equipment. The presence of both is ensured in Tromsø, making this activity accessible for beginners. The dynamic, Arctic terrain of Tromsø can be dissected at length and peace with an activity like glacier hiking.
There's several playgrounds to go glacier hiking in Tromsø and just a stone's throw from Tromsø, you'll find Breivikeidet. A beautiful area known for its picturesque Nordic panorama, birds and wildlife. From here, you can also see the beautiful peaks of the Lyngen Alps with professional guides leading you on a glacier expedition along the rooftop of Europe.
A typical hike day lasts anywhere between 5 and 7 hours, including breaks. You will be assisted with a hike guide, at every step of the way, who will also alter the pace of the hike, according to your ability. Depending on the trail that you chose, you could spend anywhere in the range of 100- 300 euros.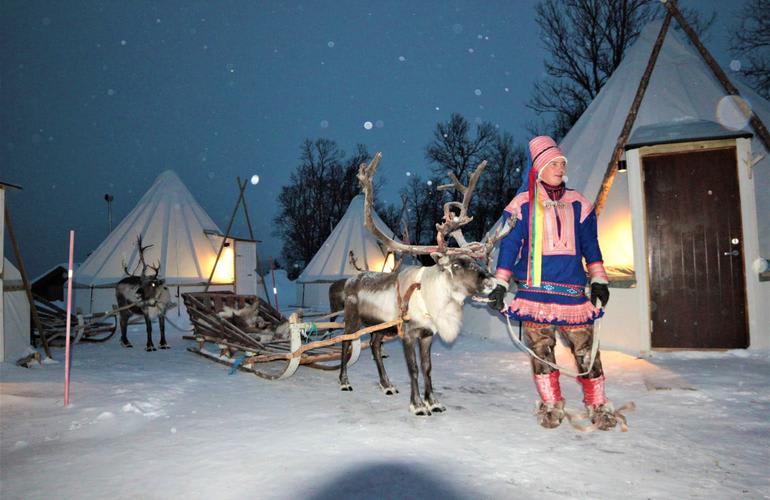 Reindeer Sledding in Tromsø
No matter how old you are, it is hard to talk about reindeer and not mention Santa Claus…especially while we talk about reindeer sledding. Fulfill your childhood fantasy of reindeer sledding in Tromsø. An activity which is almost unique to Norway, reindeer sledding has a sense of novelty and childlike innocence attached to it. Let the reindeer transport you into the Arctic wilderness as you feel a strong feeling of nostalgia – a sled down memory lane, if you may.
Samis – indigenous Finno-Ugric people – have been using reindeer for hundreds of years to transport equipment and people, and this activity is perfect for anyone who wants to explore and learn more about the unique and fascinating Sami culture. Also, with a little luck, you may be able to listen to a traditional Joik on a night hike under the northern lights.
Normally, your pick up point for the activity will be outside the Scandic Ishavshotel, from where you will be taken to the campsite, somewhere in the Tromsø golf club, which is 25 minutes North of the city center. It is from there that your activity truly begins as you abandon the urban life for the Arctic wilderness.
Being a winter activity, the best time to go reindeer sledding is between the months of December and March, and will cost you between 150 euros and 170 euros, depending on several factors.
Whale-Watching in Tromsø
One of the specialities of Tromsø is it's amazing diversity when it comes to flora, fauna and landscape. From reindeer, elk and dogs to orca whales, humpback whales and also different kind of birds – Tromsø has it all!
Marvel at Humpback and Orca whales as you go on a whale-watching in Tromsø. Jump aboard a boat for a fabulous journey through the picturesque fjords to Skjervøy and Whale Island. Take in the wild landscapes and familiarize yourself with the beautiful Norwegian marine world. Sit back and enjoy the show or get involved with helping the research team gather behavioral observations on these marine animals. As a bonus, and weather permitting, you could have the rare opportunity to listen to the enchanting whale songs.
The price you must pay to witness this unique and beautiful mammal in the sea is anywhere between 120 euros – 190 euros. Keep in mind, the experience lasts around 5 hours and includes a guide who will make you feel like a whale expert by the time you step off of the boat.