The Canary Islands - The Perfect Autumn Destination
Breath-taking panoramic views where the mountains meet the sea, dry and sunny weather between October and January – visit this little paradise for perfect conditions for outdoor activities.
This volcanic archipelago is composed of seven main islands; Lanzarote, home to an active volcano; Fuerteventura, very arid and well known to surfers and kite surfers; Gran Canaria, featuring steep terrain inside the island; Tenerife, the largest and most populated island with the highest peak thanks to the Teide volcano, an active and sometimes snowy volcano with its own astronomical observatory. Furthermore, there are the islands of La Gomera, La Palma, and El Hierro which are less crowded but equally interesting to visit.
Things to do in the Canary Islands will spoil you for choice, as the island offers a variety of different things to do in the Canary Island, suited to any type of budget. In this article, we explore a selection of exciting activities to try in the canaries which are suited to the adventurous adrenaline junkies of the world.
Skydiving in Maspalomas, Gran Canaria
If you're looking for things to do in the Canary Islands and spice up your holiday, then the tandem jump seems like the thing for you! Skydive Gran Canaria is the only skydiving center in the entire archipelago. With more than 10,000 jumps to their credit, you can trust this highly experienced and professional team to take you on a ride of a lifetime in total safety. Throwing yourself out of an airplane at 4,000m above sea level and taking in the view as you journey to Maspalomas as the crow flies will undoubtedly be the highlight of your trip!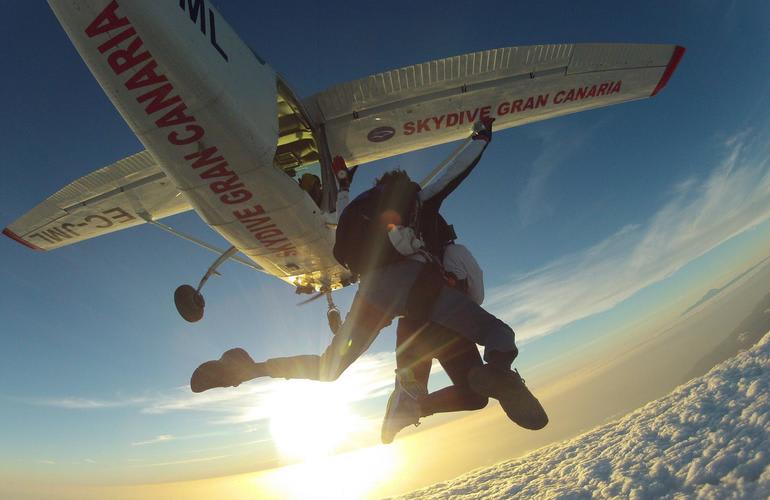 Scubadiving to the Museum at Lanzarote
When it comes to unique things to do in the Canary Islands, ever thought you'd be able to do your first ever scuba dive in an underwater museum? Well in Lanzarote you can! This is the first underwater contemporary museum in Europe and the Atlantic Ocean that retraces the history of Lanzarote and its people. Get up close and personal with the wildlife in a unique way thanks to the works of art by Jason de Caires Taylor, a well-known British diver, biologist, and artist. Dive in and start discovering the 2,500 square meters of the Aquatic Museum 14 meters below sea level in the clear waters of Bahia Las Coloradas on the south coast of Lanzarote.
Paragliding near Costa Adeje
Strap on your harness and go paragliding in the blue skies of Tenerife for a tandem flight that harmoniously combines peaceful cruising with exhilarating bursts! Get ready to launch off from 22m up in the Teide National Park with your instructor, soak up the beauty of the panoramic landscape offered to you on the sunny side of the Pico del Teide and the coast of Tenerife. Paragliding is an ideal activity adapted to all and is conveniently located close to tourist centers with availability all year long.
Quad Bike or Buggy Trekking in Fuerteventura
Escape from the tourist side of the island on a quad or buggy trip to Caleta de Fuste which houses an old 13th-century castle. Once you've been accustomed to the little off-road speedster, the trek gives you a rare chance to explore hidden valleys and unusual landscapes that seem straight out of another world. Take a pit stop in the traditional Majorero villages which are famous for their cheeses and natural salt mines. This fun yet thrilling trip is sure to bring out the kid in you but also give you a true taste of these spectacular volcanic landscapes from off the beaten track.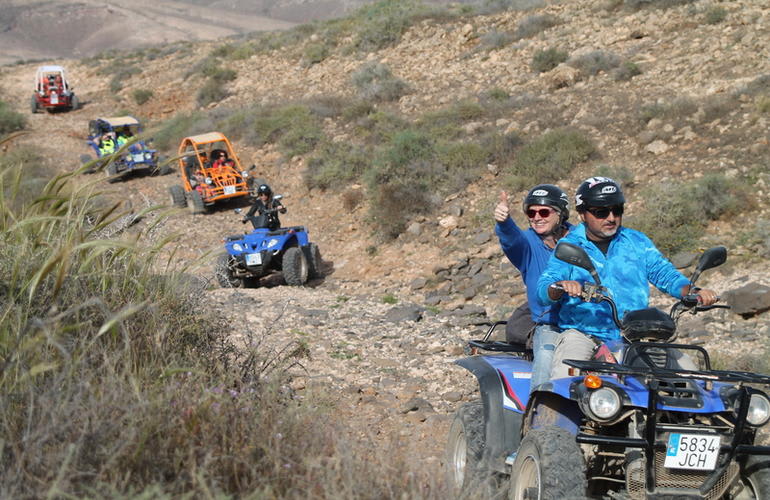 Sea Kayaking, south of Tenerife
A rather original concept because it's a mix between rowing and snorkeling, this activity gives you the chance to explore the seabed by kayak and hang out with the local dolphins and sea turtles.
One of the excursions takes you along the coast of the Guaza mountain from Los Cristianos, where large schools of fish attract Mular dolphins who love to show off their agility in and above the water's surface. Following this you'll then paddle towards "La Cueva del Amor" which is home to hundreds of beautiful red crabs.
Around half-way, through your marine adventure, there'll be an opportunity to leap overboard and slip below sea level in a memorable dive with turtles! Soak up a superb view as you go sea kayaking on the coast of Los Gigantes, the highest vertical cliffs in Europe rising 800m high and finish the day knowing you've had the chance to enjoy Tenerife from a unique perspective.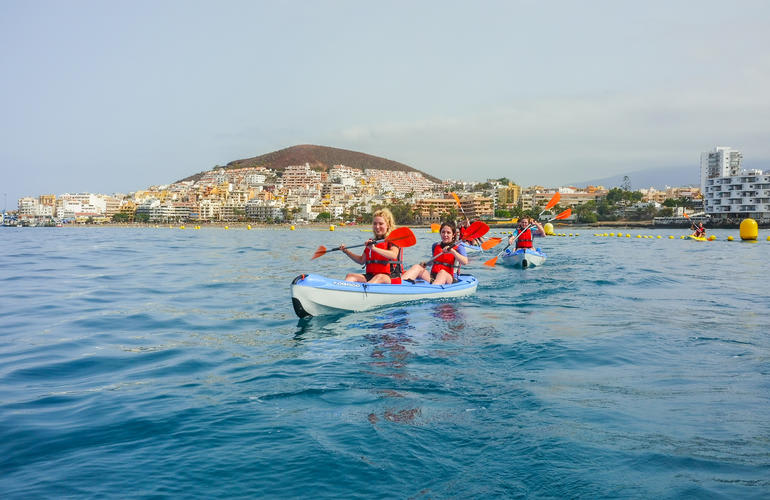 Surfing in Maspalomas, Gran Canaria
With more than 30 surf spots around the island, we'd recommend you go surfing in Gran Canaria as it is one of the best for surfing, as well as bodyboarding and SUP. With famous spots like El Confital and El Lloret in the city of Las Palmas, this island is known as the Hawaii of the Atlantic, and to the south, you have Maspalomas which a great spot also worth seeing.
Home to a stable climate and water temperatures around 20°C all year long, surfers have the peace of mind of knowing they can surf pretty much whenever they want. For beginners or those looking to improve there are several surf schools and camps in the region that offer classes suited to all abilities. Maspalomas churns out perfect waves consistently that break on a sandy bottom which is perfect for beginners wanting to stay away from the sharp volcanic rock reefs.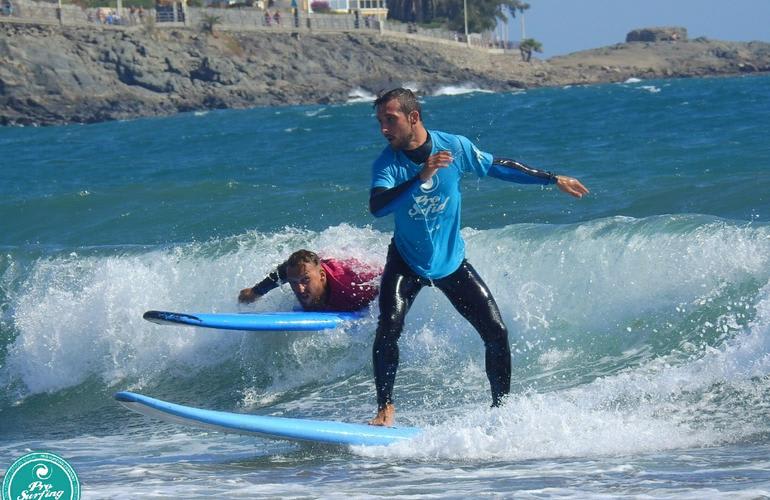 Sailing to Los Gigantes
Bask in the glory of whales roaming around in total freedom in this unique place in the Canaries, perhaps not the first place you'd think of observing these beautiful marine animals. The warm waters near Los Gigantes are an ideal place to see up to 26 different species of Cetacean: whales, dolphins, orca whales, and even blue whales.
While you're sailing to Los Gigantes, try your hand in navigating across the open water and once you reach a beautiful little bay you can moor up and swim or snorkel in the clear waters. Keep your eyes peeled as Sperm whales, manta rays, tuna, humpback whales and shy bottlenose whales can sometimes be spotted, in fact, Southern Tenerife is considered one of the best places in the world to observe dolphins and pilot whales, loggerhead turtles, and green turtles.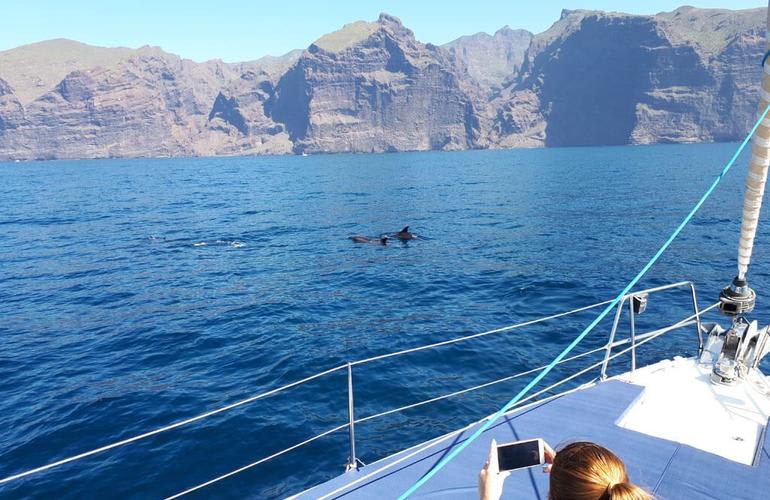 Windsurfing in Fuerteventura
When it comes to things to do in the Canary Islands, we have to speak about windsurfing! Why? Because wind conditions are exceptional throughout the year, Fuerteventura is a perfect spot to learn kitesurfing and windsurfing. The long sunny days, the intense winds and waves breaking up to 2m in height make this island a true haven for beginners and experts alike. For experienced riders, there is a 6 km long beach with white sand, the wind is typically side-shore left on the east coast, and side-shore right with very good waves on the west coast.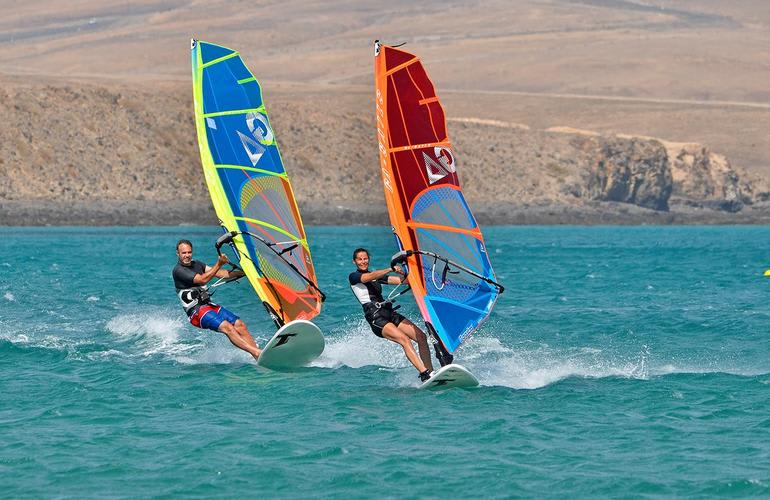 Mountain Biking in La Palma
Hop on your bike and discover the volcanic landscapes of La Palma, home to the amazing Caldera del Taburiete National Park. Feel the power of the volcanoes during this mountain bike tour that will take you through Fuencaliente, a city only created after the eruptions. Marvel at the plants that manage to thrive in the solidified magma and pass through villages via black tracks that take you over hills and along coasts. This beautiful route offers no shortage of stunning panoramic views on the Caldera del Taburiete, picturesque vineyards, and the neighboring islands.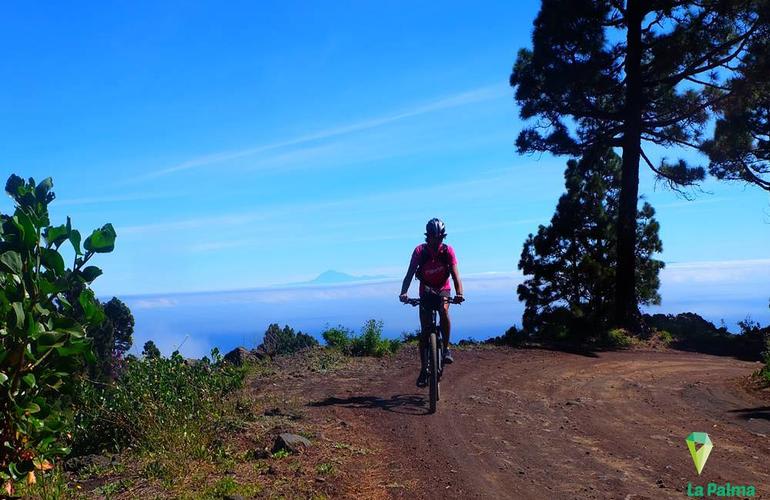 Water Activities in Lanzarote
Cool off during your long sunny days in Lanzarote with a variety of water activities such as jet-skiing, parasailing, or flyboarding. For the parachute flight, take off from the deck of the boat and let its speed help you gain altitude, and if you're feeling brave try your nerve with a flight at 400 meters up for an unforgettable experience. Flyboarding is also a very popular sport in Puerto del Carmen and Playa Blanca, powered by a propulsion system, you can fly over the water at a whopping 12-meters high depending on the adrenaline dose you're looking for!