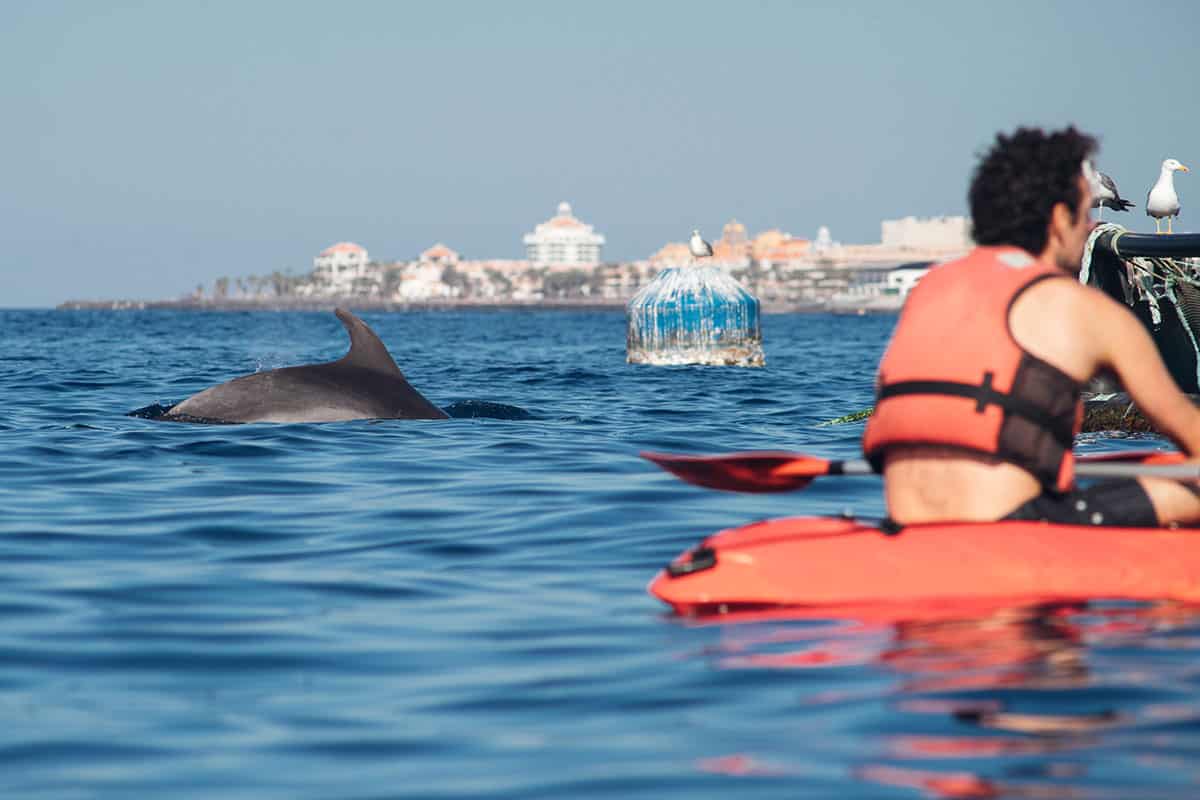 Top 10 Adventure Sports in the Canary Islands
The Canary Islands are a paradise for outdoors enthusiasts seeking sun and endless outdoor sport adventures. A collection of 7 islands renowned for their warm hospitality, affordable accommodation and cheap flights, the Canary Islands also benefit from cheap flights and are only a few hours from most of Europe. So take a look at our Canaries' top 10 sports and the best spots to try them!
Surfing
One of Europe's most popular winter surf destinations, the Canary islands are perfect for beginners and seasoned wave surfers alike thanks to the wide selection of surf spots and different breaks. Also, known for their endless coastlines of deserted volcanic sand and the sheer number of surfable beaches, lineups and crowded waves are rare, a big plus for surfing enthusiasts.
For beginners, head to Fuerteventura (mainly Corralejo) for easy beach breaks and friendly locals. But watch out for reefs, rocky pointbreaks and sea urchins (booties recommended!).
In Grand Canaria, head to Maspalomas beach for long beach breaks and waist-height whitewater – or hire a car and travel across Caleta de Famara, Arietta, El Muelle and El Quemao for a taste of the region's other protected surf spots.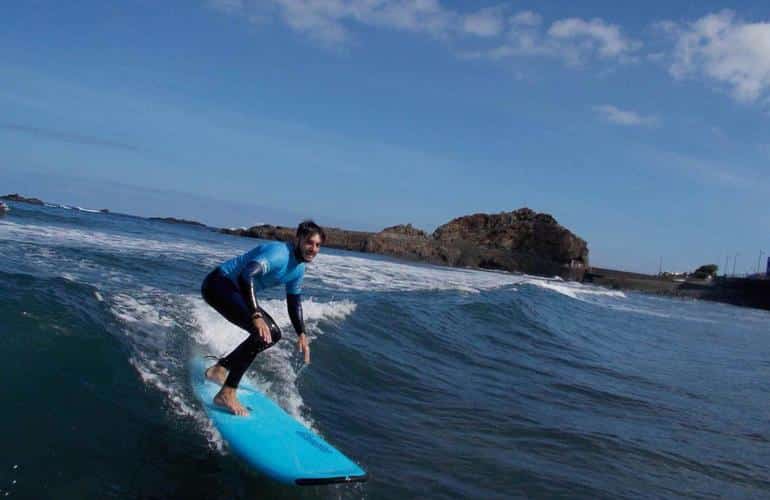 Kitesurfing and Windsurfing
Popular for its year-round sunshine and temperatures that rarely dip below 20°c, the Canaries is also a mecca for sail & kite based activities thanks to its strong and regular trade winds.
For learners who want to try Kitesurfing or Windsurfing for the first time, try the sandy beaches of Fuerteventura (Morro Jable) whilst experienced riders looking for serious air time can catch the right conditions in Tenerife (El Médano, Costa Adeje). There is also some excellent kitesurfing and windsurfing on Gran Canaria, notably on the Maspalomas beach.
Kitesurfing and Windsurfing lessons are available throughout the year – making it the perfect sport to try, even if you've only come for a little winter sun!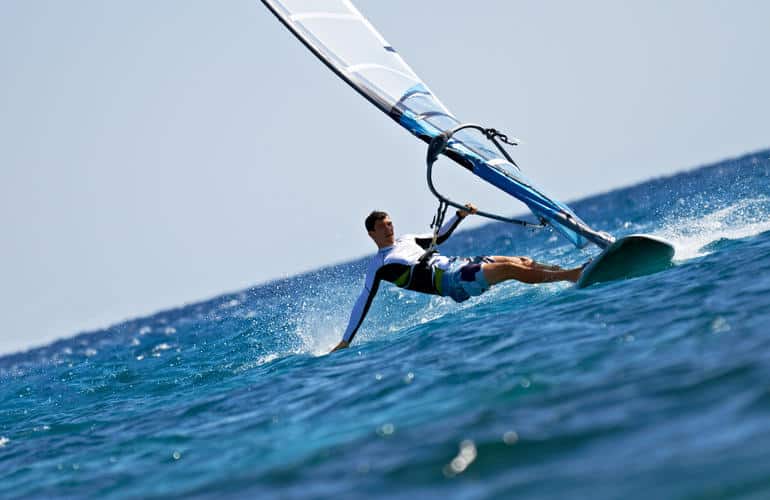 Paragliding
If you're looking to leave firm ground and the sea for a bit, why not try a tandem paragliding experience? Thanks to the archipelago's tormented volcanic topography, the Canary Islands offer many spots for paragliding. And wherever you take off from, you're sure to get amazing views of the Atlantic Ocean; and on a clear day, a good view of other islands.
If you happen to be travelling to Tenerife, then paragliding down Mount Teide is a feat you cannot miss. Mount Teide, towering at 3718m above sea level is indeed a sight to behold. Note that there are various takeoff point on Teide's slopes: you can elect to fly above Adeje or Taucho for example.
Often overlooked given the popularity of Tenerife for paragliding, other islands also offer beautiful and accessible tandem paragliding flights. Indeed, you can fly above Famara Beach in Lanzarote or let yourself be marvelled by the views whilst paragliding above the Las Palmas coastline on Gran Canaria.
Irrespective of your choice of location, paragliding in the Canary Islands is definately part of the best outdoor you can live on these islands and should be on everyone's bucket list.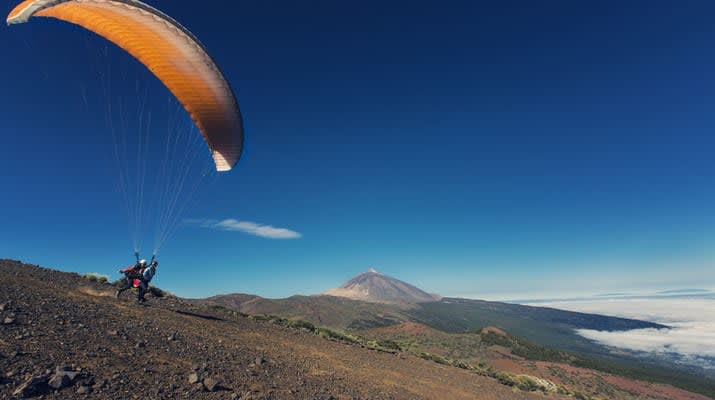 Scuba Diving and Freediving
With 20°c sea temperatures all year round, it's no surprise that the Canaries are popular with scuba and free divers especially in the Winter time when most diving locations in the Mediterranean are too cold. With 7 main islands and 6 smaller islets, there's a marine location to please even the most experienced diver.
And, unlike the red sea, South-East Asia or the Carribean, the Canary Islands can be reached easily (4 hours from London) and are materially cheaper to get to. No wonder the Canary Islands are many divers' favourite destination for short dive trips in winter.
But it's not only convenience and affordability that makes Grand Canaria, Fuerteventura, El Hierro, Lanzarote and Tenerife some of the most amazing spots to dive. The fact the islands are located deep into the Atlantic make these destinations perfect for the big stuff. Strong Atlantic oceanic currents indeed bring a lot of macro marine near the coastlines of many of these islands.
So if you plan on catching up with migrating manta rays or play hide and seek with sea turtles or angel sharks, the Canary Islands is where you should head to!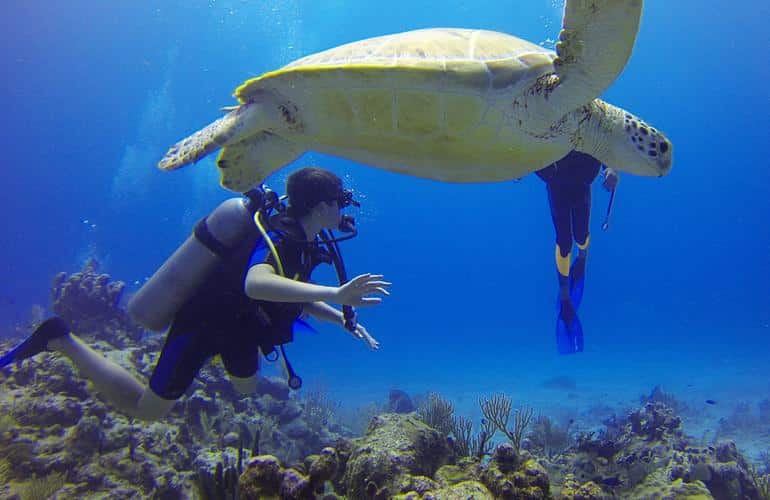 Canyoning
An all-action outdoor sport made possible by the islands' fiery volcanic past, canyoning is a great way of combining caving, hiking, mountaineering and swimming. Follow exciting nature trails through dense forest, whitewater rapids and cliffs as you trace the water from source to sea.
Tenerife is the top canyoning spot when it comes to canyoning, with such canyons as Barranco de Los Arcos or Barranco de Guia, which are popular with adventure nomads thanks to the challanging terrain, significant vertical drops and exciting routes that explore the island's tectonic diversity.
Yet, Gran Canaria also offer a good array of canyoning options from Las Palmas, with notably the Barranco de los Cernicalos.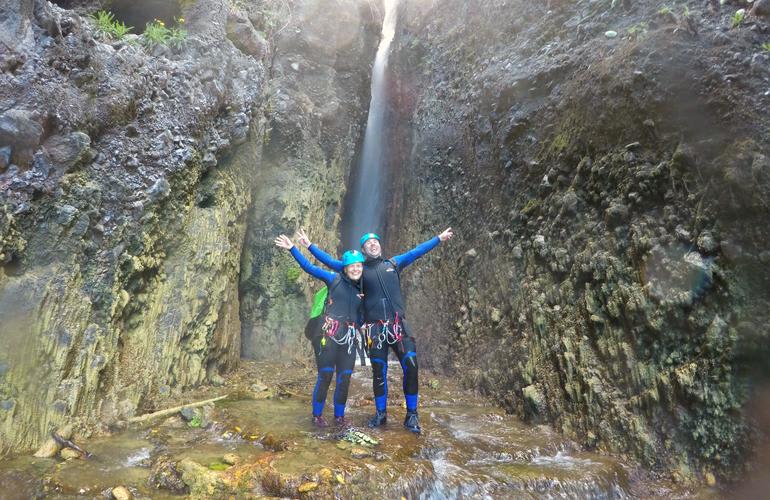 Via Ferrata near Maspalomas
Lesser known to the visitors to the Canary Islands, the Via Ferrata Primera Luna is an exceptional adventure. This via ferrata offers an accessible yet challenging experience with 2,6 km (!) of via ferrata route. This one is renowned as the best in the region, notably as you'll pass through centennial cardones and exceptional geological formations
If cliff faces and climbing on a via ferrata aren't your thing, why not head to Forestal Park Tenerife for a treetop canopy tour with 11 zip lines – the longest being 230m. Proposing two different tours for families or more sporty people, there is an option for everyone.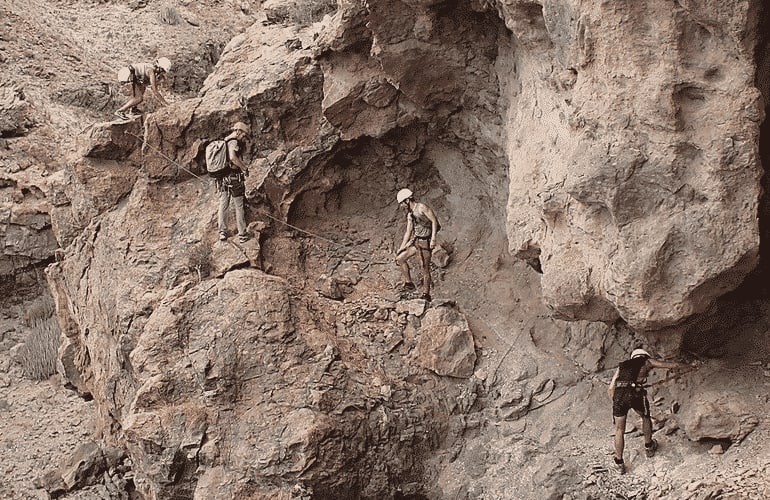 Downhill Mountainbiking
Perfectly adapted to off-road biking, the steep volcanic valleys and mountain ranges of the Canary Islands were made for mountain biking! The best spot for MTB is La Palma, with its rocky outcrops and thick undergrowth.
Travelling through the Caldera de Taburiente National Park is a downhill experience you'll never forget. You can also push your limits and try an extreme singletrack route in Fuencaliente, in the South of La Palma, that was created by volcanic eruptions that define its unique undulating landscape.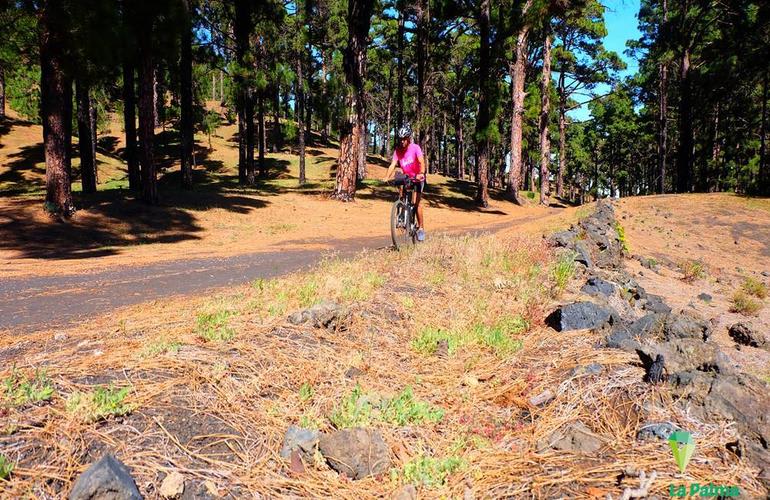 Sea Kayaking
Explore the piercing blue waters of the Canary Islands with touring kayak excursions along the coast. Not only sea kayaking is well adapted to the many places inaccessible from land, it will also provide an outside view on each island's own landscape and scenery.
Irrespective from which island you plan on visiting, sea kayaking should definately be on your list. For the nature lover, paddle in search of dolphins and sea turtles in south-east Tenerife near Los Cristianos or head to the gigantic volcanic cliffs of Los Gigantes.
An easy and relaxing day trip that connects with the raw and untamed beauty of the islands, discover the secret caves on La Palma island with beach trips to El Remo near Fuencaliente.
From Gran Tarajal in Fuerteventura to Maspalomas in Gran Canaria or the famous Papagayo Beach on Lanzarote, tours that combine sea kayaking with snorkeling, the opportunities are plentiful. Have a look at all sea kayaking tours in the Canary Islands and choose the tour that suits you best.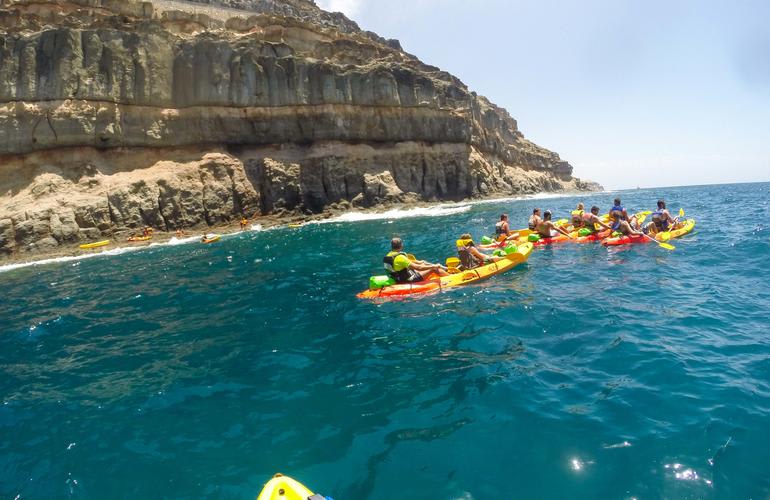 When it comes to exploring the Spanish islands – we're only getting started! Don't forget about bungee jumping, jet skiing and trekking to name but a few – it's safe to say, the Canaries islands might seem small but it's got a massive action sports scene, why not find out for yourself?
Photo: Mario Eder / Nova