Top 10 Outdoor Activities to Try in Spain
If you're planning to visit anywhere in the beautiful country of Spain, you will want to check out this list of the top 10 outdoor activities to try in Spain now. Especially if visiting museums and merely baking on the beach is not your cup of tea.
For some, travelling needs to be an adventure. Still visiting the tourist spots, but getting more than just the average view! Some return from holidays with tan lines and a hangover, but maybe you prefer the timeless memory of a bungee jump or a gnarly surf. If this does sound like you, then you have come to the right place-thrills are our speciality. Read on for the top 10 ideas of outdoor activities to try in Spain.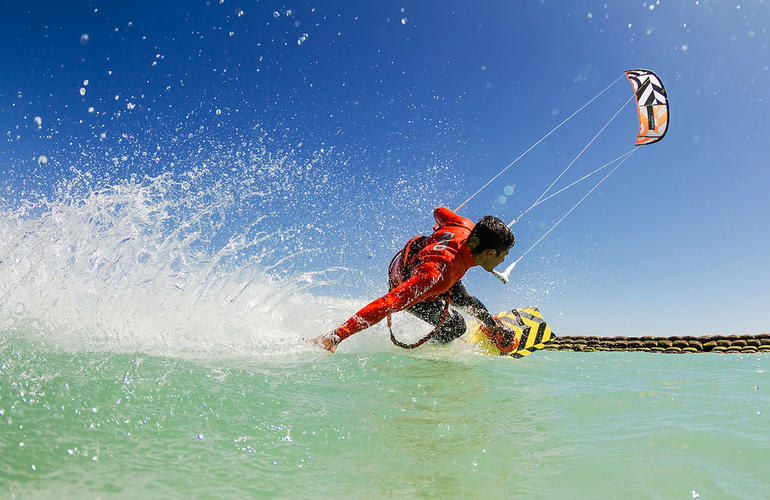 Kitesurfing in Tarifa
Kitesurfing is the first on the list of the top 10 outdoor activities to try in Spain. Located on the southernmost point of continental Europe, Tarifa is a stunning city in Andalusia. It also happens to be a must-visit spot for outdoor sports, especially kitesurfing.
Tarifa, Spain is located right where the Mediterranean Sea and the Atlantic Ocean meet, with strong winds and waves. Because of this, Tarifa is one of the best destinations in Europe to practise water sports like kitesurfing, as well as windsurfingand standup paddleboarding.
On the Costa de la Luz, you can find amazing windy spots like Playa Chica, Valdevaqueros, Los Lances or Bolonia. An added bonus is the proximity to Northern Africa, making it easy to pop over to Morocco in just a few minutes!
If you would like to add a touch of culture to your trip be sure to visit the famous Guzmán castle while in Tarifa. Then get right back to enjoying some outdoor activities in this little Spanish paradise.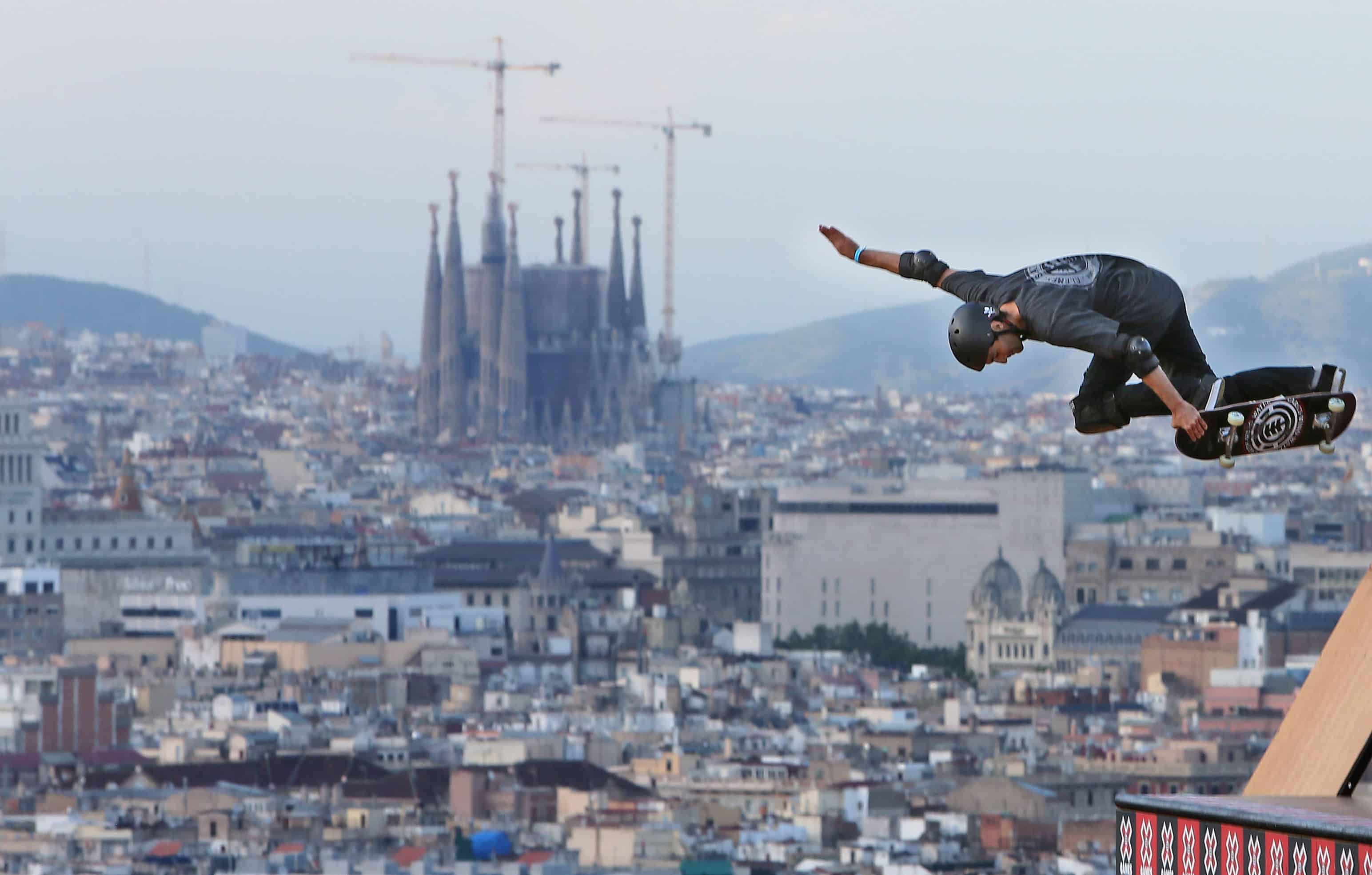 Skateboarding in Barcelona
Coming in second on the list of the top 10 outdoor activities to try in Spain is Skateboarding.
As the capital of Catalonia, Barcelona is known for its modernist Antoni Gaudí monuments, notably the Sagrada Família. But Barcelona is also known as the European capital of urban sports. Whether you're into rollerblading, BMX, scooter or skateboard, this city is undoubtedly the ideal place to be.
Barcelona is known worldwide for being the mecca of skateboarding because it's one of the only cities in the world where people skate everywhere. It also boasts a genuine open-air skatepark, with an impressive number of spots for street, flat or curves rides.
The atmosphere and the sun here make this city one of the most coveted destinations in the world. Even if you're a solo traveller, it will only take a few minutes to meet people and make friends for a great session by the sea.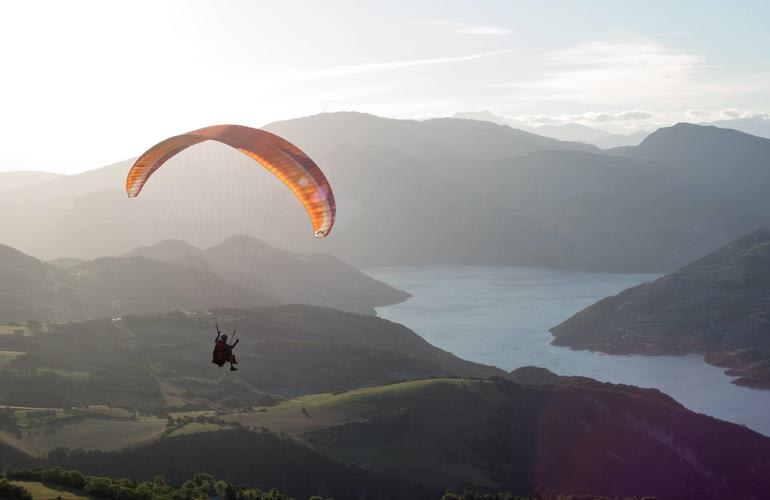 Paragliding in Madrid
Next up on the list of the top 10 outdoor activities to try in Spain is Paragliding. Explore the skies and landscapes of the Spanish capital from above by booking a paragliding activity in Madrid.
Paragliding is great because it will give you a nice dose of adrenaline while still being a pretty safe activity. This sport offers a nice, soft take-off and landing. Travel over Guadalajara or Avila near Madrid, and breathe deeply as you glide through the air with an expert pilot. Your pilot will ensure your trip goes smoothly and safely.
Cruising at 600 metres high, you can see the architecture of Plaza de Castilla, and almost all of Madrid on a clear day. If you're feeling brave, get strapped in and try some paragliding aerobatics and aerial maneuvers.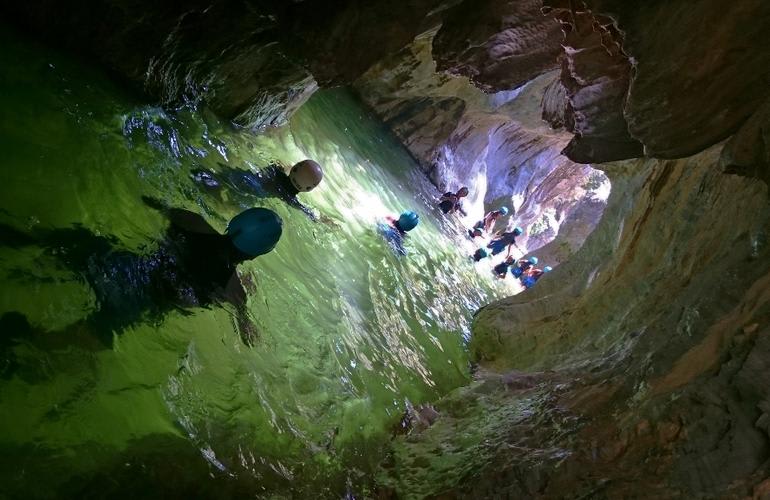 Canyoning on the Costa del Sol
Up next on the list of the top 10 activities to try in Spain is Canyoning. Costa del Sol sits along the coastal region of Malaga at the eastern-most part of Gibraltar. This area is famous for its 150-kilometre coastline, and 124 beaches.
The coastline of Costa del Sol is a true paradise for nature lovers and extreme sports enthusiasts. Canyoning activities in Costa del Sol are great for adventurers who like to explore the cliffsides and caves.
Canyoning is a mix of caving, hiking, climbing and mountaineering. It also involves water activities such as tombstoning, swimming and even riding down naturally-formed rock slides.
If you feel like mixing it up, you can also try various other sports. For instance, you can go scuba diving in the semi-tropical waters surrounding Marbella. There are many ravines in Malaga ideal for climbing and cliff jumping as well.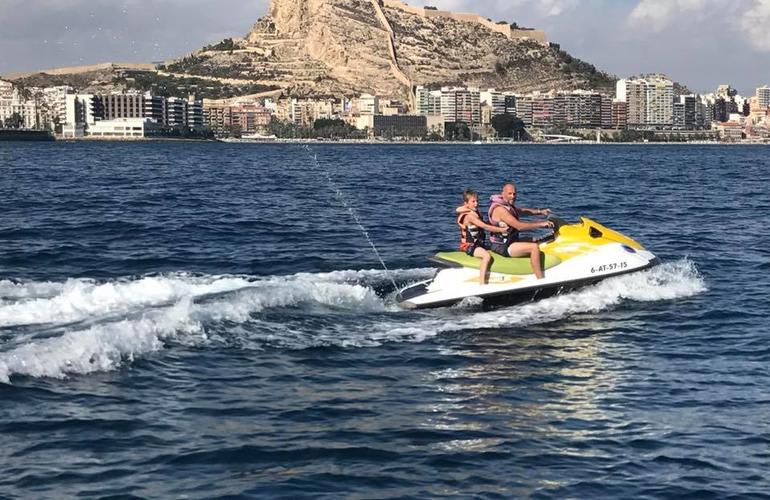 Jet skiing in Benidorm
Gliding across the surface of the ocean on a jet ski is the next activity on this top 10 list! What's better than stylishly speeding across the water while admiring the fantastic panoramic views of the Costa Blanca? You can also see the Altea region, Alfàs del Pi and Benidorm.
Jet skiing on the electric blue waters of the Mediterranean is a dreamy experience for any vacationer. It's a fun and unique way to take a trip along Benidorm's coastline with speed, sunshine and incredible scenery as a backdrop.
You can also check out the wide variety of beaches and coves along Benidorm's coast and Balcon del Mediterraneo. If you're feeling especially adventurous you can try the route to the island of Benidorm.
This guided jet ski excursion in Benidorm is an excellent group activity that you can share with your family and friends. There's nothing quite like the thrill of piloting your own jet-ski while breezing past the natural beauty of the Spanish coastline.
Rafting in the Sierra de Guara
The next amazing sport on the list of the top 10 activities to try in Spain is rafting. It's time to discover the joys of rafting in the beautiful Sierra de Guara.
Located in northern Spain, the Sierra Natural Park and the Guara Gorge run along the Sierra de Guara mountain range, in the province of Huesca. This region is packed full of hills, cliffs, caves, gorges and canyons. All of this topography has been created by the roaring rivers of Alcanadre, Flumen, Guatizalema, Vero and Mascún.
This is the perfect location to embark on a rafting adventure in Sierra de Guara. After splashing around in the rivers, many adventurers also enjoy mountain biking and Via Ferrata here.
Surfing in Mundaka
Considered one of the most beautiful waves in the world, surfing in Mundaka is next on the top 10 list. Even when conditions are not favourable, Mundaka is a perfect, wave albeit a slightly overpopulated line-up.
A surf spot as beautiful as this is rare. But in north-west Spain, you'll have no trouble finding a picturesque selection of places to surf. There are surf breaks for all levels.
Whether you want to have some fun on a longboard or get technical on a shortboard, there are waves in Mundaka that are just right. It's always a good idea to brush up on your skills, so check out surfing activities near Mundaka for lessons as well.
If you want to check out other nearby cities, try Zarautz. It offers the longest beach on the coast and a perfect beach break for surfing. Oviedo is also great to take a walk down the beach to scout out excellent surf spots.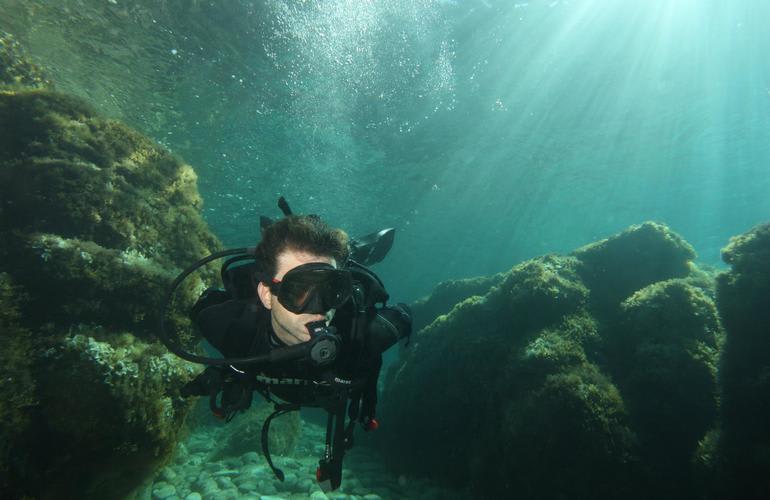 Diving in Ibiza
The nights in Ibiza are fabled to be legendary, but the underwater world will take you on a vibrant and surprising journey all its own. With crystal-blue water and thriving reefs home to tropical fish of all colours, scuba diving is an unmissable experience in Ibiza.
Ibiza is an ideal destination to explore the depths of the ocean. With a subtropical climate, waters are usually clear and visibility can be up to 40 metres. In addition, the temperature of the water is about 26 °C in summer. So face it, there is really no excuse not to go scuba diving in Ibiza.
Start with an introductory dive, followed by a course which allows you to discover and learn safety protocols and underwater communication system. Once you've mastered this, you can grab an oxygen tank, fins and dive in for some exceptional underwater exploration.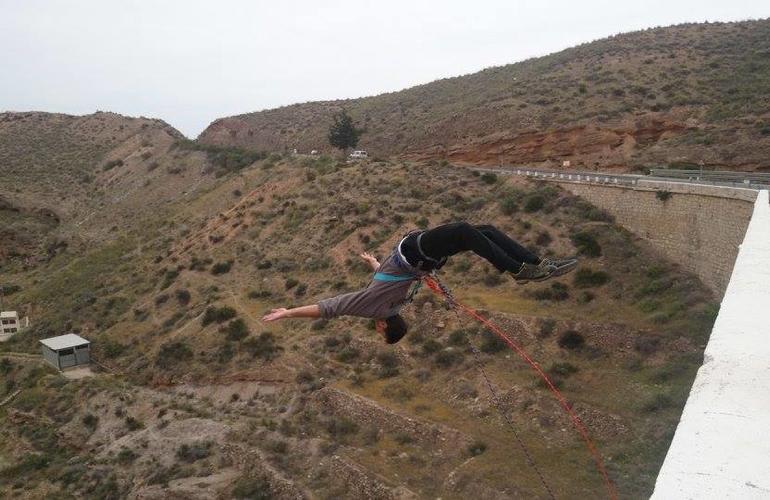 Bungee jump or parachuting on the Costa Almería
Costa Almería is the name given to the coastal municipalities of the province of Almería in Andalusia. This spot is known for having stunning seaside resorts and some of the most beautiful cliffs in Spain.
A stunning destination, Costa Almeria is known as a popular destination for travellers looking for outdoor thrills. Here you can try activities such as kitesurfing, windsurfing, stand-up paddling and many other water activities.
Blessed with 120 beaches, the coastline attracts vacationers from all over the world. Paragliders can start from the highest peaks of the mountains or parachute over the Sierra Maria Los Velez Natural Park. Paragliders can also explore Cabo de Gate-Nijar, one of the most remote geological landscapes in Europe.
If you're still craving some adrenaline, take the chance to bungee jump from the Gador Bridge. This is one of the oldest in the region and towers over at a fear-inducing height of 35 metres.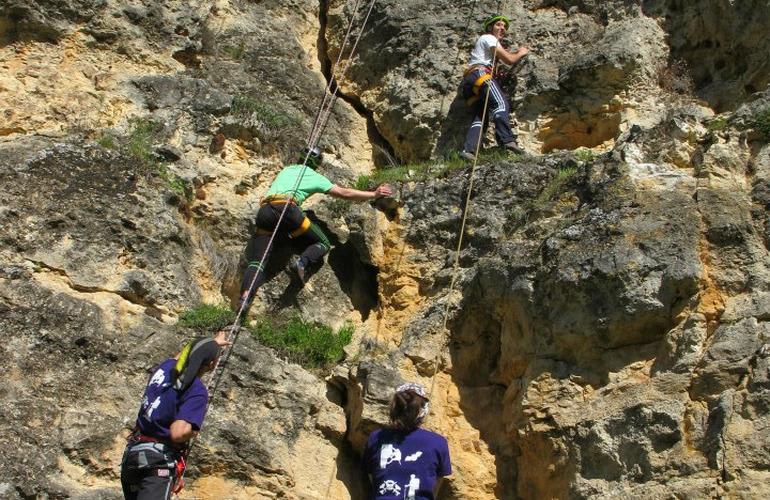 Climbing in Turégano
Located in the heart of Spain, Turégano is in the province of Segovia. Here, the limestone rocks that line the passageway to the Piron and Viejo rivers through Covatillas valley make an ideal playground.
It's a great place to take a climbing adventure. Halfway between the Castilian plateau and the northern slopes of the Sierra de Guadarrama, you can ascend the limestone walls of 8 -15 metres high. There are also options for a variety of different skill levels. A sure-fire winner for climbing fans, both beginner and expert alike.
If you don't want to climb, you can try abseiling down the beautiful limestone walls. You can also find hiking trails and daring Via Ferrata routes here.
If you're still craving more adrenaline, check out all of the outdoor activities in Spain on our website.
If you are looking for activities for your trip to the Canary Islands, be sure to check this article for all the most Extreme outdoor activities in the Canary Islands.