5 coastal water activities in Mallorca
The coastline of Mallorca counts over 120 beaches and coves is quite variegated with rocky cliffs and sandy beaches. The best way to discover the island's coasts is to try one of the water activities in Mallorca we selected for you.
This Balearic Island, covering an area of 3640 km², is marked by the spectacular World Heritage Site Serra de Tramuntana on the northwestern coast and the Serres de Llevant on the east. The mountains become steeper in the north and, all along the coast, there are cliffs that drop into the sea, creating beautiful sea caves and gorges. May spots on the northern coasts are only available by foot. On the northeast side, the Llevents Mountains present a lower altitude.
In the Bay of Palma, where its historic capital city is located, and in the Bay of Alcudia, the island offers long sandy beaches and beautiful creeks with warm water. From spring to autumn, you'll find many great water activities there.
To help you decide which water activity to choose when in Mallorca, have a look at our below list, giving you useful information on 5 water activities on the island.
Sea Caving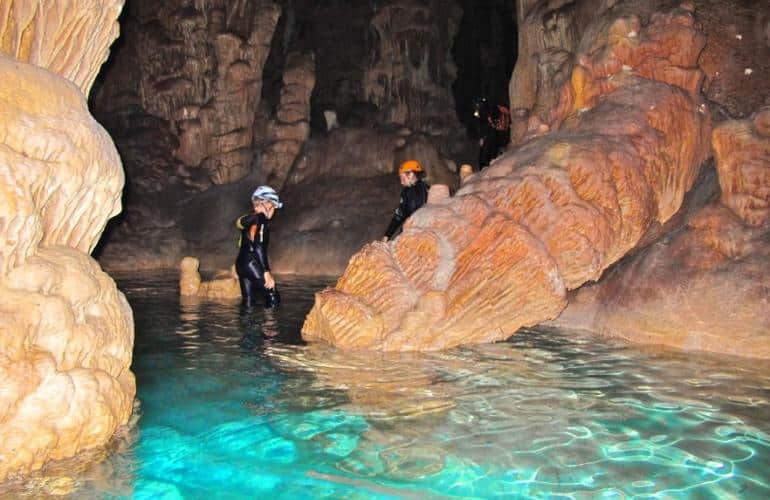 Of all the water activities in Mallorca in this article, sea caving is for sure the most adventurous one. You'll discover hidden caves by swimming, hiking, rock climbing and abseiling – all in one. Unique formations, stalactites, stalagmites, columns and lava flows are waiting for you.
Different excursions are available during which you can reach the caves through a hike or a boat trip. One of our favorite activities is sea caving in Cova des Coloms between Cala Romantica and Cala Falco beaches. This 110 meters cave, also known as the Cathedral, is divided into a "central room'' and a narrow corridor. Together with a professional guide and equipped with a wetsuit, you will enter three crystal clear saltwater pools, learning about the stalagmites and stalactites.
Coasteering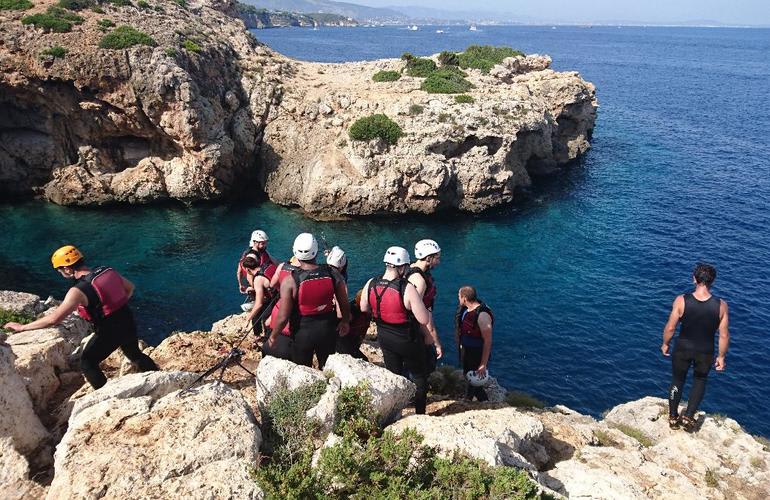 Among the many water activities in Mallorca, coasteering is perfect if you are both a swimming and climbing fan. With a coasteering excursion, you will explore the most beautiful coastline of the island!
A particularly nice spot for this activity is Alcudia, in the northeast of the island. The coasteering excursions in Alcudia include jumps from different heights in the crystal clear sea and abseils from 10 meters of altitude. Following your guide and furnished with the necessary equipment, including a helmet and a wetsuit, you will climb on the cliffs to then jump into the turquoise water.
After your excursion, we recommend you to visit the town of Alcudia which offers historical sites, gastronomic restaurants and a 10 km long beach going from Ca'n Picafort in the south to Port d'Alcudia in the north.
Another great spot for coasteering is the area of Cala Ratjada, on the very eastern tip of the island. Almost 42 km of coastline invite you to an unforgettable coasteering adventure where you will swim close to a scenic and rocky coast, experiencing cliff jumps from 3 to 12 meters.
Not only the east coast of the island but also the west coast is full of amazing cliffs to explore. Only 20 minutes by car from Palma de Mallorca, a coasteering adventure along the coasts of the Bay of Palma will be an amazing break from the busy beaches of the capital.
Snorkeling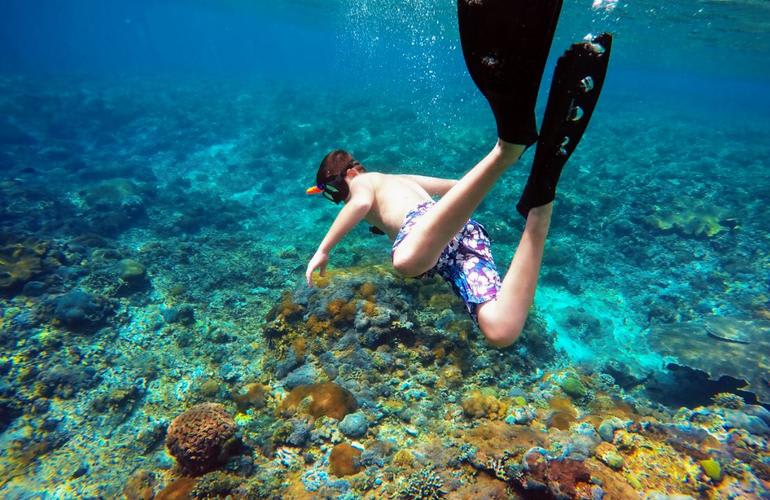 One of the most popular water activities in Mallorca is snorkeling. Various excursions will bring you to the most beautiful spots of the island to discover an amazing underwater world, guided by professional instructors. Just 15 minutes away from Palma de Mallorca, the marine reserve is perfect for a first snorkeling experience on the island. The instructors have privileged access and will teach you about the ecosystem and everything you need to know about the fascinating sea life that surrounds you.
If you wish to book a boat trip to Calvia, count 3 hours in total for this snorkeling excursion to visit the Malgrats Islands Marine Reserve. Another option will be a tour starting in Porto Cristo, where you will discover beautiful beaches in a 2-hour Snorkeling trip.
Last but not least, you should not miss out on a boat trip to the Blue Cave in the northern part of Mallorca. You will navigate and snorkel around Illa de Colomer and approach the island, probably the most observed of Mallorca, from the famous Mirador de La Creveta, located 238 meters high.
Jet skiing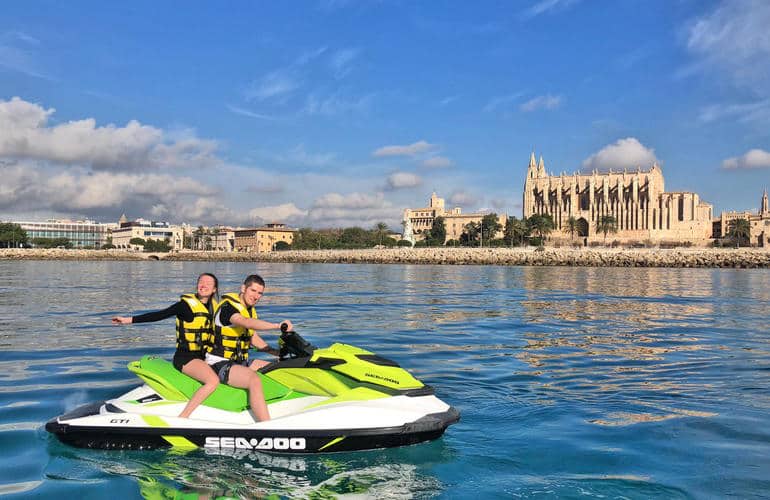 Are you looking for some more speed to discover the coastlines? Then you'll love jet skiing as it is one of the funniest water activities in Mallorca. If you are older than 16 years old you can drive a jet ski from 20 minutes to 1 hour depending on the tour you choose.

There are different excursions: start from the natural reserve of Los Deltas to enjoy its crystalline waters, cliffs and caves, or from Playa de Palma, which owes its name to the city of El Arenal (in the southeast part).
And if you wish to combine jet skiing with sightseeing and are eager to discover a bit of history, then you should try a 30 minutes tour around the Cathedral of Palma and the coves of Cala Mayor.
Stand-up Paddling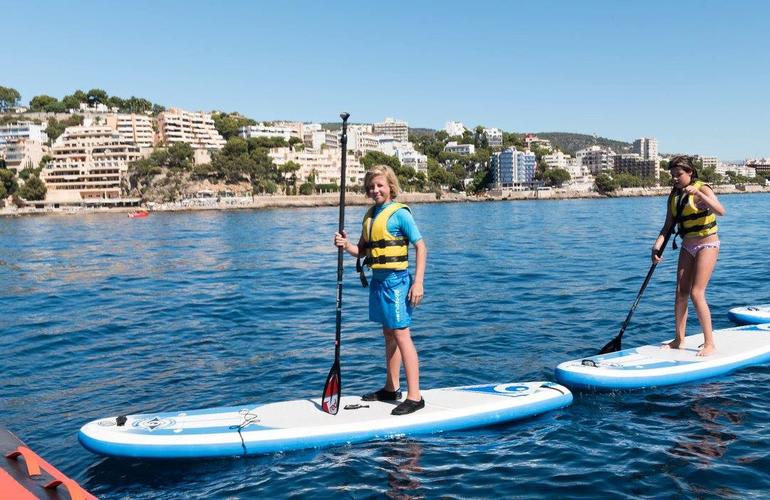 Stand up Paddle Surf is an easy and fun activity to discover and enjoy the coasts and beaches of Mallorca. It can be a relaxing experience, but also a good upper body workout that you practice individually or with a group of friends.
Thanks to our professional guides, you will be able to discover the hidden corners of the islands and admire Mallorca's coastlines from a new point of view, from the water.
And what about scuba diving in Mallorca?
Of course, there's also some scuba diving in Mallorca! Make your first scuba dive experience in the Marine Reserve near Palma de Mallorca, for example. Moreover, sea kayaking in Palma de Mallorca is a great way as well to explore the nearby creeks. If you are an activity you have (almost certainly) never done, choose flyboarding near Palma de Mallorca.

By now you know, Mallorca is full of beautiful beaches and coastlines that are waiting to be discovered thanks to great water activities – from calm ones to more exciting ones. For some more inspiration on what to do in Mallorca, not only on the coast but also in the heart of the island, have a look at our top 10 unmissable activities in Mallorca. Maybe the coasteering activity has caught your attention. Here's our complete guide to coasteering.