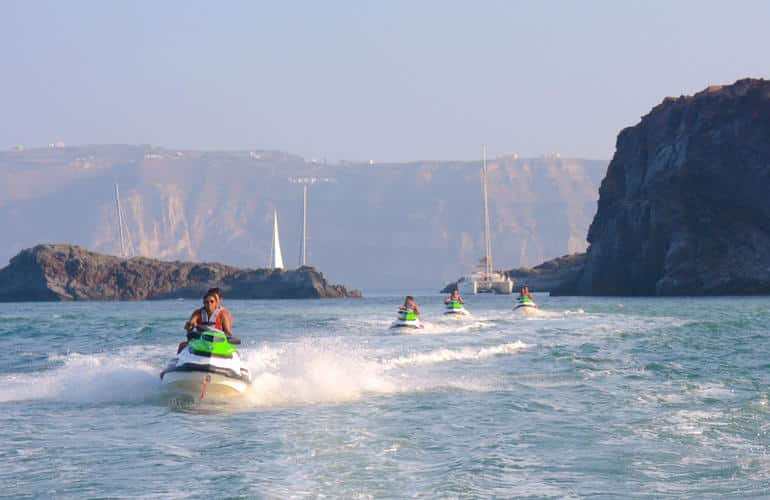 Jet skiing for beginners: All you need to know!
You probably ended up in this article because you want to discover more about Jet skiing for beginners! Well, you are in the right place as we will brief you about the most important things and basics to know before hopping on a jet ski and cruising off.
The first thing to know is that jet skiing is a fun water-based activity to practice during summer in almost all the bathing spots at the sea. Even if jet ski competitions exist, it is for the most part a recreational activity that will provide you with the right amount of adrenaline when riding little waves at a different speed, but also allow you to discover hidden bays and beautiful beaches, which are otherwise difficult to get to.
As you will see, jet skiing is at all times a supervised activity. You will always be briefed by a professional instructor, explaining to you how to ride this water vehicle and informing you about all the water rules you need to respect!
Here's a little fun fact before diving into this jet ski beginners guide: the word "jet ski" is actually the brand name of a personal watercraft manufactured by Kawasaki and has since become a commonly used word – just like Bubble Wrap, Kleenex, or Frisbee.
How to ride a Jet ski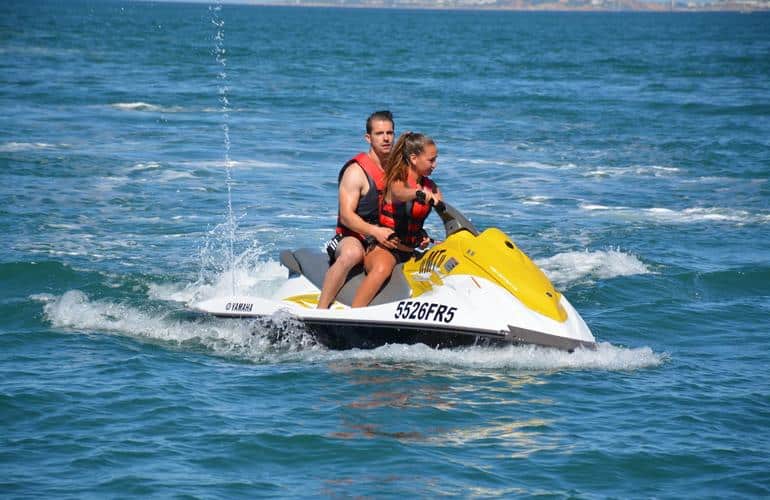 Riding a Jet ski might seem difficult, but when following the guide's instructions and respecting all the rules, you'll see just how easy it is! It is actually the easiest vehicle to drive. Minimum age is required and usually, it depends on the centre that provides you the activity. The same goes for whether a driver's license is needed for the driver. More on that a bit later.
In order to start riding your jet ski there are a few things you'll need to learn, once you checked that you have enough engine oil for your excursion:
Turn on/off
Learn how to control the forward, neutral and reverse commands
Learn how to regulate brakes in case you have them
Mind that for older jet skis the throttle to steer might be really sensitive. The instructor will carefully guide you through all of this.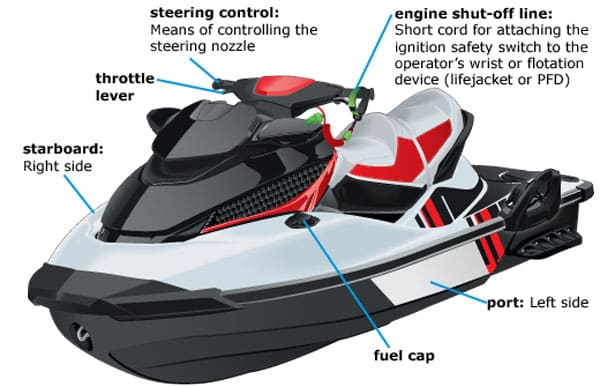 (c) www.boat-ed.com
Mind that the control panel of a jet ski is composed by:
A speedometer that shows the speed you are currently driving
The engine cut-off switch is a small clip that must be inserted into the boat's console. The clip will stop the engine if the driver is falling out of the jet ski
A safety lanyard is a little rope connected to the engine cut-off switch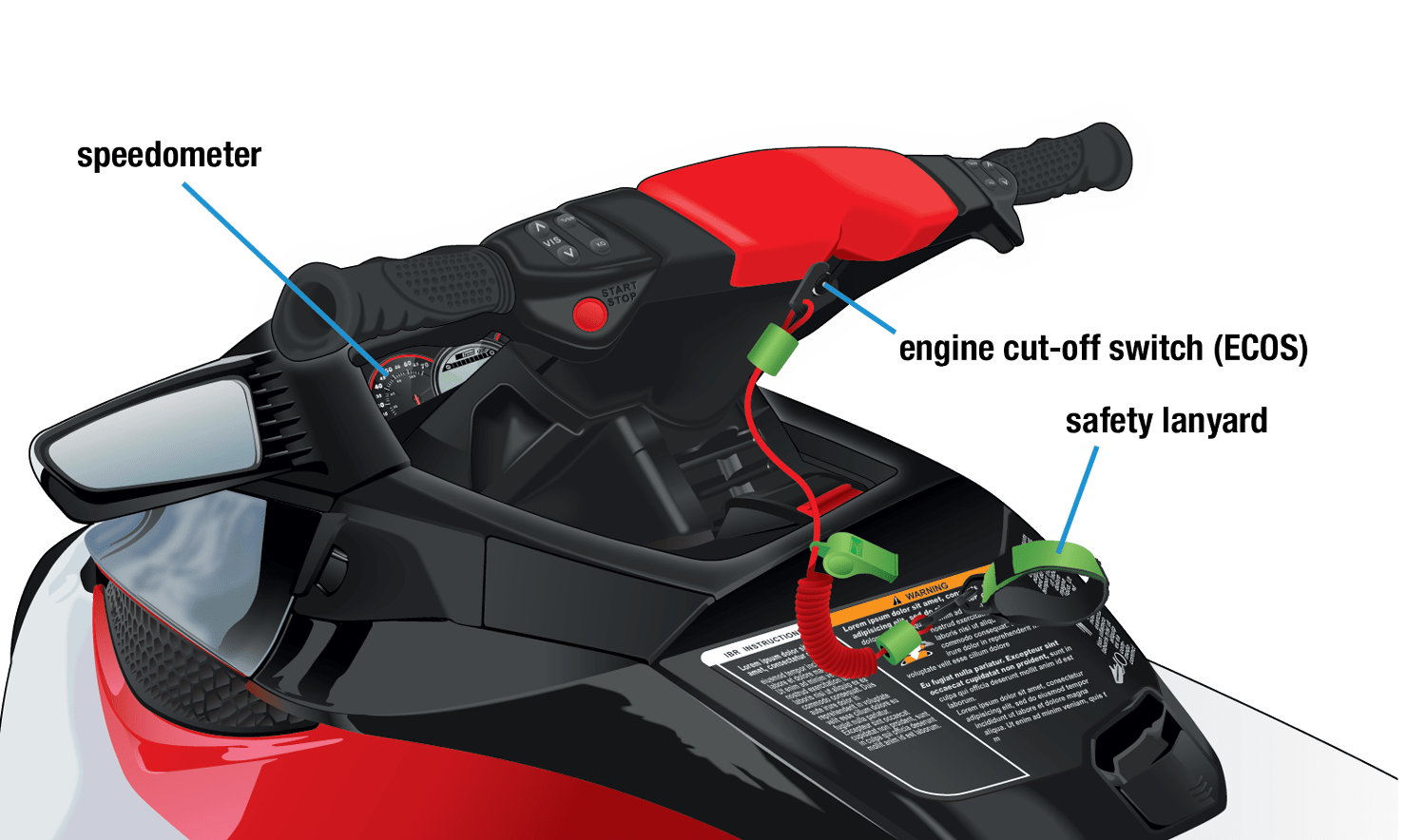 (c) www.boat-ed.com
Finally, in order to acquire stability while driving your jet ski you need to know how to lean in different situations. For instance, while accelerating you will need to be inclined forward, leaning back when stopping and leaning on the sides during turns.
Even with waves, the jetski will go at a stable speed thanks to more responsive steering, if you want to use a specific technique try to ride the waves at 45 degrees diagonally.
Different types of Jet skis
There are several types of jet skis. Some of them are focused on performance, usually for people that are experienced and wish to drive fast, and others are easier to control and perfect for a jet ski safari on which you'll discover beautiful coastlines. Some examples of jet ski types are:
Sea-Doo: the easiest watercraft to drive (speed from 40 to 70 mph depending on the model)
Kawasaki: offers a higher speed and performance, some models might be also suitable for beginners (speed from 54 to 67 mph)
Wave Runner: great control system ( speed from 50 to 67 mph)
What to keep in mind when choosing a jet ski for beginners offering better control are the following characteristics: stability, breaks, and recreational watercraft.
How to rent a Jet ski
Renting a Jet ski might seem not always easy during the busy summer season due to the great number of people at the sea looking forward to having fun. Our advice: make sure to book your excursion in advance!

If you want to try jet skiing, you have usually two options to choose from, depending on what you're looking for.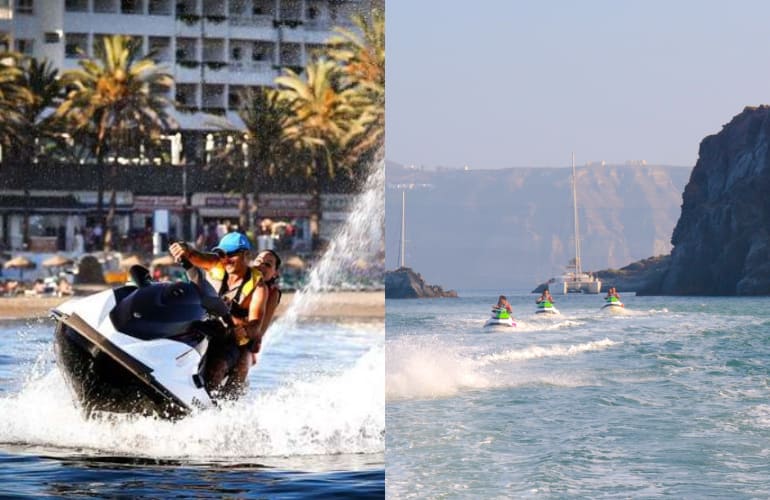 Jet ski rental vs Jet ski excursion
Jet ski rental
After making sure you have the eligible based on the country's policies and the driving license with you to drive the jet ski, the second thing to do is to rent a jet ski from 20 minutes to 1 hour and to ride in a circuit intended for this activity.
After picking up your jet ski with equipment and a thorough safety briefing, you will learn and be shown how to drive the jet ski. you're ready to cruise off to conquer the crashing waves, all by staying in the limited area. It's a perfect way to discover the sensations of jet skiing and to spend a fun and thrilling moment on the water. Remember to stop when your time is up in order to not be charged more.
In order to make sure you find spots for your excursion due to the high demand is suggestible to reserve online in advance.
Jet ski excursion
The second option is intended for people who wish to make use of the jet ski to discover remote beaches and hidden bays. During a jet ski excursion, often also named jet ski safari, you will follow a guide in small groups to explore and admire different spots. Each person has their own jet ski, or you can take a participant along behind you on your jet ski. Depending on the itinerary, a safari can take 1 to 3 hours.
Overall, Jet ski rents are suggested to people looking for more adrenaline while safari excursions will be sightseeing tours with a great involvement as you will be your own driver.
What to know before going Jet skiing
Whether you're a beginner to jet skiing or not, the instructors will always brief you at the beginning of your ride. And before even learning how to start the engine, there are some requirements to be fulfilled so that you can go jet skiing. We gathered the most important information good to know in advance so that you are prepared, especially in the case of jet skiing for beginners.
If you need one piece of advice, look far ahead, keep the most stable speed possible and the steering will be responsive. Don't panic, just relax and drive your jet ski attentively!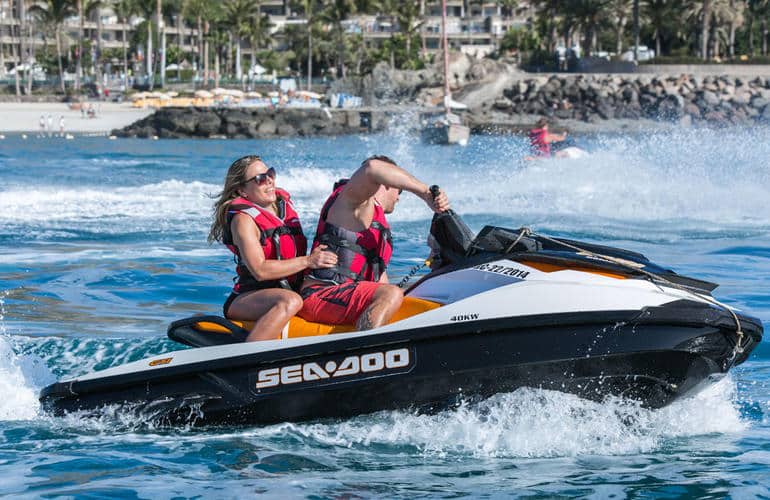 What is the minimum age to go jet skiing?
Even if no previous experience in jet skiing is required, 18 years is usually the minimum age to drive a jet ski. Minors over 12 years old are often allowed to come along as passengers on a jet ski, but they might need authorization from their parents to take part in the ride.

When booking your activity, check the requirements carefully. A maximum of two people can be on a jet ski, and the price of the activity is often defined per jet ski (and not per person). This might however vary depending on the excursion and on the country selected.
Do I need a driver's licence to do jet skiing?
No, when renting a jet ski or going on an excursion, you don't need any specific license for jet skiing. As mentioned above, the instructors will teach you all you need to know for jet skiing for beginners.
What equipment is needed for jet skiing?
The most important piece of equipment is the life jacket, always mandatory for a jet ski excursion and furnished by the instructors, plus 1 radio per jetski to communicate with the guide. Depending on the season, the water temperature, and the duration of the excursion, you will also be equipped with a wetsuit. If you go for a jet ski safari, the instructors might also give you the necessary snorkeling equipment if you stop at a nice beach or bay for a break.

Before booking your activity, check carefully what you need to bring, some jet ski rental places might ask for your identity card or a deposit. Don't forget to put on your swimwear and sunscreen, and to bring a towel, your sunglasses and a bottle of water.
Do I need to know how to swim for jet skiing?
Yes, despite you wearing a life jacket provided by the instructor, it is mandatory to have basic swimming skills in case you need to swim.
What is the no-wake zone?
A no-wake zone is an area where boats, jet skis, and other vessels need to slow speed in order not to damage other boats or be a danger to swimmers close by. When jet skiing, you need to respect such no-wake zones, often indicated with floating cones. You will learn all of this during the briefing session with your guide.
What to wear and not to wear during a Jet ski excursion
You are recommended to wear a usual swimsuit and sunglasses, on the other side water shoes are not recommended due to the amount of water which easily enters your shoes it might be difficult to move. Phones are not recommended as people would risk losing them or even getting close to taking pictures.
Who should not go on a Jet ski excursion?
Jet skis due to the speed and the waves might create a lot of bouncing, for this reason, it is not recommended for people with back injuries, surgeries, or pregnant women.
Mind that usually during long jet skis tours snacks, water and sunscreen are usually provided.
Why is jet skiing fun
Jet skiing is fun because you can spend some time with friends or family doing an easy activity full of adrenaline while catching the sun and waves. You will have the chance to do this activity in different areas and in some enjoy crystal-clear waters.

The variation of speed is a great plus as you could alternate it based on your and the passenger's preferences. Jet ski rides are definitely mood boosters! And if you go for a jet ski safari you will be able to discover amazing spots on the coastline from another point of view.
Why Jet ski over Boat?
Of course, boat and jet ski are two completely different experiences due to the fact that jet ski is more involved as during the activity you will personally drive. During jet ski excursions you will face more adrenaline, and waves without getting sick.
Best places to go jet skiing
At this point, you should have discovered everything about jet skiing for beginners, so it is time to give you some suggestions of the best spots for jet skiing.
Jet ski activities in Santorini, Greece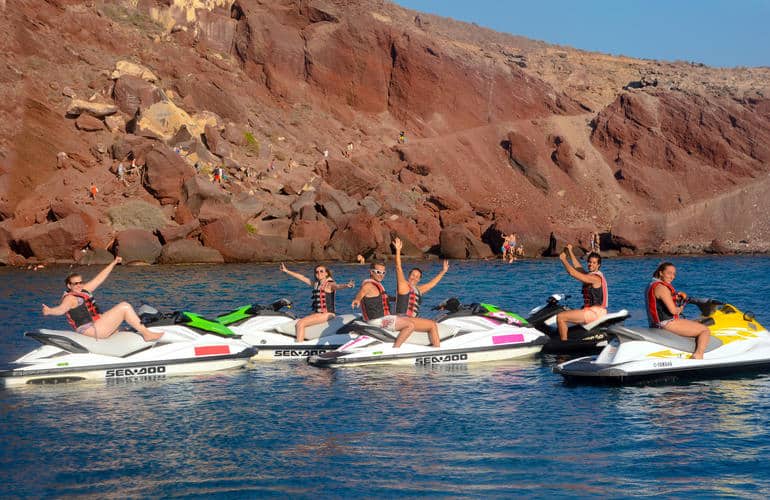 At the top of our list figures jet skiing in Santorini. You could choose a jet ski safari discovering Perivolos beach, the Red beach, Kampia, White beach, and much more and have the chance to snorkel wherever you want.
The two-hours tour will be guided by licensed instructors, which will also provide you snorkel equipment. Get ready to discover huge cliffs, sea caves, volcanic beaches and, with a little luck, dolphins!
Jet ski activities in Denía, Spain
Not too far from Valencia, you find some great jet ski excursions in Denía, known by local people as the best spot for these excursions to admire amazing cliffs. During the 1-hour excursion starting from the coast of Jávea, you will be able to reach an amazing Marine Reserve and the Cope of Sant Antoni. The 2-hour excursion will bring you even further, to the spots of Cabo de la Nao and the Orgens cave.
Jet ski activities in Palma de Mallorca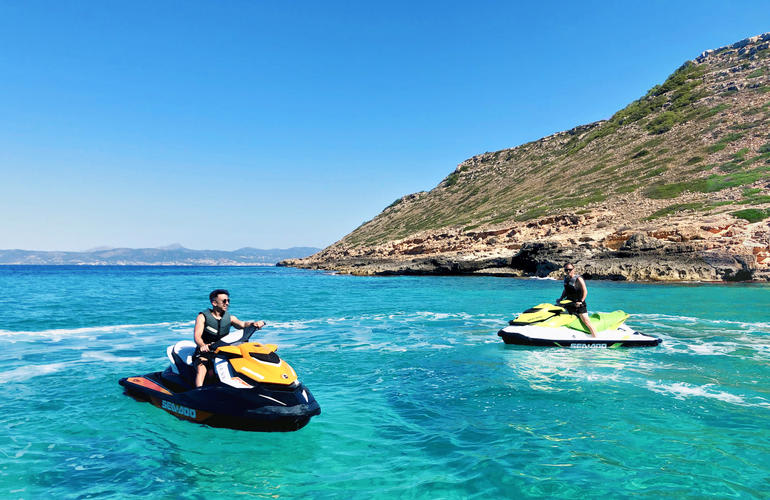 In Palma de Mallorca, jet ski excursions will take you to crystal clear waters for at least 20 minutes depending on the option you choose. Different excursions are available where you will discover El Arenal, Playa de Palma or start doing your tour around the Cathedral of Palma de Mallorca for 30 minutes. Later you will spot the Royal palace of Marivent, the palace where members of the Spanish royal family spend their summer.
Jet ski activities in Split, Croatia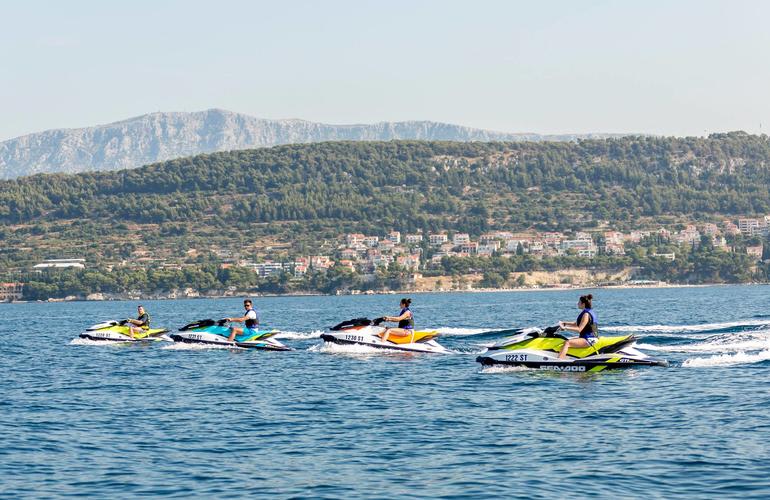 With a 2-hour guided jet ski and jet boat excursion in Split, you will first join a 15-20 minutes jet boat ride and continue with 45 minutes of jet skiing for pure adrenaline. After the tour, you will have the opportunity to swim and relax on the best beaches of the island for 40 minutes before jet boating back to the port.
Jet ski activities in Bora Bora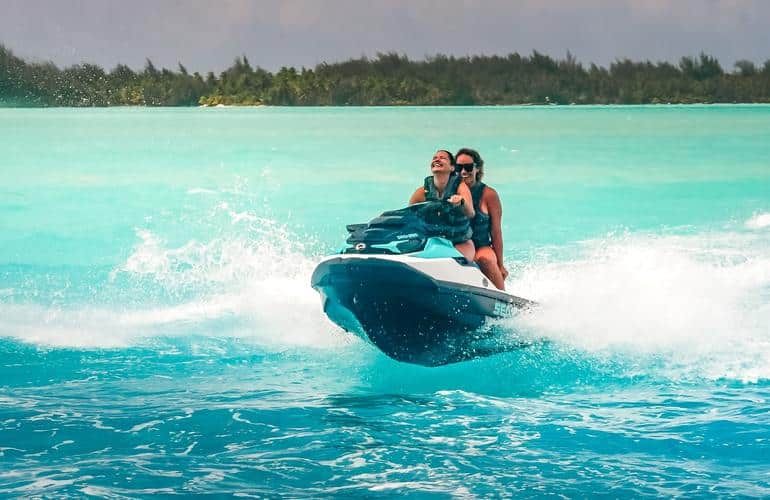 If you wish to try a tropical jet skiing tour in one of the best lagoons in the world do not miss a jet skiing excursion in Bora Bora. Listen to the secret stories and legends of the island told by your guide, discover the best spots around the island, an amazing marine life, and of course you will have the chance to taste exotic snacks!
Wherever you want to try jet skiing, it's a great way to spend a fun moment and discover hidden bays. Have a look at all the jet ski activities, in order to pick the one that suits you best! What is for sure is that with the above guide to jet skiing for beginners, you are well-prepared for this summer adventure!
If you are curious to learn more about the area of Split in Croatia, we prepared a list of the best activities to do in Split. For the ones which are thinking to spend time in Mallorca, you may be curious to discover 5 coastal water activities in Mallorca.