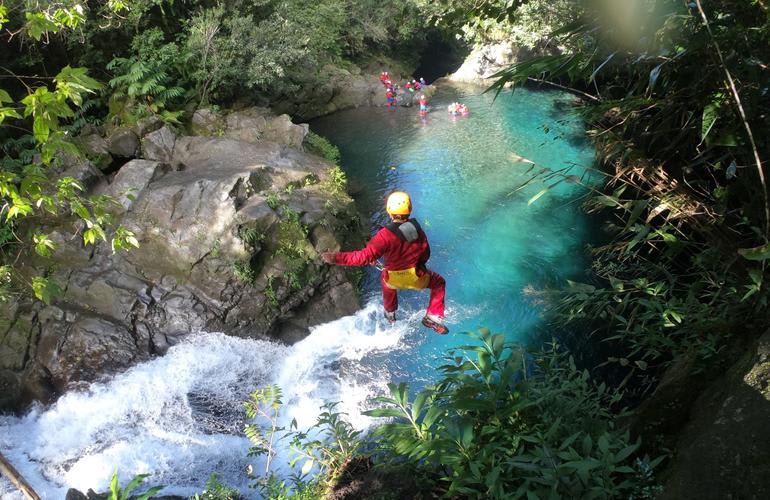 The Top 10 Canyoning Spots in the Pyrénées
In this article, you will discover the top 10 canyoning spots in the Pyrénées. This breathtaking mountain chain stretches from the west to east of the southernmost region of France, crossing over the Spanish border and the independent region of Andorra. Because this Natural Reserve stretches over 430 kilometres along the Iberian peninsula, there are quite a few regions within the mountains themselves.
The highest peak in the Pyrénées is a staggering 3,400 metres (or 11,168 feet) high. This point is at the intersection with the Cantabrian mountain range and ends at the edge of the Mediterranean Sea.
Outdoor and nature lovers can enjoy many activities all year round here. The Pyrénées are famous in particular for having many canyons and gorges to explore- perfect for canyoning activities. In this article, you will find only the most beautiful, hand-picked canyoning spots in both the Spanish and French Pyrénées regions. So read on to find out the 10 best canyons in all the Pyrénées!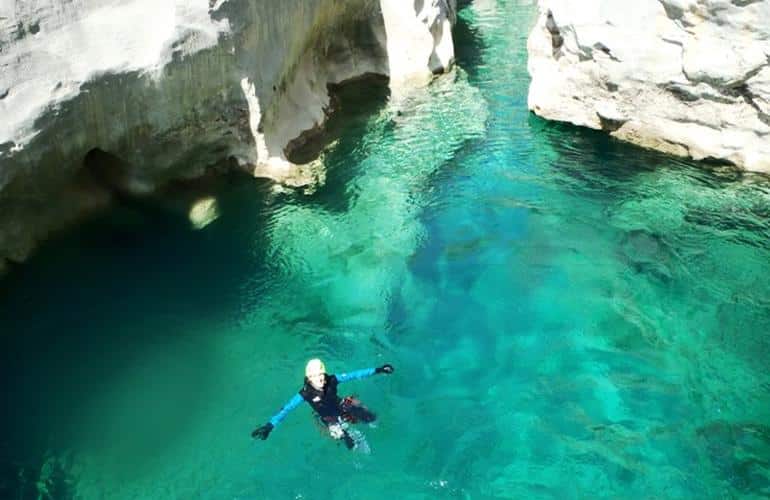 Alta Garrotxa Canyon
Numero uno on the list of the top 10 canyoning spots in the Pyrenees is located in Spain, in Alta Garrotxa Canyon. This beautiful ravine with turquoise waters flowing through is located in Sadernes, a 1.5-hour drive from the popular tourist city of Girona, Spain.
Canyoning trips in Alta Garrotxa last 3-4 hours long and feature all the best elements. The activity will begin with an abseil and a few jumps between 2-7 metres high. During this time, your professional instructor will help you develop your abseiling and jump techniques. Abseil sections are up to 45 metres high in Alta Garrotxa! Even though this canyon has some challenging sections, it's still suitable to enjoy with the whole family- including children! There are even multiple slides to ride up to 5 metres long. The only requirement is that you need to know how to swim.
Les Annelles Canyon
This next canyon is just a 1-hour drive from the cute city of Girona, and 2.5 hours from Barcelona. Escape the crowd and head into the gorgeous mountains of the Pyrénées to Les Annelles Canyon for a little outdoor fun!
Canyoning excursions at Les Annelles near Girona are on the Eastern side of the Pyrenees, and the adventure will be guided by a professional. This 4-hour activity will take you splashing, jumping, swimming, abseiling and sliding through natural gorges.
Along the way, you will cross over to French Pyrenees territory. Here you'll see the Albera Massif, part of Pic de Fontfrede. There's even a natural spring at the peak where you can drink fresh mountain spring water. Canyoning here offers 3 abseiling sections, multiple jumps between 3-8 metres, and even a gorgeous waterfall flowing 30 metres down. Almost forgot, you'll also be lucky enough to enjoy natural rock waterslides here!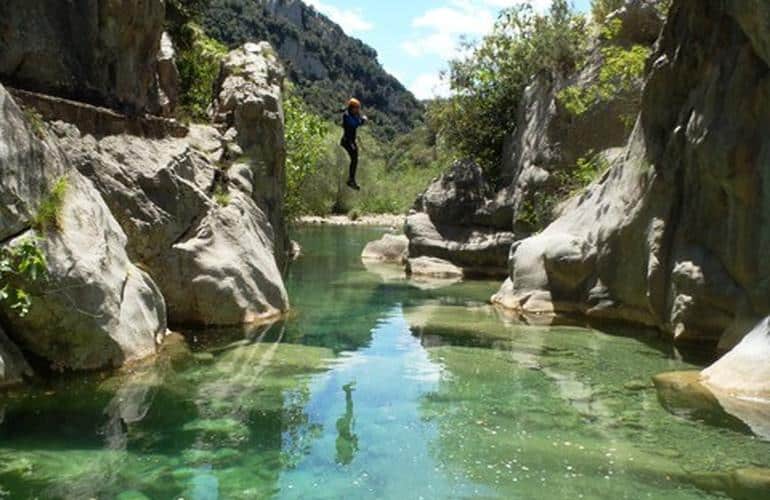 Sierra de Guara Canyon
The Gorgeous Sierra de Guara Canyon is next on the list of the top 10 canyoning spots in the Pyrénées. Located in the central Spanish region of the Pyrénées, Sierra de Guara is a true heaven on earth for nature lovers. This natural park and gorge reserve offers some of Europe's most spectacular canyoning courses.
Also called Sierra y Cañones de Guara Natural Park in Spanish, this area is packed with limestone hills, cliffs, caves, gorges and canyons. When you book canyoning trips in the Sierra de Guara Canyons, professional guides will take you on an excursion to discover all the most beautiful hidden gems in the area.
Canyons here are intermediate level and do require you to be able to swim about 20 metres. The water temperatures are usually between 14 and 22°C, and a wetsuit will be worn.
A typical day of canyoning lasts between 6 and 8 hours and includes a lunch break. Canyons here include 30-metre abseils, 10-metre jumps, several natural slides and a natural Jacuzzi!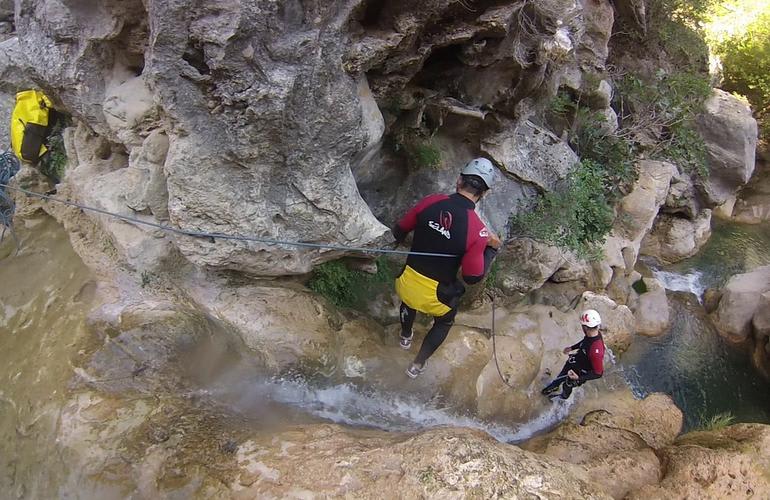 Yera Gorge, Picos de Europe
Within the Pyrenees is Yera Gorge, perfect for canyoning and located within a beautiful natural park called Picos de Europa.
Canyoning excursions at Yera Gorge take you on an adventure near Rubo river canyon in the Cares River basin in the Asturias. This canyon is a level one canyoning course, so it's great for beginners and families with children.
The activity itself lasts 4-5 hours long, with a 25-minute walk into the gorge course. This is an easy and accessible excursion for first-timers of all ages, starting with a beautiful forest walk. Later you can try some small 5-metre jumps, fun 8-metre waterslides and lots of freshwater swimming!
Participants must be at least 7 years old, Catered to children from 7 years old, and able to swim. The swimming portion here lasts 10 metres.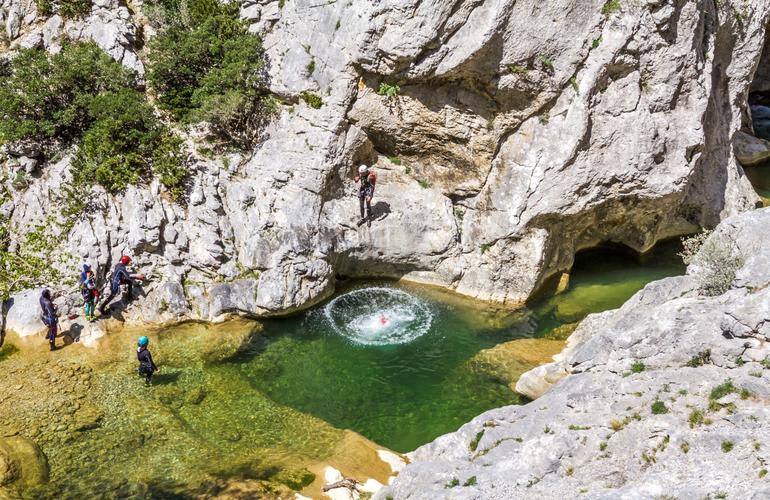 Gorge de Galamus Canyon
The next top canyoning spot is Gorge de Galamus Canyon, located in the Eastern region of the Oriental Pyrénées, Saint-Paul-de-Fenouillet in the Occcitanie region.
Canyoning excursions in Gorge de Galamus Canyon are an ideal choice for beginners. The canyons of the Gorges of Galamus will take you on an adventure! You will swim in crystal-clear waters, discover the cascades of tuffs, jump into pools, and ride toboggans down natural slides!
A canyoning activity here lasts around 3 hours and only requires a 15-minute walk into the start of the course, and a 20-minute walk back. There are no abseils here, and all jumps and waterslides are optional. The only requirement is that children must be at least 12 years old, and a minimum of 25kg to participate.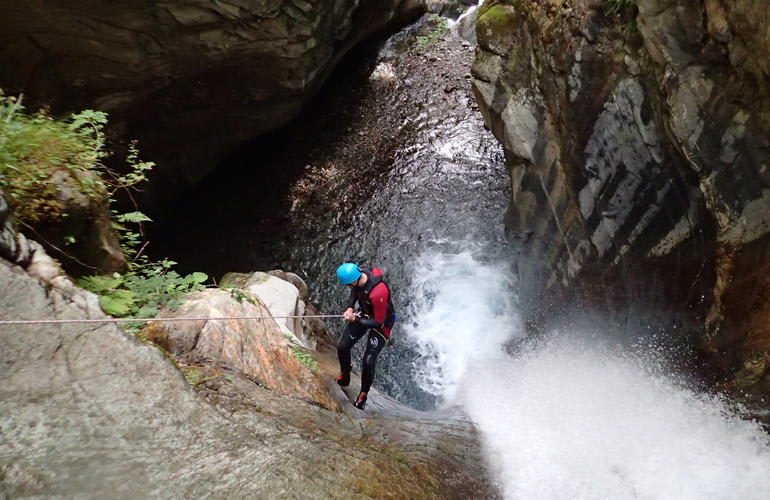 Canceigt Canyon in Ossau Valley
Next on the list of the top 10 canyoning spots in the Pyrenees is Canceight Canyon. Located in the Ossau valley in the heart of the French Pyrenees, located in Bearn, this spot is full of canyoning courses! Multiple rivers flow through these regions, making canyoning here versatile and fun.
When you Book a guided canyoning excursion in Canceigt Canyon, Ossau Valley, your adventure will be guided by professional instructors. The activity will begin only a short walk in, followed by a full-day, 7-hour adventure! The day will involve swimming in clear refreshing waters, and jumping from the gorge from 7 metres high! You will also enjoy water slides, abseiling down the gorge 15 metres. This is a lower-level intermediate canyon, so it's a good idea to have endurance and be in good shape if you choose this option!
Thuès-entre-Valls Hot-Water Canyon
The next canyon on the list is Thues-entre-Valls in the Oriental Pyrénées. this canyon is very special because the water is very warm- approximately 35 ° C! The waters here stay warm year-round, even in snow, due to the heat from the sulfur under the ground. This makes it a hot spring canyoning adventure not to be missed! These spring waters are even thought to have healing properties (anti-inflammatory, antioxidant etc.)!
Canyoning activities at Thues-entre-Valls hot water canyon are just 30 minutes from Font-Romeu and 45 minutes from Perpignan. After a short walk in of about 20 minutes, you'll begin your canyoning activity. The course involves multiple small slides of 3 metres each, and an abseiling section of 8, 10 and 35 metres high. After that, you will reach the hot water pools. Following some solid relaxation time here, you'll continue down the canyon for the end of the adventure. The whole activity lasts 2h to 2h30 long.
The only requirements for this canyon are that every participant must be at least 10 years, and weigh at least 25kg.
Soussouéou Canyon in the Vallée d'Ossau, Laruns
The ninth-place entry on this list on the top 10 best spots to go canyoning in the Pyrénées is the beautiful (and hard to say!) Soussouéou Canyon. This canyon is located in the Ossau Valley in the Atlantic region of the Pyrénées near Pau.
Canyoning adventures in the Soussouéou, Vallee-d'Ossau are perfect for beginners and are specifically designed to help you develop your canyoning skills. For instance, you will work on rope skills, technical jumping and progression, as well as gaining some geological knowledge.
This course begins with a 30-minute walk in through a beautiful forest area and then goes straight into 10-metre jumps! As you traverse the canyons, you'll enjoy natural slides and an 11-metre abseil next to a waterfall. You'll encounter natural pools of sparkling water inside granite gorges. The whole adventure is over 3 hours long!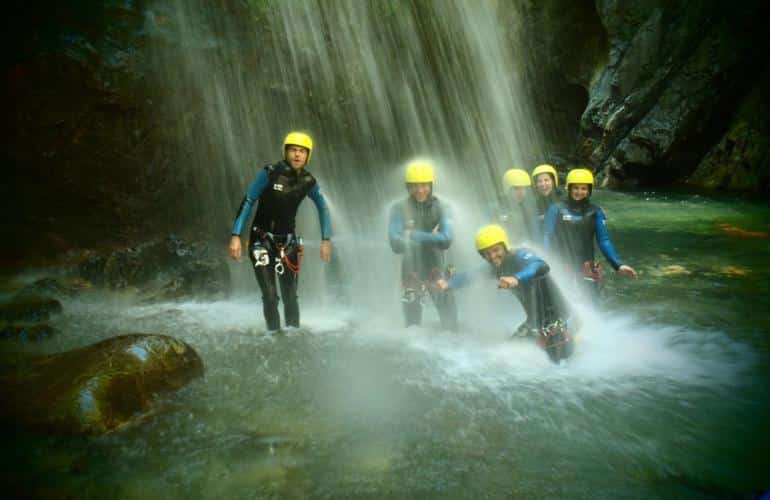 Bious Gabas canyon
Next on the list of the top 10 canyoning spots in the Pyrenees is Bious Gabas Canyon. This location located deep in the Ossau Valley, South of Pau in the Oriental Pyrenees region. Canyoning excursions in Bious Gabas Canyon are special because there are two ways to explore them – either by day or by night!
The day activity takes you on a whitewater canyoning adventure sport down a steep stream through a beautiful gorge. Here, you will alternate between swimming, hiking, riding natural slides and abseiling. The whole activity lasts about a half-day, and you'll feel safe as you discover this canyon of the Atlantic Pyrenees accompanied by a state-certified guide.

The night canyoning activity is a totally new way to explore mountainous canyons in the dark. Shadows dance across the granite walls and the pools of water sparkle from your headlamp!
This activity extends 12 kilometres long in total and lasts 2.5 hours. After being fit in a wetsuit and headlamp, the night option will begin with a 15-minute walk to get to the entry point of the course. The first obstacle will be a fun zipline, 12-metre abseil, then some climbing jumping and sliding! At the end of the excursion, you'll have a 5-minute walk back out.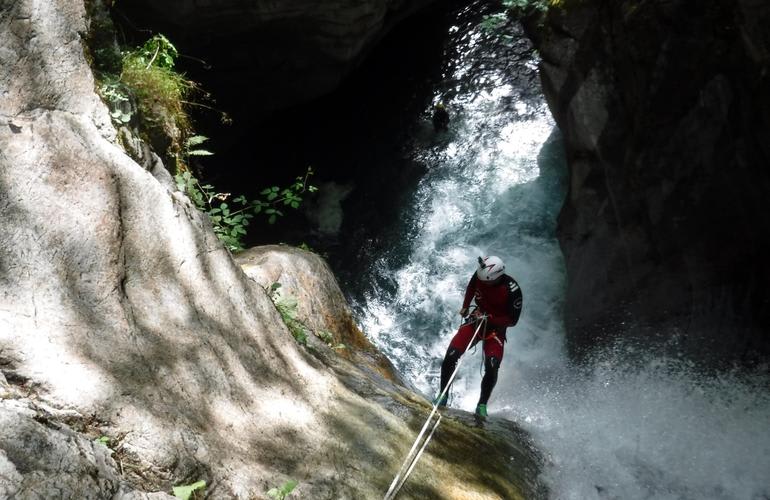 Bitet Canyon, Laruns
The next gorgeous canyoning spot in the Pyrenees is lower Bitet Canyon in the Ossau Valley. These canyons are formed from granite rock and are especially interesting for those who like geology.
Canyoning excursions in Bitet Canyon, Laruns Valley are great for intermediate, experienced canyoners. This is because the canyon course is quite technical and physically demanding. The course involves an initial 25-minute walk in to reach the starting point, and lasts 5 and a half hours long! You'll abseil down 35-metre high waterfalls, and jump off the edge of gorges 3-4 metres tall. After that, you will get to enjoy some natural waterslides into crystal-clear pools of fresh turquoise water. Luckily, the walk back out is only 5 minutes after this exhausting course!
If you want to learn more about canyoning, check out our Complete Guide to Canyoning article. You can also discover more places to go canyoning like the 6 best canyons on Reunion Island, and the 3 top spots to go canyoning on the island of Corsica. Be sure to check out our website as well for all of our canyoning activities worldwide.