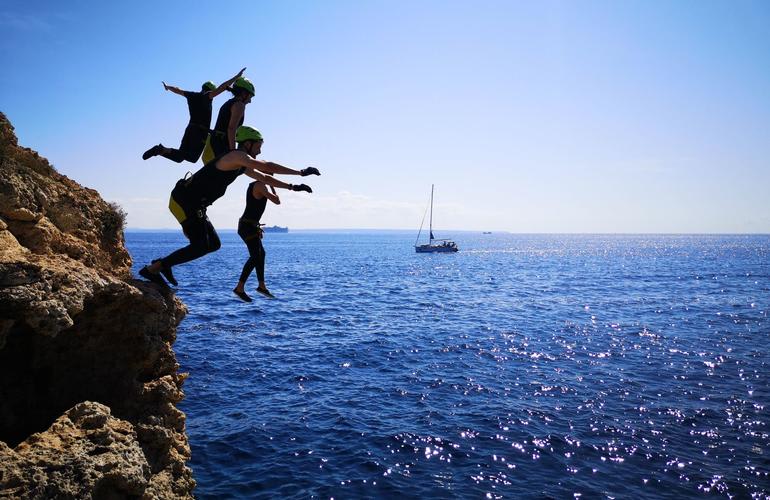 Top 10 unmissable Activities in Mallorca
What about choosing Mallorca for your next holiday? Even if it is known to be a party island for international tourists, you will discover in this article that Mallorca is much more than this! Breathtaking landscapes and unforgettable outdoor activities in Mallorca promise a relaxing and fun vacation at the same time.
Mallorca, sometimes spelled Majorca, is a popular holiday destination especially during summer due to the white sand beaches, the good weather, the great food and the lively atmosphere, called Movida. This Balearic Island has also beautiful historical and picturesque city centres where you can find monuments such as the Alma Cathedral, the 15th century Bellver castle or the Sóller railway, offering an interesting ride in a historic train.
But did you know that thanks to the crystal-clear sea, the many cliffs and the mountainous regions of Serra de Tramuntana it is possible to practice many outdoor activities? Discover our favourite adventures you should not miss when in Mallorca (see map above).
1- Hot Air Balloon flight from Manacor
One of the most memorable activities in Mallorca is a hot air balloon flight starting in Menacor, at the east coast of the island. With this unique experience, you will enjoy a panoramic view of the island of Mallorca and the Mediterranean, accompanied by your family, your loved one or a bunch of friends.
The best moment for a hot air balloon flight is during sunrise or sunset, when the island is bathed in warm sunlight. In both cases, you will be in the air for around 1 hour and you will have the chance to feel a peaceful state of mind, sipping some cava while flying over villages at 100m height.
2- Jet Skiing from El Arenal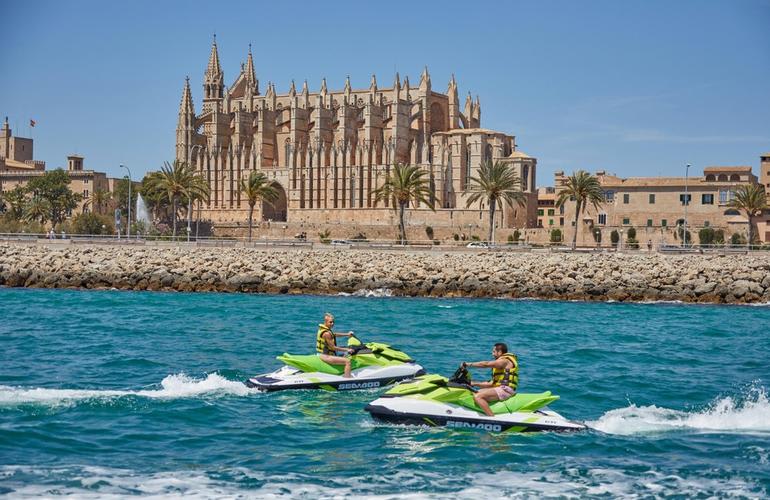 For some more adrenaline, enjoy the clear waters at Playa Palma during a jetski excursion starting from El Arenal, only 20 minutes from Palma de Mallorca. On this occasion, you will discover the variegated coastline of the island and views of the capital.
No driving license is required for this activity, since the instructor will supervise and take care of you. If you wish to share this 20 to 40 minutes experience with another person, you can opt for the double jet ski. Only requirement, all participants need to be 16 or over.

Another nearby jet skiing excursion is on the coast of the city of Palma. You are so close to the city and the famous Santa Maria cathedral that you can even do some sightseeing from the sea.
3- Sea Caving excursion in the Coloms Cave
Sea caving is clearly one of the most unique activities in Mallorca with a guaranteed wow-factor. Near Menacor, on the coast of Cala Romanica, you will be able to explore the beautiful Cova de Colombs. After a basic 300-meter swim into the cave, the guide will lead you through this maze-like structure and underground lakes to the heart of this adventure.

Sea caving in Cova des Coloms is perfect for adventurous couples, friends or families with children that are over 12 years old where no previous experience in caving or snorkeling is required. An experience full of mystery, romance and adventure is waiting for you.
4- Boat trip in Pollença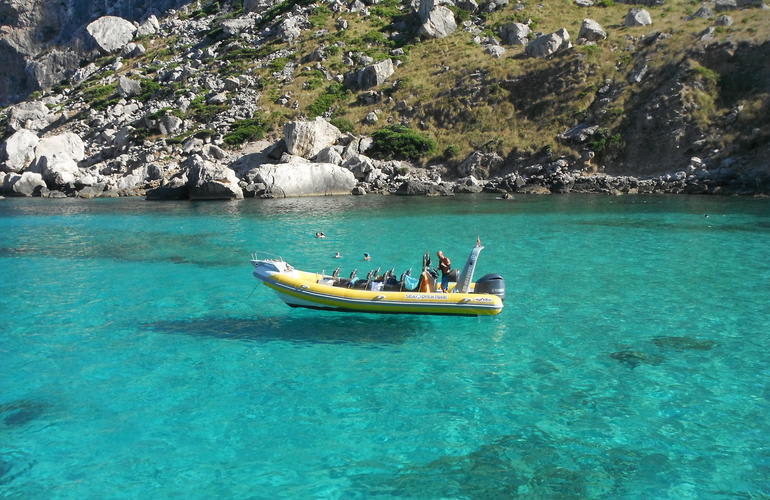 The next item in our list of unmissable activities in Mallorca takes us to Pollença, a town whose name derives from the Roman settlement of "Pollentia''and is located on the northern tip of the island. A great way to discover the incredible coast and its beautiful creeks is a boat trip from Pollença.
One of the trips takes you to the blue cave for an unusual discovery. The light that enters through the rocks contrasts with the crystal clear water and turn the cave blue. Sounds surreal? It isn't! The only way to convince yourself is by exploring this phenomenon by yourself and, at the same time, enjoy a refreshing swim. Another boat tour leads you to the beach and island of Formentor where you can enter its cave and admire the wonderful stalactites. Of course, snorkelling in the crystal clear waters is possible (if not a must) before heading back to the port.

5- Scuba diving in the Marine Reserve near Palma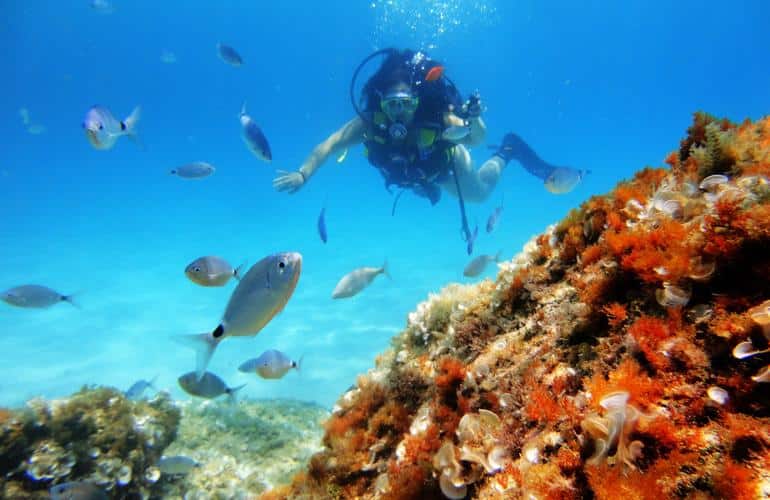 Mallorca, Balearic Island surrounded by the beautiful Mediterranean Sea, is an ideal spot for scuba diving! Whether you are a beginner looking for a first dive or an experienced diver, the Marine Reserve near Palma de Mallorca promises a great experience, where you will discover the unspoiled and unique sea life.

An easy scuba diving excursion in Cala Delta will introduce you to the underwater world for 45 minutes. Our professional instructor will brief you about the breathing techniques and safety. Immerse yourself into the fantastic marine environment the Bay of Palma has to offer!
6- Quad biking from El Arenal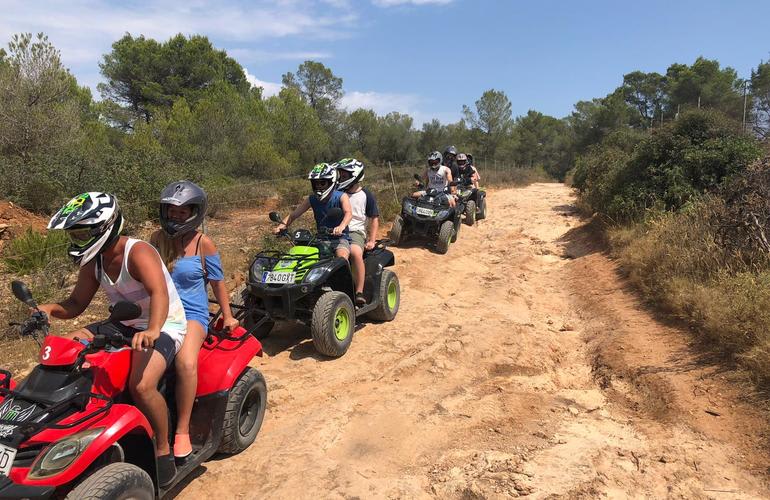 Forests, mud, rocks and sand – Mallorca has all it takes for a fun quad excursion! When going on an off-road quad biking excursion near Palma de Mallorca, you will discover the Arenal area, next to Palma de Mallorca. Feel the sensation of freedom as you make your way through rocky, dusty or muddy trails. A well deserved break to swim in a small cove with crystal clear waters is part of the excursion as well.
In order to drive one of the automatic quads, you need to have a B1 driver's licence. A passenger however, can join the excursion from the age of 7. Make sure you bring comfortable sports shoes, your camera (there will be amazing spots to take pictures) as well as swimwear, towel and sunscreen.
7- Kayaking in the creeks of Calvia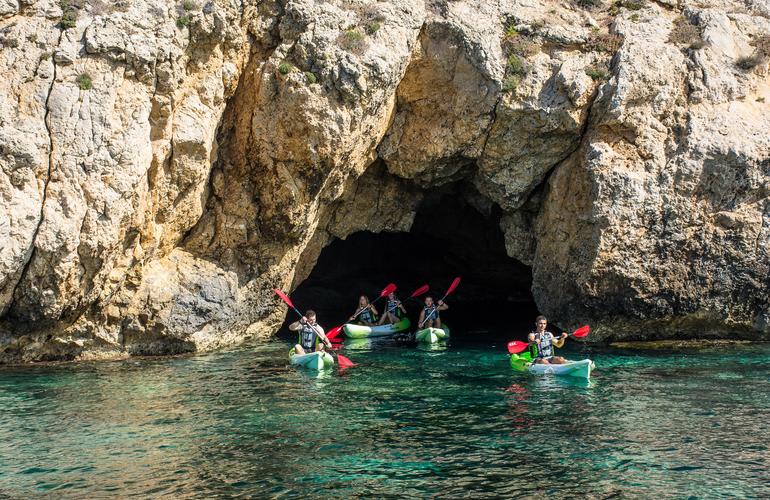 After the exciting quad excursion, you might need some quiet time. What more relaxing than a kayaking excursion in Calvia along beautiful creeks? It's one of the best activities in Mallorca in order to discover the hidden spots of the island.
You'll explore the Cala Mayor area and visit different corners on the coast. Our professional guides who know the island very well will show you and the rest of the group the best parts of it! Never tried kayaking before? Don't worry because our guides will adapt to your level.
8- Canyoning in Sierra de Tramontana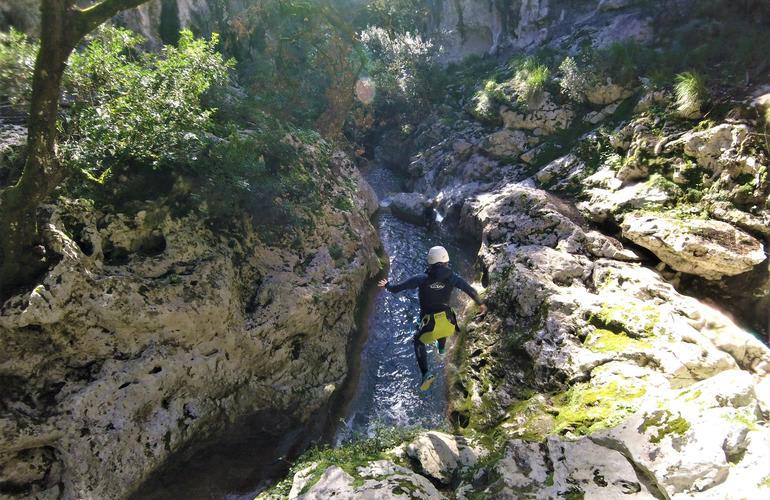 Mallorca is not only full of beautiful beaches, coasts and creeks but also has a mountainous area in the north-west of the island, which promises to be interesting in terms of outdoor activities. And indeed, various canyoning tours in Serra de Tramuntana will make you discover this beautiful part of Mallorca: the Mortitx gorge near the small village of Pollença, Na Mora (providing two different descents with different difficulty levels), the challenging Biniaraix Gorge, the magic landscape of L'Ofre Canyon, the Almadra canyon for beginners and the dark Sa Fosca Canyon for experienced participants.
The best-known canyon in Mallorca is the Coanegra canyon. It is a beginner canyon, where you have fun slides, exciting jumps and abseils of up to 25 meters. Good to know: jumps are never mandatory, you can skirt. At all times, the professional guides will make sure that you spend a fun and safe moment.
9- Coasteering in Alcuida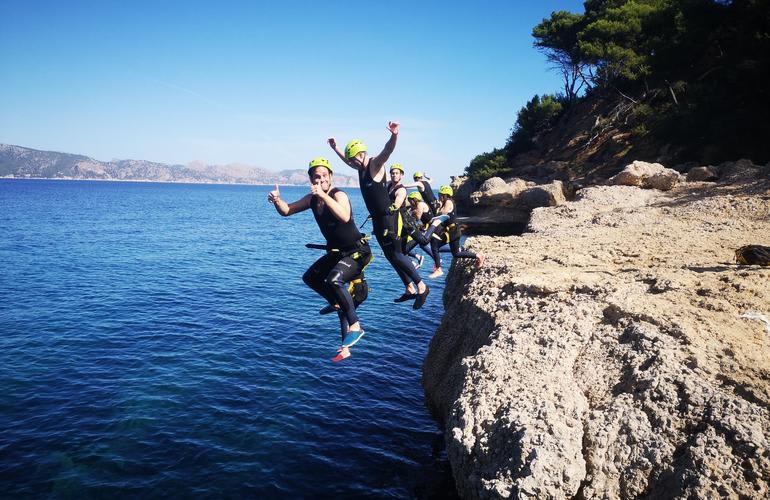 If you love the breathtaking views, a coasteering excursion in Alcuida is made for you! Coasteering is a real adventure including swimming, abseiling, climbing, and rock scrambling on the Mallorca coastline. Non mandatory jumps of 3-12 meters cliffs are part of the activity as well. 
No need to have experience, the willingness to take on new challenges and live an unforgettable experience is the key. Refreshing and fun alike, coasteering in Mallorca will make you discover the island's beautiful coasts in an unusual way.
10- Horseback riding in the countryside near Felantix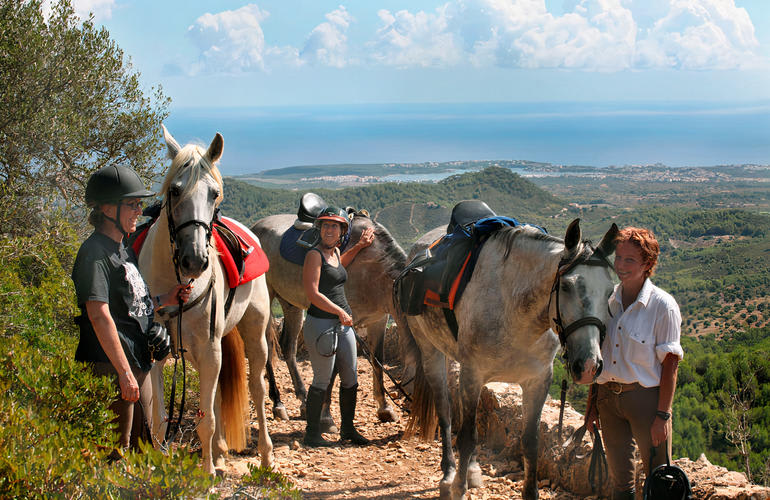 Last but not least among our unmissable activities in Mallorca, we recommend a beautiful horseback ride in Mallorca's countryside. Whether it's your first ride ever, or whether you already have experience in this activity, Felantix area in the south of the Island offers an ideal landscape and great guides.

For this first full-day option, you need to be able to gallop comfortably. On this 35 km monastery trip, you will ride from Sant Salvador (Felanitx) to Consolació (Santanyí) or Montesion (Porreras). If you are not sure to like horseback riding or wish for a shorter excursion, the 1-2 hours countryside ride is perfect for you. You will discover Son Negre and the nature around.
If you're lucky enough to travel to Mallorca, think of booking in advance. November is by the way the only month when you can do horse riding on the beautiful Es Trenc beach to discover the reservoirs where the flamingos.

Now you know, Mallorca is not only a great island to relax, eat well and enjoy yourself, but also to try new outdoor adventures. Coasteering, kayaking, horseback riding, hot air ballooning, and all the activities in Mallorca will make you discover the beauty of the island.
Coasteering is a particularly unusual activity that's worth discovering. We have therefore gathered the top 5 coasteering destinations in Spain for you. If you love the combination of the Mediterranean Sea and outdoor experiences, then you will love the canyoning adventures Corsica has to offer.