Caving for Beginners: The Complete Guide
Depending on which part of the world you're from, you may call it by different names such as spelunking, potholing, or speleology but the term caving paints quite the picture, for most people. Caving is definitely not among the most popular sports in the world but it has a peculiar allure and we thought why not spread the word? If you don't know – according to Wikipedia, Caving (as the name suggests) is the recreational pastime of exploring wild cave systems. Caving for beginners can be intimidating, so in this guide, we will try to demystify the sport and hopefully encourage you to try it someday.
History of caving
Well if you truly are a beginner when it comes to caving, its history is worth knowing. In the mid-19th century, an Englishman named John Birkbeck, explored the Gaping Gills (1842) and Alum Pot (1847-1848) both located in North Yorkshire, England; registering his name in the history books as a caving pioneer. Fellow Englishman, Herbert E. Balch, soon followed the footsteps of Birkbeck and took on the Wookey Hole caves in Somerset, England. 50 years after Birkbeck's curious mind spearheaded caving, in 1892 the Yorkshire Rambler's Club was founded.
While the English, in a sense, pioneered the sport, the French took it to the next level. In 1890, Edouard-Alfred Martel became the first man to descend into the Gouffre de Padriac and made a habit of finishing first when he developed his very own techniques, based on ropes and metallic ladders.
Vertikarst
By the 1930s the French had caving fever and produced poster boys of the sport in the form of Robert de Joly, Guy de Lavaur, and Norbert Casteret. The French didn't stop at creating history, they decided to create records as well. During the second world war, an alpine team composed of Pierre Chevalier, Fernand Petzl, Charles Petit-Didier, and more, explored the Dent de Crolles – located just outside the Grenoble in the French Alps. It was the deepest explored cave system in the world at 658 m, at the time, and took the team the course of 11 years to explore! Oh did we mention that the team also helped innovate the scaling pole, nylon ropes, and the use of explosives in caves?
During the mid-20th century, two Swiss alpinists – Juesi and Marti, created the rope ascender a.k.a. the Jumar. The Jumar allows one to climb up on ropes, and therefore it renders carrying and using heavy ladders, allowing for much cheaper, faster, and easier cave exploitation. The Jumar today is synonymous with all rope ascending gear – including the scroll. Fernand Petzl created a caving equipment manufacturing company in 1970 called Petzl – which is the number 1 climbing/rope manufacturing company in the world.

Fast forward 50 years and today we can not only explore complex cave ecosystems, but with the right training and equipment, we can also go cave diving.
Why go caving?
Caving for beginners can be intimidating but it is the perfect activity to pacify that curious inner child we all forgot about. It is essentially a way for you to dive into the unknown and explore a totally alien ecosystem – full of surprises!
Caving can be termed as an out-of-the-world experience, which is ironic because you will never be more one with or inside the world we live in while caving. Caves can be viewed as time capsules – as it is easy to lose track of time, especially in the absence of daylight. From narrow passages to bottomless pits – caves are anything but consistent in terms of their landscape, which means they will constantly test the limits of your body.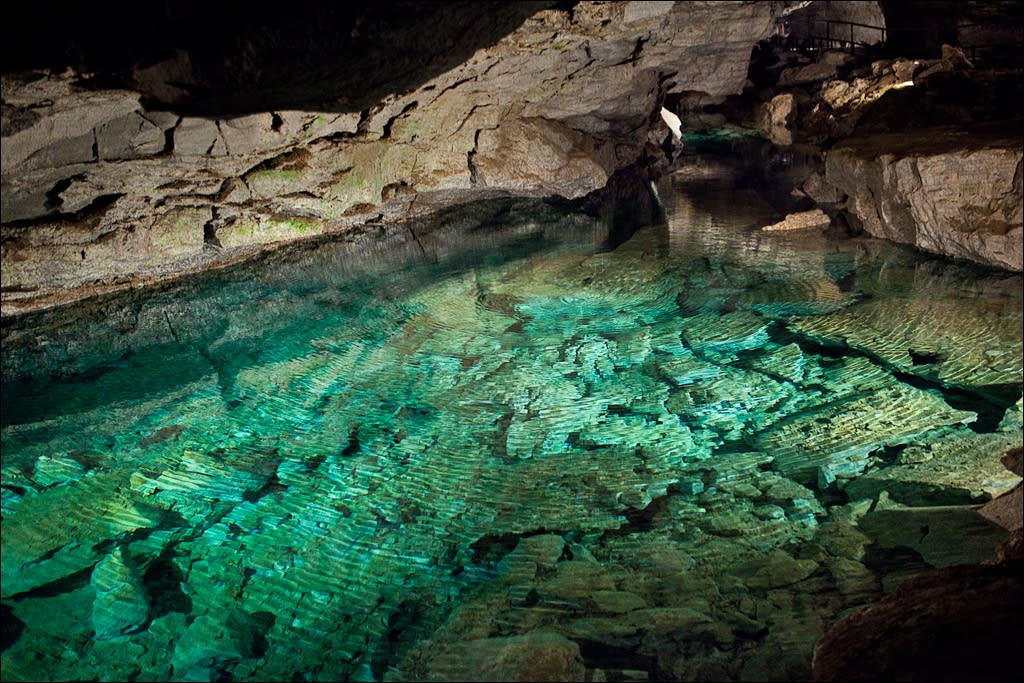 If you like to get down and dirty, caving is the sport for you. Crawling through muddy surfaces or squeezing through narrow passages will give you a taste of nature. If you still need convincing, caving can also be practiced as a sport to burn calories. Caving is a deceptively demanding and extremely technical sport and can be compared to mountaineering or diving.
What do you do when you go caving?
So it all comes down to this. What can you expect when you go caving? Well, at the end of the day, doing is better than reading but it certainly helps to know certain techniques you'll practice, under the supervision of an instructor, of course. Essentially, there are two types of caving:
Horizontal caving
Contrary to what you're thinking, horizontal caving doesn't necessarily mean that the passage in the cave is horizontal. It is the most elementary form of caving perfect for beginners. Some helpful techniques, while you're squeezing your way through a tight spot, could be scrambling, chimneying traversing, hand line, belaying, body belaying, or self-belaying.

Horizontal caving techniques like the ones mentioned above may seem difficult to grasp but can be put into practice, easily.
Vertical caving
Vertical caving, on the other hand, is exactly what it sounds like. It involves one climbing or descending vertical passages in the cave and demands a much higher degree of know-how. We can't cover everything but here are some of the basics:
Abseiling or rappelling: A controlled descent into a vertical cave using a rope, of course. For a comfortable descent, spelunkers use different techniques, ranging from wrapping the rope around their body to using a custom-built device like a rack.
Scrambling: This technique is used when climbing steep terrain, where the hands are used and the body is almost one with the terrain (to improve balance).
Vertikarst
Chimneying: Very often while caving, you'll have to pass through or move up a narrow passage. Chimneying is the technique where your back will is up against a wall and your feet are on the other wall, leaving you suspended midair. This allows you to maneuver comfortably without scraping your skin.
Rope ladders: While it is an outdated technique, you never know when you might encounter it. It is exactly how it sounds – two long and parallel ropes, connected by rungs. As you can imagine, this tool can prove pivotal for climbing or descending.
Fun fact: Sótano de Las Golondrinas in San Luis Potosi, Mexico has the deepest freefall drop of approximately 1,100 feet.
Who can go caving?
Depending on the cave, children from the age of 6 can go caving too! Well in a nutshell that is the answer to the question above but at the same time, everybody must take necessary precautions when they go caving. Caving poses different challenges for different people and that's where the rules change for everyone and people must adapt.

Caving is certainly not for severely claustrophobic people. Narrow, tight passages can be psychologically draining and shouldn't be taken lightly at all.

Children below the age of 17 must be assisted by an adult while caving. People who suffer from a fear of heights, have a weak heart condition, are over 3 months pregnant, have severe back problems, or fear of the dark must consult a doctor before they take on the cave.
Unless you're taking on an advanced level of caving, vertical caving, or cave-diving (which is a different sport) for instance, you do not require a license or training but we strongly recommend your first time to be with an experienced group.
Furthermore, even people with disabilities can enjoy the fruits of caving. In fact, wheelchair-accessible caves are nature's way of saying: where there's a will, there's a way.

If you're going caving in France, make sure you go through the medical checklist first, according to the French Federation of Speleology.
Caving checklist
Caving is a very low-maintenance sport and doesn't really require a huge investment unless you're attempting vertical caving. Since this is a beginner's guide, we will stick to the basics. Your caving essentials must include:
Clothing:
Helmet with a headlamp and alternate light source
Undergarments (polypro underwear)
Knee pads
Extra shirt and pants
Overalls
Boots
Gloves
Cave Pack
Food
Drinking water
Large garbage bag
Backup items
FRS radios
Emergency phone numbers
Road maps
Cave directions and description
Towel
Extra food and water
If you go caving with an instructor or guide, they usually take care of the caving equipment such as the overall, headlamp helmet, knee pads and elbow pads, gloves, boots, and climbing equipment.
Dangers of caving
The main danger while caving is the risk of flooding, which means you could be stuck in the cave for days. To be prepared for this danger, we advise you to carry food & water supplies and enter the cave with a guide. Other rare but realistic risks involve falling and injuring yourself, getting lost, suffering from hypothermia, and physical exhaustion.

However, it's not all doom and gloom! Just like any other sport – realizing your limitations is important. With good research, the right company, and awareness, you can dodge these potentially deadly bullets without breaking a sweat.


Courses for caving for beginners
There are various courses for caving for beginners but they usually go caving with a guided tour. The typical trajectory for most caving beginners is:
Guided caving trips: Experienced and knowledgeable experts guide you through complex cave ecosystems.
Beginner or introduction course: This course helps you lay the foundation for your independent caving experiences. You learn how to spot danger, cave navigation, the history of the cave, identify unique mineral and fossil formations, and emergency procedures.
Intermediate caving course: Once the foundation is set, you're now ready to learn caving techniques, using equipment like ropes, and ladders and exploring deep caves and mines.
Advanced caving courses: If you are really keen on the sport of caving, the advanced course will teach you single rope techniques (SRT), abseiling, installing anchor points, and the use of 'Y' hangs and self-rescuing techniques too!
Iconic caves
Well, now that you're overwhelmed with knowledge on the subject of caving, we're hoping that this guide on caving for beginners has convinced you to give the sport a shot. Here are some of the most iconic caves in the world:
Waitomo glowworm cave, New Zealand
Basking in the soft glow of the worms in the Waitomo glowworm cave, New Zealand is the perfect encounter, if you're a caving beginner. The picture below, although spectacular, doesn't do justice to the cave. And if that's not enough, you can also admire the beautiful limestone structures in the cave.
Fingal's Cave, Scotland
Located in Staffa, Inner Hebrides of Scotland – Fingal's cave is extremely captivating and seems like an image straight out of a fable. The cave has hosted celebrated personalities such as music composer Felix Mendelssohn (The Hebrides), author Jules Verne (Journey to the Centre of the Earth), and poets like William Wordsworth, John Keats, and Alfred, Lord Tennyson, and Queen Victoria.
Carlsbad cavern, USA
Located in New Mexico, it is among one of the most visited attractions in the United States. The highlight of the Carlsbad Caverns is a massive limestone chamber. The best time to visit is in July and August and the venue is also a great spot for star-gazing.
If you've made it here, we encourage you to look at all our caving activities around the globe.
If you'd like to visit a cave near you, have a look at our blog article on 7 unique caves in the world.
If you enjoyed this complete guide, you can also check out our complete guides to other super cool activities around the globe.